Preserving the Past Through Photography
Rahul Sharma (College of Idaho, 2014) is one of only 13 recipients in 2018 of a full-ride scholarship from the Inlaks Shivdasani Foundation presented to Indian nationals each year. Sharma is pursuing a master's degree in conservation and restoration, specializing in the conservation of photographs at the University of Amsterdam, Netherlands. During his four years at the University of Amsterdam, Sharma will go through hands-on training on how to conserve not only historical prints and negatives but also contemporary photographic materials. This training will allow him to work as the Indian subcontinent's first certified conservator and restorer of photographic materials.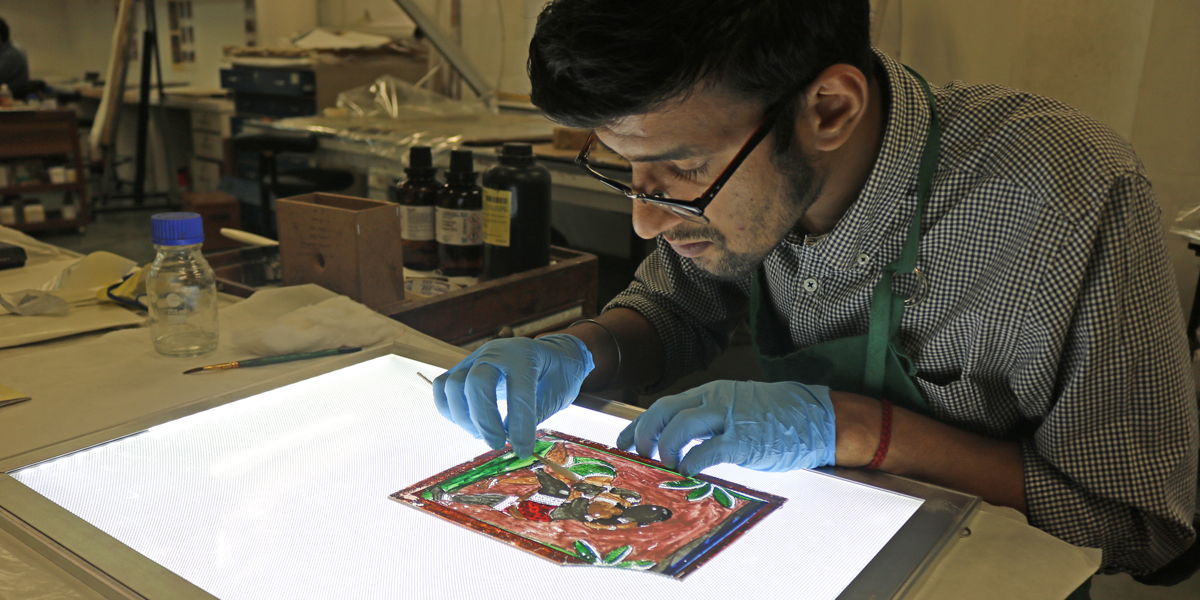 "I was born in Jammu, India, and spent most of my childhood in the Himalayas until I left at the age of 16 to attend the United World College in Pune, India. In my two years on a campus that was also a nature reserve, I decided that I wanted to be in the great outdoors and decided the College of Idaho would be the place for me. The fact that it was a small college, and that I was a Davis United World College Scholar, made it an easy choice."

Sharma graduated from the College of Idaho in 2014 and earned a master's degree in art conservation and restoration from the National Museum Institute of History of Art, Conservation and Museology in Delhi, India in 2017.
"The College of Idaho had a unique liberal arts degree, in that we had to do a major and three minors, as a part of the PEAK program," Sharma said. "I majored in studio art, and minored in anthropology-sociology, journalism and natural sciences; all of which to this day feed into my work as an art conservator, a field that is getting more interdisciplinary day by day."
"As with many things, I got into photography in my time at the College of Idaho," Sharma said. "Most of the blame for this would go to Jan Boles, the archivist at the college who allowed me access to the archive and his own equipment to start researching historic photographic processes. A large part of it was that I grew up watching John Wayne movies in India, and I was enamored with the idea of the Ultima Thule, which the west was imagined as. Idaho had its own share of photographers working in the territory in the past, and with Jan's support, I got to look and study in the same tradition as them."
A highlight for Sharma was trying to take photos as if it was 1865. "I took a group portrait on wet plate collodion of the entire chapter in 2013," Sharma said. "That plate, to the best of my knowledge, still resides in the Theta Psi shelter—a Civil War-era photograph in the modern days."
Sharma also studied pottery while he was an undergraduate. "A fellow Delt, Nathaniel Henson (2013), was an accomplished pottery student. With his support, I started throwing at the wheel," Sharma said. "Eventually, I realized that I could mix and match my work in the darkroom with my work in the ceramics studio. I started constructing pseudo forms that looked like pots, but were only subjects for a photograph. I was lucky enough to get a month off in the middle of the term so I could go and conduct a Japanese-style anagama wood firing in western Idaho. My work for my final show involved some of the forms I had photographed."
"I continued the practice for a while in New Delhi, but pollution laws and lack of a studio prevented me from taking the work forward. I did, however, work on the Conservation of Ceramic and Glass Objects as a conservator in India. Now that I am in Amsterdam, I am looking for a studio space so that I can work with plastic materials again and continue exploring forms—not only in two dimensions, but three, too."
After graduating from the University of Amsterdam Sharma plans to return to his home country of India. "Work in art conservation is incredibly hands-on, and the training periods often extend to years, much like doctors and surgeons," Sharma said. "After graduating, I intend to intern in museums and with conservators in private practice for a few years, and then return to India and work there. The country of 1.25 billion has no trained photograph conservators, and neither does Pakistan or Bangladesh. With the sheer amount of memory that is tied up in the photographs of our past and present, it will be a valuable opportunity for me to be of service to the place I call home."
Sharma's experience as an undergraduate Delt had a lifelong influence with brotherhood and the camaraderie standing out. "We were a disparate bunch of folks, bound together by a shared bond, however tenuous, that we were a part of a group that shared a Ritual and a Creed. I have no doubt, that my experience is similar to all Delts. We are Delts, and we are friends. This opened doors for opportunities for mutual support and expansion of horizons. In these days with a heightened awareness of mental health, I am sure few folks talk about the benefits of the fraternal group, but I can say for certain that if it was not for my brothers being my support group, my mental health struggles would have not let me graduate. They were there for me, as I hope I was there for them.
"The more I look back, the more I realize that the fraternal experience is something of an empty vessel—what you put into it is what you get out of it," Sharma said.