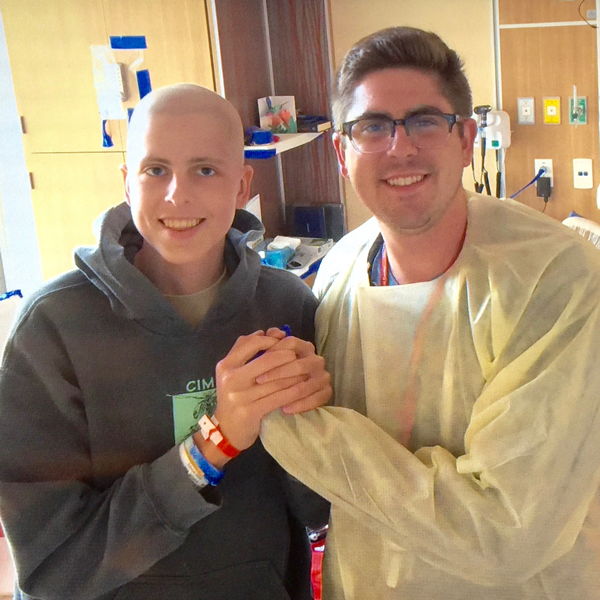 In 2014 Pierre Schreyer spent his 17th birthday at UCSF Benioff Children's Hospital in Oakland, Calif. Pierre was diagnosed with neuroblastoma when he was 16 years old.
Pierre was spending his teenage years in a hospital geared towards young children and babies. After experiencing a day that should have been filled with celebration, in a hospital with little to no birthday festivities, he started to think about ways he could improve the hospital atmosphere for all children.
His solution was the creation of Pierre's Birthday Fund. Through Pierre's Birthday Fund, he wanted every child spending their birthday in the hospital to have a small party and a $50 gift. Pierre also raised money to get more age-appropriate prizes for hospital BINGO nights such as video games and gift cards, instead of the small teddy bears and dolls geared towards younger children.
In October 2015, shortly after Pierre's 18th birthday, he passed away. Pierre's Birthday Fund had not made it past the original funding, but his brother Andrew Schreyer (Chapman University, 2014) was determined to honor and continue Pierre's legacy by continuing the fund.

Andrew gathered a board of directors, himself as the president, and filed the paperwork to make Pierre's Birthday Fund an official non-profit organization.

"At Pierre's Birthday Fund, we are geared toward improving the social, mental, and emotional well-being of hospitalized kids. We focus on services that bring a smile to a child's face and comfort through pain management," said Andrew. "Our organization's purpose is to enrich the lives of Bay Area children hospitalized with serious, life-threatening illnesses, and establish a lasting legacy to remember Pierre's fight and determination as well as his sense of selflessness."

Since Andrew took over in 2015, Pierre's Birthday Fund has expanded to two hospitals with plans to expand farther in the future. All the programs included in the fund focus on child life enrichment. They continue to celebrate all the children's birthdays as well as maintaining bedside video game carts, a Beads of Courage program, and alternative pain-, nausea- and anxiety-management treatments.
"Our goal is to expand Pierre's Birthday Fund nationally. We are looking first, to expand throughout California and have identified a few other hospitals around the country that we will focus on next. The remainder of the year will be spent on fundraising to support our expansion plans." Andrew said.
The biggest fundraising event is the Summer Birthday Celebration. The yearly event is held on the weekend closest to Pierre's birthday, July 17. Other fundraising events include the Oakland Running Festival in April, #GivingTuesday on the Tuesday after Thanksgiving, and an end of the year campaign.
A new yearlong campaign is in the works to get others to "donate their birthday" and raise money on their birthdays to go toward the organization. However, they accept donations at any time as they work to make other hospitalized kids' lives a little better through a legacy of love and generosity.
"The fund has been a positive addition to my life. It allowed me to turn my loss into something proactive and positive. It allows me to remember my brother each and every day," Andrew said, "The organization is an example of me living out our Delt values. The ones that I think about often are: courage, power, lifelong learning and growth, and strengthening the community. I try to uphold and maintain these values in my day-to-day life because they are important–they helped shape the man that I am today."
Learn more about Pierre's Birthday Fund.