Perseverance and Dedication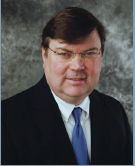 "We all have something to give, whether it's your time, your knowledge or just a referral, we all have something valuable that the Fraternity needs."
Ever see a problem, and then look in the mirror to view the solution? Will Hicks (Georgia, 1988) felt like he had something he could offer undergraduates at his home chapter at the University of Georgia when he began to lead the chapter's Alumni Supervisory Committee after the chapter had encountered challenges.
"It is kind of hard to turn down a member of the Arch Chapter, who has been your friend since he pledged," Hicks explained about when he became involved as an advisor. "Though, I had already begun to make plans to help. Somehow, I thought I could help them in their transition from college student to adult."
Like all organizations, chapters can be challenged. Fortunately, Delta Tau Delta has chapter advisors to guide the members through difficult times, such as these.
"At times, it's been tough," said Hicks. "Taking a chapter that has been down and then having to build them back up is not an easy task. But, getting to know the members and seeing how much the Fraternity means to them gave me a sense of purpose. If they were so determined to succeed, then I knew that I was going to do whatever I needed to do to help them."
As a chapter advisor, Hicks has kept the undergraduates headed in the right direction. He makes sure they understand why they must do things a certain way. Perhaps most importantly, he helps develop and guide the leadership qualities, so many of the chapter's members have. Hicks has helped the members understand responsibility and what it means, not only to yourself but to others, as well.
"I hope that when they graduate, they look back and realize that, at some point, I said or did something that made a difference to them," Hicks said about his influence on the men in the Beta Delta Chapter. "Then, at some point in their future, I hope they realize that they, too, may have something to offer and they decide to go and find an outlet where they can make a difference in someone else's life."
It is clear that Hicks has led the chapter at the University of Georgia out of a steep slump and created a learning environment for future leaders. With that said, Hicks has been positively impacted by the young men he works with, as an advisor, as well. He has seen leaders step up, and seen members grow up and change from irresponsible kids to serious young men. It has been personally rewarding to know that he has helped.
What does Hicks want his fellow alumni to know?
"We all have something to give," he said. "Whether it's your time, your knowledge or just a referral, we all have something valuable that the Fraternity needs. Many times, members are hesitant to ask or don't know what they need. A phone call or visit offering to help with a seminar, knowledge of a young man heading to college, help with housing or the chance to help a young man graduating in your profession are all important and can benefit the Fraternity."