Paul G. Miller's Path from Purdue to the Naval Academy in 1943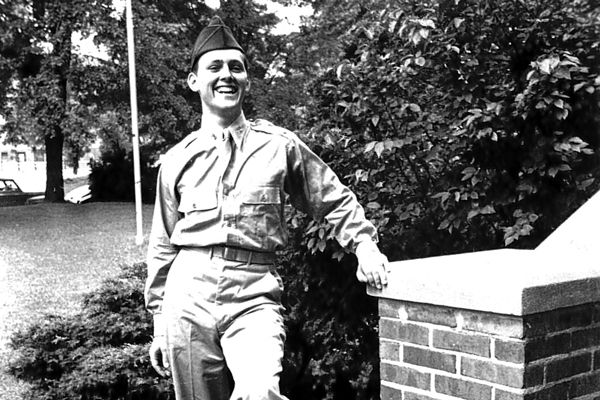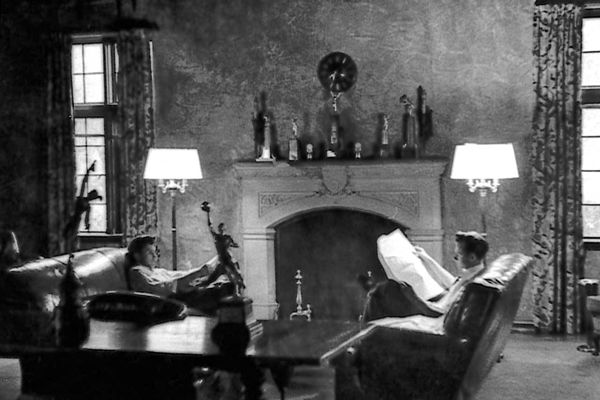 Paul G. Miller (Purdue University, 1944) was studying engineering at Purdue when an unexpected call changed the course of his life.
Miller, who grew up in Louisville, Ky., enrolled at Purdue to study electrical engineering because his father studied engineering at Purdue. "In those days, you went to the school and studied what your dad told you to," said Miller. "When the war came along, I was at Purdue studying electrical engineering and in the advanced ROTC program."
Miller expected to become a field artillery officer. As an engineer designated in the ROTC program, he was not rushed out of college due to the war. "We were already going to school year-round, but we were deferred until we finished our degrees," Miller said.
Miller had been interested in the Naval Academy ever since he visited the Norfork Naval Yard as a child. He applied for admission several times but never had the political support for an appointment. Then, in the beginning of what would have been his last year of an accelerated curriculum at Purdue Miller got a call from Alben Barkley (Emory University, 1900). Barkley, who was the senior Senator from Kentucky at the time, told Miller he had earned the highest grade on a test given to determine his appointments to West Point and Annapolis.
"I'm ready to appoint you to West Point or Annapolis," Barkley told Miller. "What would you like to do?"
Miller thanked him and explained he was already in advanced ROTC, and the opportunity had come too late. "Then I called home," Miller said. "I talked to the family and my mother was in tears. She said, 'Oh my goodness, you always wanted to do that. And now with the war zone, you'd be safe for a couple of years, please call him back and see if he will still send you.'"
Out of respect for his mother, Miller called back and was appointed to the Naval Academy. Since he was already in the ROTC, he had to get a release from the War Department to take the appointment and he had to pass the entrance physical, but by the summer of 1943, he was at the Naval Academy.
"You didn't know until you passed the entrance physical at the Academy whether or not you were going to get in," said Miller. "And when you were admitted, you raised your right hand and swore to serve at the pleasure of the president of the United States. There wasn't any 'serve so many years and get out.'"
In Annapolis Miller joined a class that produced several notable alumni including, Jimmy Carter who served as the 39th president of the United States and Jim Stockdale, a United States Navy vice admiral and aviator awarded the Medal of Honor in the Vietnam War, during which he was a prisoner of war for over seven years.
The Delt alumnus who appointed Miller to the Naval Academy, Ablen Barkley, became the 35th vice president of the United States serving from 1949 to 1953 under Harry S. Truman. Miller says he made a point to call and thank him again for the appointment.
Though he left Purdue for the Naval Academy, Miller's experiences at Purdue had a profound impact on his life. "My Delt experience was very significant in my life," said Miller. "I graduated from high school before I was 16, so I wasn't in the sociable group that could drive cars. I can't remember why I decided to visit fraternities during the rush season, but I was very impressed with Gamma Lambda Chapter. The only reason they pledged me was I had high grades and they were looking to improve the academic image of the house."
Miller served as rush chairman and president and remembers the chapter run as a tight ship. "In my day when it was dinner time at the Delt shelter we were not casually dressed and the president of fraternity would go get the house mother, and she'd take his arm and he'd lead us downstairs to the dining area and we had dinner served."
After graduating from the Naval Academy, he was an assistant navigator on a ship for a year in the Mediterranean, with Stansfield Turner. Turner became an admiral in the United States Navy and served as president of the Naval War College, commander of the United States Second Fleet, Supreme Allied Commander NATO Southern Europe and was Director of Central Intelligence under the Carter administration.
The Navy then sent Miller to graduate school at MIT. Though his interest in the Navy came from a childhood fascination with ships he'd seen at the Norfolk Naval Shipyard , he ended up becoming an aviator and was an engineering test pilot for the Navy. "I was at the Naval air test center with John Glenn," Miller said. "He didn't know me, but I knew him. He was in what was called flight test, and I was in what you call armament test because of my MIT training."
Miller's projects were electronic fire control systems for airplanes and the beginning of the all-weather, all night fighters. In one project, he sought to determine whether there is really a jet stream. "My project proved yes, there is a jet stream and part of my flight tests and a study as that project engineer took me to La Jolla, Calif."
Miller served on active duty with the U. S. Navy from 1943 until 1957. During the early 1950s, he directed work involving airborne fire-control systems, underwater acoustics, and infrared and magnetic detecting devices.
He went on to have a career noted for technical direction of computer and memory development programs. Upon leaving the service in 1957, he joined Daystrom Inc. and, in 1963, accepted a position with Control Data Corp. As vice president and group general manager of the Computer Systems and Development Group of Control Data, he directed six operating divisions. He was responsible for all computer systems for the company and for the technical direction and administration of computer and memory development programs.
Miller was named a Purdue Distinguished Engineering Alumnus in 1968. He was chairman, president and CEO of Commercial Credit Company from 1975 to 1986. After that time, he joined two other companies. He became chairman, CEO, secretary and treasurer of Large Storage Configurations, Inc. and in November 1987, he joined Steve S. Chen who founded SuperComputer Systems, Inc., serving as the chairman of the board until 1995. He was one of LSC Incorporated Directors from 1992 to December 1999 and then served as chairman of the board. He was chairman of the executive committee of the board form its formation in March 1997 and chairman of the audit committee of the board from its formation in February 2000. From 1995 to 1999, he also served as chairman of the board of Merrill Corporation. He is a past director of Baltimore Gas and Electric Company, Bon Secours Health System, Inc., Constellation Holdings, Inc., Control Data Corporation, First National Bank of Minneapolis and JiffyLube, Inc. Miller retired at the age of 83 and lives in Maryland.