Overcoming Challenges, Inspiring Excellence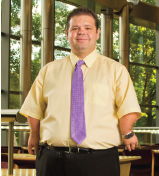 Paul Artale (University of Ottawa, 2001) (a.k.a. Paulo) has never considered himself disabled. He has always sought out to do whatever he desires, although the journey may be challenging. Today, Artale shares his incredible story as head of Student Leadership programs at the University of Michigan and as a public speaker.
Although irrelevant when observing his success, Artale was born with short forearms and missing fingers on both hands and spent much of his childhood undergoing surgeries to improve his hands and grip. Football is his favorite sport and during high school, Artale was cut from the football team. Although the experience instilled fear in him, it made him more ambitious for the future.
"I was afraid in so many ways," said Artale. "Not just of being rejected or cut, but of being the 'special' guy on the team. I didn't know how people would react, but I was really vulnerable back then."
Artale attended the University of Ottawa and joined the Delta Tau Delta Theta Theta Chapter. He attended Leadership Academy and was on the Ritual review committee at the 2000 Karnea. He credits his experience as a Delt for forming the foundation for his future endeavors.
"As an undergraduate, I would often sit in the stands of Frank Clair Stadium and watch the team play," Artale said. "I love football. I remember one game, against the University of Toronto, I thought to myself, 'I wish I could do this again, I miss it.' I promised myself if I ever had the chance again, I would take it."
And, that he did. Six years after being cut from his high school football team, Artale made the decision to try out for a semi-pro team in Toronto, Canada. He knew he may not even dress for the games, but he felt he owed it to himself. By season's end, he had cracked the roster and played at Frank Clair Stadium, just like he'd imagined.
"I remember looking up at the seats I used to sit in and being amazed at how life's twists and turns had taken me here – given me a second shot at the dream," Artale explained.
Artale received the Bennett Award at the end of the season, which is awarded to the University of Toronto player who has overcome the most challenges. He began coaching football at various levels and eventually became coach at the NAIA all-star game at the University of Saint Mary. Artale then chose to go into college administration.
The Delt values were Artale's foundation, as he continuously broke barriers on his journey. He was true to himself, his dreams and ambitions. He gained courage from Delta Tau Delta's Leadership Academy and learned how to stand up for himself. He put faith in his journey and where it would take him. He was empowered by his actions and didn't let his past and others' opinions take control of his course.
"Outside of my marriage and my children, the two biggest and greatest moments in my life have been joining Delta Tau Delta and playing football in Toronto," said Artale. "Both shaped who I am today and have helped me to lead the life I have wanted. But, it was the confidence and skills I learned as a Delt that led me to taking the opportunity to play football, and that's what led me to where I am today."
Now, Artale is focused on developing future leaders as the head of Student Leadership programs at the University of Michigan. He learned much of his skills that he now uses from being the new member educator and ritual education chairman for his chapter.
"When I applied for the graduate assistantship that led to my first coaching job in the U.S., my experience in the Fraternity as president and the leadership development I learned (paired with my charming personality) is what convinced the committee that I could actually run a residence hall," said Artale.
In 2013, Artale was a semi-finalist in the world championship for public speaking for Toastmasters International. He continues to use this talent to help people and organizations overcome challenges, in order to reach their goals and dreams. He also teaches public speaking/presentation skills and does work-life coaching, keynotes and workshops. To learn more about Artale and his work, visit www.paulartale.com