Outstanding Hometown Community Service
New York's Nassau County, issued a citation for outstanding community contributions to Yuvraj Chopra (Rensselaer Polytechnic Institute, 2020). At 21, Chopra is one of the youngest people to ever receive the award. The New Hyde Park, N.Y. resident accepted the award at a ceremony on Aug. 18, 2019.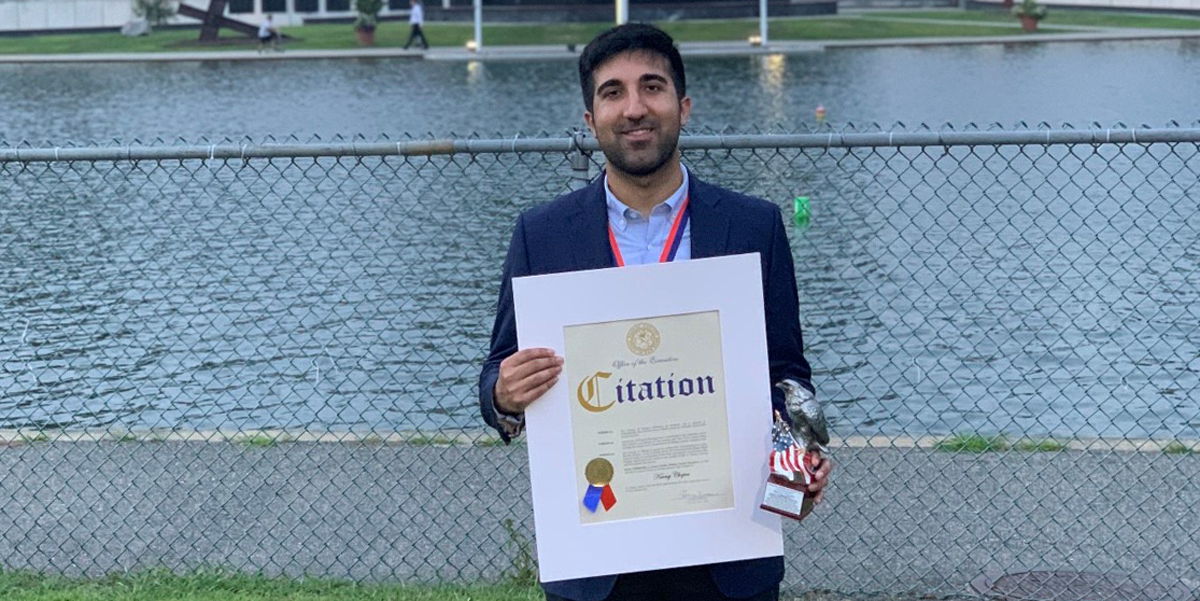 Chopra proudly stood alongside the county executives and police commissioners while receiving the citation, which has been awarded to county executives, police commissioners, entrepreneurs and university officials. "I [also] had the opportunity to be presented [with the citation] in front of the Indian community that I had helped grow and serve," Chopra said.
"Something that I'm extremely passionate about is helping underprivileged people and paying it forward to lesser developed communities," Chopra said. "I learned this practice, outside of local soup kitchens and fundraisers, by traveling throughout India with [my] grandparents to support the building of modern infrastructure and early childhood education in Hoshiarpur, India."
Chopra's dedication to helping others started when he was young. "As what I practiced in India as a teenager, I've preached at Hindu Temples and Sikh Gurudwaras in New York," Chopra said. "I've helped raise capital toward food donations at local prayer spots, helped feed people during Indian Festivals, and tutored and taught chess to kids at my local Flushing Hindu Temple."
Chopra was also presented with a freshman community service award by his service fraternity, Alpha Phi Omega, for his contributions to his Long Island, N.Y. community and Rensselaer Polytechnic Institute.
He is pursuing a dual major in business management and computer science. Chopra is an undergraduate research assistant. He has previously interned at three Fortune 500 companies: Booz Allen Hamilton, Hasbro and AXA XL. He is currently working on the side as partner in a Commercial Finance firm called STI Consultants. In the future, Chopra plans to manage an investment management firm and deal with private equity or open a venture capital firm in New York City.
Chopra's academic achievements include: dean's list (fall and spring 2019), an academic citation from RPI, he received the Rensselaer Leadership Award, he is an associate member of Sigma Xi (research honor society), winner of E.Ship 1 (entrepreneurship competition at RPI), recipient of the STEM Award from NSBE (National Society of Black Engineers) for having the highest GPA that semester, he was honored by Who's Who Among Students In American Universities & Colleges, completed a highly competitive program at RPI called Professional Leadership Program (only 40 selected) and he won second place at the Deloitte Start-Up Competition.
"As a Delt, I'm motivated on constantly pushing myself to become a man of excellence," Chopra said. "Having attended the Eastern Division Conference, Ignite and The Charge, I credit Delta Tau Delta in helping me shape myself for success in my college career, as well as my parents, family, brothers and friends." Chopra currently serves his chapter as director of academic affairs. He has previously served as pledge class president, IFC delegate and on J-Board.
"My Delt chapter helped me raise more than $500 when I went to The Charge in Chicago last summer," Chopra said. "I then donated that money and bought food for homeless shelters and food drives in downtown Chicago with my other brothers."
Yuvraj Chopra is the personification of the Delta Tau Delta brand promise: "Delta Tau Delta provides for the growth of men who understand themselves and aspire to lead lives of excellence. Delta Tau Delta is the philosophy for men who seek to better themselves, their brothers and the world around them."
With his dedication to helping others in his community, the leadership skills he has learned through Delta Tau Delta and his entrepreneurial spirit, Chopra is a Delt that has and will continue to inspire others by living a life of excellence.