OSU's First Mascot: Ken Austin
Ken Austin (Oregon State University, 1953), the namesake of Austin Hall at his alma mater, is an engineer and entrepreneur who has truly left a mark on the history of Oregon State. Austin and his late wife, Joan Austin, founded A-dec in his hometown of Newberg, Oregon. A-dec, or Austin Dental Equipment Company, went on to become the largest manufacturer of dental equipment in the country. He holds 38 patents in the dental equipment industry.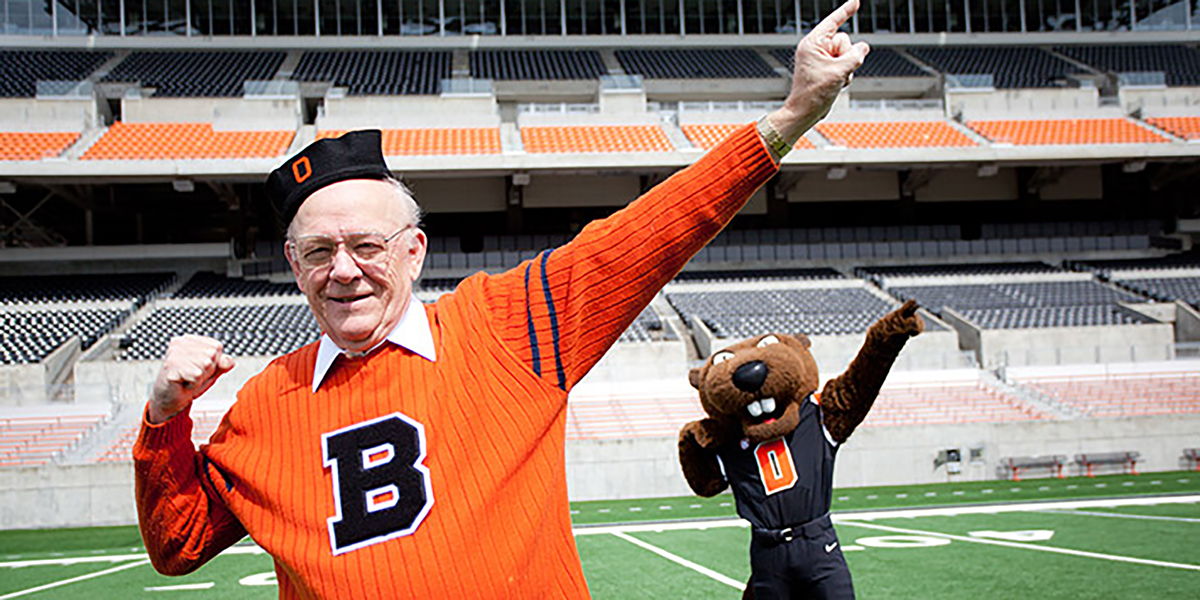 In 1952, Austin became the first Benny Beaver mascot in the school history. Austin, and one of his Delta Tau Delta brothers came up with the idea and began this special tradition for OSU. After getting approval of what was then Oregon State College, Austin made the costume himself and was ready to perform in front of the school for football season. For his act, he drew inspiration form rodeo clowns he grew up watching in the St. Paul rodeo. Austin carried a revolver around at the games and shot blanks, one time even burning holes into the penalty flag of the referee. Austin, as Benny, would even climb up and sit on top of the goalposts when the opposing team would get close to scoring.
More recently, Austin has devoted himself to giving back to his community. He and his wife founded Springbrook Northwest, a drug and alcohol treatment center. He also worked with Rotary International to donate dental units for missionary projects. Austin was not yet satisfied with his philanthropic endeavors, and due to his love of OSU, donated $10 million for the construction of a new building for the business program. The building, which opened in the fall of 2014, was dedicated in his honor.
Written By: Chase Whitten (Oregon State University, 2019)