Fraternity and Foundation Awards Presented at the Norfolk Karnea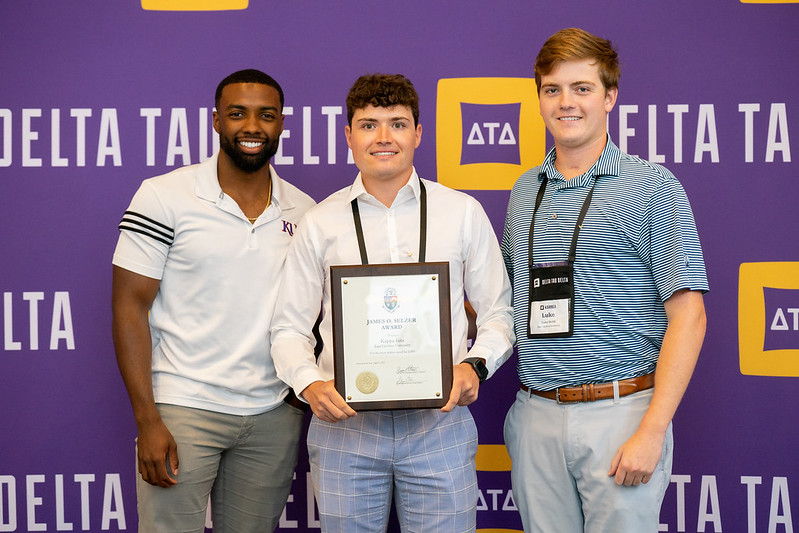 Delta Tau Delta Fraternity and Foundation presented the following awards at the Norfolk Karnea held August 3-6, 2022. To learn more about Fraternity awards please visit:
To learn more about Foundation awards please visit:
DISTINGUISHED SERVICE CHAPTER (DSC)
Awarded to alumni who have been actively loyal to the Fraternity for at least twenty years, rendered some unusual service to the Fraternity or Division thereof, and evidenced personal characteristics and habits which have been and are "worthy of all acceptance" by the Fraternity and society at large.
No. 457, James F. Meyer (DePauw University, 1986)
No. 458, Steven A. Paquette (Syracuse University, 1977)
No. 459, Brian Booth (Missouri University of Science and Technology, 1997)
ALUMNI ACHIEVEMENT AWARD (AAA)
Alumni Achievement Awards are extended "...to alumni of the Fraternity, whose achievements in their fields of endeavor have brought honor and prestige to Delta Tau Delta..."
WILLIAM J. FRAERING AWARD
Awarded to younger alumni, typically within 15 years of their graduation, who have rendered at least three years of outstanding service to Delta Tau Delta including, but not limited to, chapter advisors, alumni chapter presidents, house corporation members and division vice presidents. Named in honor of former international president William J. (Bill) Fraering, Tulane 1946.
Daniel Hernandez (University of California-Riverside, 2007) and
Evan Finkelstein (Carnegie Mellon University, 2014)
ALFRED P. SHERIFF, III AWARD
Presented annually to one outstanding chapter advisor who demonstrates the qualities of former executive vice president Alfred P. Sheriff III. It honors his ability to be a principle-centered role model, his unwavering dedication to the Fraternity at large and humble service to others.
Shawn Cannon (Texas Tech University, 1995)
JAMES O. SELZER AWARD
Award for Outstanding Philanthropic Involvement, particularly in support of the Fraternity's initiative for JDRF.
Kappa Iota Chapter at East Carolina University
WILLIAM L. McLAUGHLIN AWARD FOR HEROISM
Intended to recognize exceptional heroism by members of the Fraternity. It is named for William L. McLaughlin, Ohio Wesleyan 1906, for his exceptional bravery in rescuing victims of an infamous Chicago theater fire in 1906 which resulted in his own death.
Awarded posthumously to Stephen F. Modica (Louisiana State University, 1969)
ALEXANDER CALDER AWARD
Intended to recognize superior Shelter renovation or maintenance and named for Alexander Calder, Stephens 1919, one of the most noted sculptors and artists of the 20th century.
Gamma Kappa Chapter at the University of Missouri and
Delta Chi Chapter at Oklahoma State University
OUTSTANDING YOUNG PHILANTHROPIST AWARD
A young alumnus who has shown outstanding commitment to supporting the Foundation through contributions of time, talent, and treasure and who inspires others to do the same.
Tim P. Cullen (Tulane University, 2009)
OUTSTANDING FOUNDATION VOLUNTEER
An individual who exhibits exceptional leadership skills and devotion to advancing the mission of the Delta Tau Delta Educational Foundation. The volunteer should have gone above and beyond in their capacity and demonstrated an uncommon commitment to Delta Tau Delta.
M. Buck Byrne (Ohio State University, 1966)
NORVAL & DIANE STEPHENS OUTSTANDING PHILANTHROPIST AWARD
An individual or family with a proven record of exceptional generosity to Delta Tau Delta, who through direct financial support, has demonstrated outstanding fraternal and charitable responsibility and whose generosity encourages others to give back to Delta Tau Delta.
Jeffry L. Henning (Iowa State University, 1971)