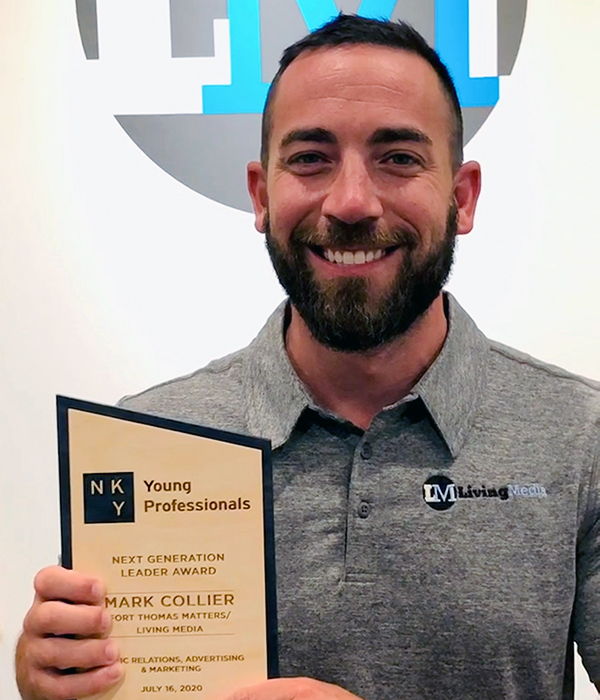 Though he earned a degree in journalism, Mark Collier (University of Kentucky, 2005) did not take a direct path to serving as magazine publisher and owner. In fact, his first job after college was in the financial field. "I studied for a month for the Series 7 and 66 financial advisor tests, passed and for the next three years was in the business of helping folks with their investment portfolios. I, along with many in that industry, got flushed out of the market in the Great Recession of 2008," Collier said.
He then began working with his family's business in Northern Kentucky and started Fort Thomas Matters—a resource for local news in the region—as a passion project. "After working full-time in both my family business and building my media company, I took the entrepreneurial leap to bet on myself in a very competitive business and started that full-time," Collier said.
He acquired a more than 40-year-old hyperlocal magazine company that has become one of the only hyperlocal news outlets in the region. Collier now delivers 20,000 magazines a month to homes in Northern Kentucky and Greater Cincinnati.
"I've always felt like community at a local level mattered," Collier said. "Many times, local decision makers can be approached over a cup of coffee versus having to navigate emails and backchannels. Our brand of media makes local issues and politics more approachable and accessible. Since we started covering our local communities, councils and school boards, voter output in our region has gone up significantly. I'm not saying it's the only reason, but a well-informed public makes for healthy policy."
Collier recognizes that when people know and respect his brand he can be a part of the local voice and he takes that seriously. "That's part of the reason I wanted to run for city council. I saw how business was being done and just thought that getting involved directly would provide more transparency and communication. I was elected with the most votes in council's history, which I felt was a great honor that people trusted me to work on their behalf."
In addition to serving as publisher and owner for Living Magazines and Fort Thomas Matters in Northern Kentucky, Collier was president for the Leadership Class on Northern Kentucky, a flagship program that runs June through December and offers seven three-day sessions where participants gather to gain insight on the Commonwealth of Kentucky and its challenges and opportunities. Throughout the sessions, class members will meet with many of Kentucky's current leaders and explore the state's opportunities and resources. He also serves as an elected member of city council in Fort Thomas, Kentucky.
In 2020 Collier was honored by recognition as a Next Generation Leader by the Northern Kentucky Chamber for work in public relations, advertising and marketing. The award is designed to salute and applaud young professionals under 40 for significant professional achievements, demonstrated leadership and community impact, and recognizes talented young leaders and their contributions to the region.
"The folks who win those awards, by and large, are part of large organizations with a lot of resources. To build a business out of nothing and elevate it with nothing but scrap and grit—it felt really good to have that recognized by an influential and important body in our region."
Support by Collier's family has been critical. "My wife, Lindsey works for Cincinnati Bell and even though she's also working full-time, she is my biggest cheerleader," Collier said. Like so many families the Colliers tackled the complexities of juggling work and remote learning with their two young boys in 2020, and they remain grateful for all they have.
Collier also credits his experience as a Delt undergraduate for helping form his competitive spirit and teaching him to play with the cards that are dealt. Shortly after he joined Delta Tau Delta the Delt Epsilon Chapter Shelter closed for renovation and fundraising.
"We held meetings at the student center and even with that, increased our membership and recruitment numbers and received a Hugh Shields Award in 2004, when I was chapter president. That experience, as well as Delt's Leadership Academy in Camden, Maine on the Mary Day schooner no doubt helped shape who I am today," Collier said.