New Vantage Points for History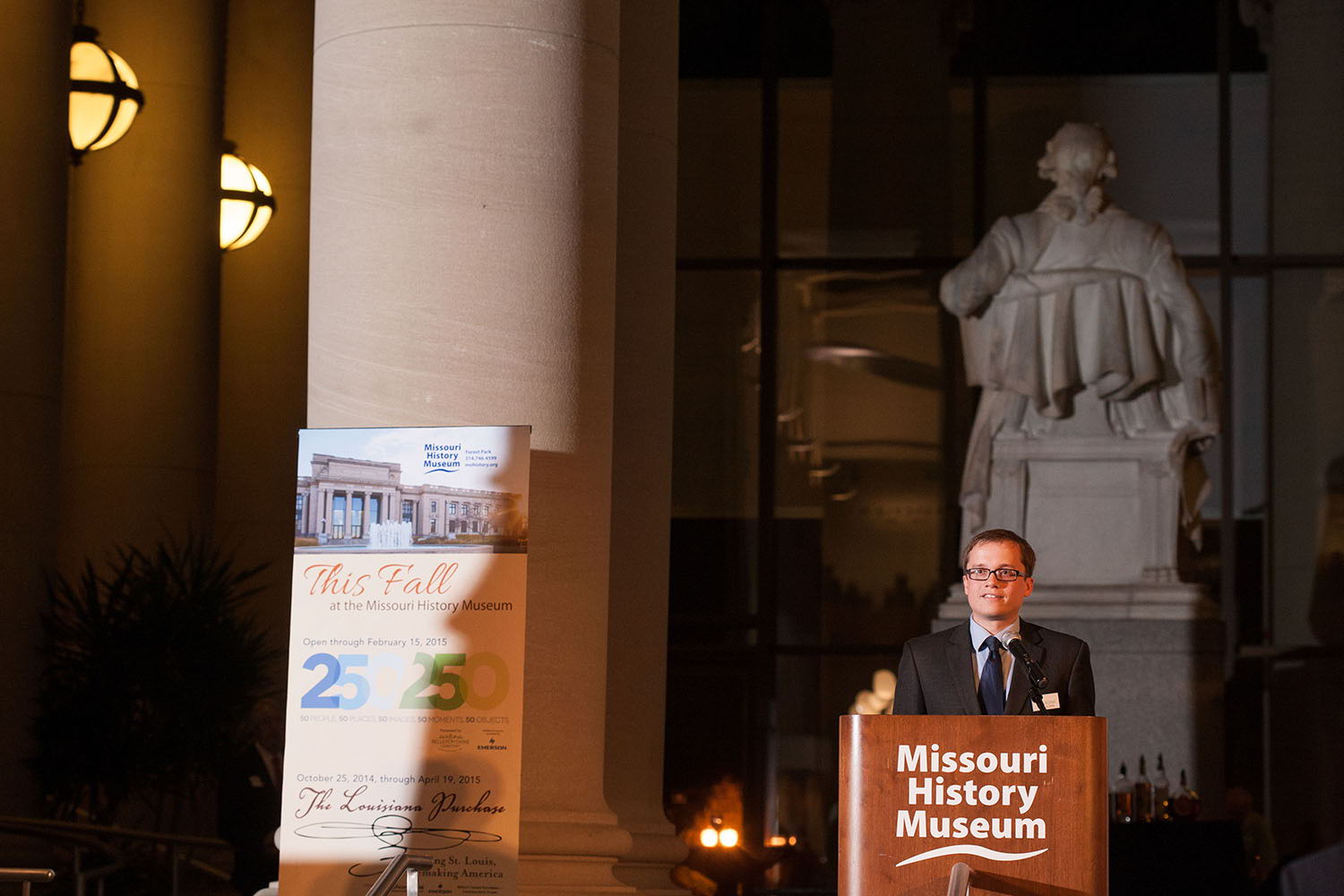 As the public historian at the Missouri History Museum, Adam Kloppe (Westminster College, 2006) revels in the opportunity to read about and research the history of St. Louis all day. He then finds ways to bring that information to the public through exhibits, radio pieces, blog posts, presentations or other mediums. "It's a fun and rewarding job, with a lot of creative freedom," said Kloppe.
What he finds most fulfillling is talking to people about history. "I came to museums from an academic background, and I really thought that the 'public' side of my job was the dues I had to pay to get to work with historic objects and texts," said Kloppe. "But talking to people about our shared past has become the thing I look forward to the most, both because I find people are genuinely interested in their history and because the people I meet are constantly getting me to look at history from new angles and vantage points that I've never considered before."
Last year, the museum opened an exhibit called Panoramas of the City, for which Kloppe served as content lead. The show explores the history of St. Louis between 1900 and 1950 using panoramic photographs. "For the centerpiece of the show, we took seven panoramic photographs and blew them up as big as we possibly could—meaning that they get as big as ten feet high by forty feet long," said Kloppe. "By blowing them up to that size, we were able to pull out all these amazing details that you otherwise could never see and help bring those moments to life for our visitors. Being the content lead meant that I got to oversee the selection of the panoramic photographs, write the drafts of the label copy, and put together all the content in the interactive pieces, in addition to a million other little things that go with being a team lead. It was an incredibly rewarding experience, and I'm lucky to work with such an amazing team here at the History Museum who was able to bring it all to life."
Kloppe's alma mater has taken note of accomplishments. Earlier this year he and his wife, Katie, received a call from Danny Jackson (Westminster College, 2004) and his wife letting them know they had both been selected for Westminster's Young Alumni Achievement Awards. "It was so nice to be able to hear that from my close friends, and it was even better to get to share in the award with my incredible wife, who is doing amazing work in helping to preserve endangered species through her job at the Saint Louis Zoo," said Kloppe.
The presences of several chapter brothers who returned to the Westminster campus for the April 21 award presentation, made the honor especially meaningful to Kloppe. When he was a college freshman Kloppe wasn't sure he wanted to join a fraternity, but he was impressed by the Delts he met. "They made me feel at home right away, so I wanted to join. And, when my brother Sam Denehy attended Westminster a year after I graduated, he was also welcomed into the fraternity, so it really did become an extension of my family," said Kloppe. "The men in the chapter were all good people who wanted to do what they could to improve the world around them. I wanted to be a part of that."
Kloppe lives in Maplewood, an inner-ring suburb of St. Louis, with his wife, Katie, and their two dogs. "I love the St. Louis region—it is filled with a rich history, and every neighborhood and suburb have a unique feel. I'm incredibly lucky to get to live and work here," he said.
Learn more from Adam Kloppe when he takes the stage for DELT Talks at the St. Louis Karnea this August.