Three undergraduate programming awards were new to Karnea in 2016. Historically, chapters are recognized during division conferences for recruitment, new member education and The Road, but these were the first national Fraternity awards to officially recognize chapters outside the division. The awards are based on the Fraternity Awards/Accreditation Report (FAAR) and selected by the Fraternity awards committee. The awards committee identified these three areas as appropriate to recognize, because they are central to any chapter's success. If a chapter is excellent in these areas, then it will likely be excellent in other areas as well.
During Karnea previously, individuals, primarily alumni and volunteers, were recognized. This is the first time chapter accomplishments have been honored directly through awards at Karnea. Considered the greatest of all Delt events, Karnea is an appropriate platform to honor the best programming at the undergraduate level as well as the alumni level.
"It is great to be recognized at division conferences for excellence in a variety of programming areas. But there is nothing better than having your name called out before eight hundred or more of your brothers at our Fraternity's largest gathering," said former Awards Committee Chairman Steve Paquette (Syracuse University, 1977).
New Member Education Programming – Clemson University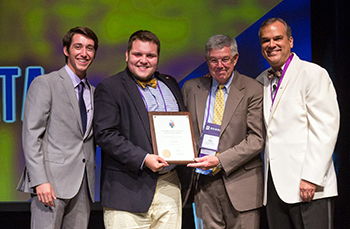 The Theta Mu Chapter at Clemson University involves new members in campus programs supporting survivors of sexual assault. During the last two years, new member education programs of all fraternities were effectively halted by the school and the men had to adjust their plans within three days. The members adjusted as needed and took the changes in stride.
Recruitment Programming – Stevens Institute of Technology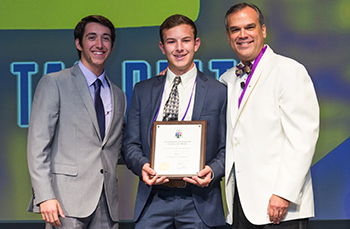 The Rho Chapter at Stevens Institute of Technology demonstrated exceptional growth in its new member classes during 2015-2016 over 2014-2015 with an astounding 380 percent increase. Further, the chapter boasts a 100 percent retention rate for its new member class. Creative programming includes a workshop for all members hosted by the division vice president. Each member actively identified and recruited specific men and they leveraged its alumni to help "seal the deal" with several recruits.
Development Road Programming – University of Iowa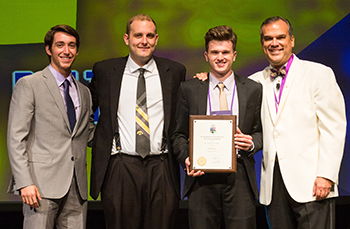 The Omicron Chapter at the University of Iowa achieved the highest scores on the Fraternity Awards and Accreditation Report in Road programming. The Road is the Fraternity's comprehensive membership education program. As part of its new member development, the Omicron Chapter co-hosted a community-wide program "The Legacy of Courage" addressing leadership and rising above the social stigmas associated with men on campus.