New England Alumni Chapter Flourishes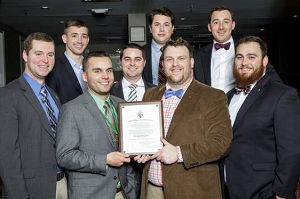 The New England Alumni Chapter was founded in 2012 when Gamma Nu alumni Bryan Adams and Ross Theriault wanted to expand the alumni presence in Boston. New England was undergoing a rapid expansion period, seeing the number of chapters in the region grow from two in the Mid-2000s to the current nine chapters, with five within the Greater Boston area. Being mindful of the isolated chapters in Maine, Vermont and Connecticut, and the limited existing bases of these young chapters, the men focused on creating an alumni network for the entire region.
For the first few years, the chapter focused on frequent, small events; "Monthly Networking Socials" that encouraged members to come out but have the ability to miss them without missing the entire experience. The chapter has also taken these socials on the road, and the events are mainstays at the annual Eastern Division Conference and at Karnea.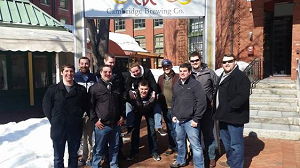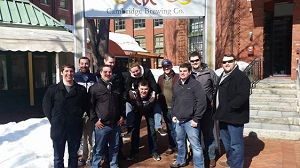 The large number of chapters in such a small region has been excellent ground for expanding membership. Through a combination of chicken and egg scenarios, many of the local Alumni Advising Team, many of them first-time advisors, are frequently involved. The chapter is also an excellent landing place for post-graduate members who received the message that Delta Tau Delta is for life and want to stay involved.
In 2014, the group socials expanded outside of Boston to include a group of members in Portland, Maine who also began hosting the monthly events. This group allowed the men in the two distinct regions to have convenient events, but leverage the benefits of the expanded group. Those groups merge for larger, regional events scheduled a few times a year.
Focusing on a rounded alumni experience, the chapter provides opportunities to give back. Along with many of the local undergraduate chapters, the NEAC had a number of members participate in the JDRF One Walk – Boston in 2014; the chapter will be walking again on October 3, 2015.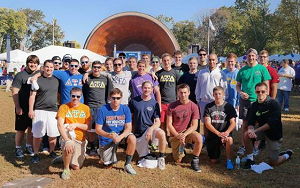 After a few years as an unofficial group, and after the passionate discussions about expanding Delta Tau Delta's alumni chapter network at the summer's Karnea, the group submitted the petition in late 2014. A few months later, at the Eastern Division Conference, the New England Alumni Chapter was approved and chartered. Soon after, the chapter held elections and began looking toward the future.
The chapter's main goals are expanding the event planning to include scheduled, seasonal larger events and creating a flagship annual event while continuing the monthly socials. This expansion is intended to help reach newer members and groups to which the socials aren't available. In addition, the chapter is hoping to expand to other regional areas, including setting up groups in Connecticut and Vermont.
If you are interested in getting information on the group, or attending an event, please reach out to Chapter President Ross Theriault at rcrtheriault@gmail.com.