NASA Intern Takes Initiative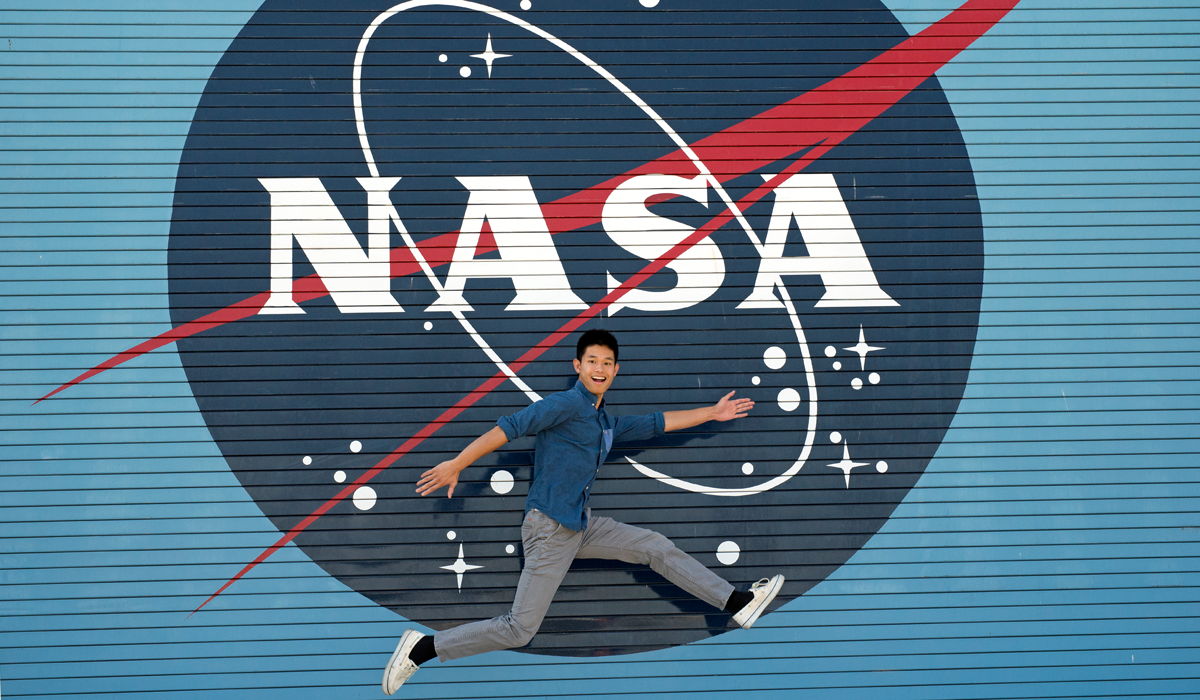 When he was just 16, Clarence Lau (University of California – Riverside, 2020) started working as a summer intern for NASA. An internship he thought would be a great opportunity for one summer has turned into three summers and counting. The National Aeronautics and Space Administration is an independent agency of the executive branch of the United States federal government responsible for the civilian space program, as well as aeronautics and aerospace research.
Growing up in San Jose, Lau visited the NASA Ames Research Center, located in California's Silicon Valley many times through school field trips or guided tours. During his junior year of high school, a NASA staff member suggested Lau explore internship opportunities.
"I honestly was not expecting much from applying because the internship was mostly meant for college students, but I figured why not, there's no harm in at least trying," Lau said. "To my surprise, I was granted an opportunity to be an intern at NASA that coming summer."
NASA interns are placed with a mentor and work on one or two specific projects.
"Most people think that the work environment at NASA is stressful, but it's very open, and everyone is welcoming as if we're all one big space family," Lau said. "The experience is incredible as well. Everyone is given a project, deadline, and access to materials across the facility. We work on projects and challenges. It's taught me to take initiative and research on my own time in order to solve the problems at hand."
During his first summer at NASA, Lau was instructed to build a Mars Quadrotor, something that could withstand the climate of Mars, but still be light enough to fly. The purpose of the project was to test Lau's design and, if it was successful, have professionals further develop the idea.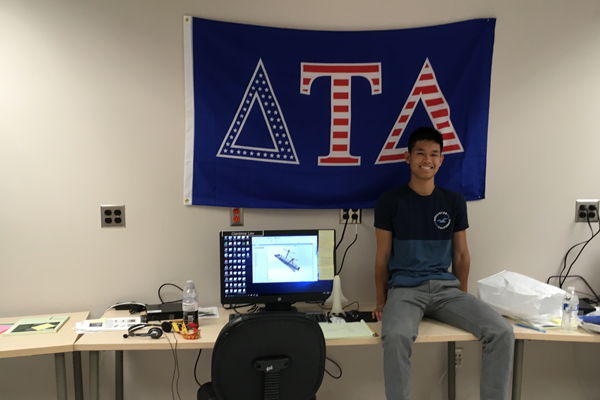 The next summer, Lau was a member of a team that successfully built the first fully operational wind tunnel that could simulate all aspects of Mars' atmosphere, from air density to wind conditions. However, Lau cannot discuss the projects he is currently working on.
"Working here has also taught me how to work alone and with a team. In the real world, there won't be people who guide you on how to do your job. I have had to spend several nights on my own researching, building and gathering data for my project," Lau said.
Since Lau joined the Theta Lambda Chapter Lau feels he has been able to incorporate the values of the Fraternity into his work place.
"I've incorporated power and courage the most. Finding the willpower to stay up late at night to meet deadlines and solve challenges, or finding the courage to ask someone for help on a task you're stuck on can be a challenge for anyone," Lau said. "I'm thankful to carry the values the Fraternity has taught me in everyday life."
The Delta Tau Delta experience has allowed Lau to be more confident and ambitious in the workplace. While most interns are only assigned one project, this past summer Lau asked his mentor to give him two.
He has also become more outgoing in interacting with others at work. During his first summer at NASA, there were four other high school interns Lau felt comfortable around, but by his second summer, he was the youngest and the only high school intern. He stuck mostly to himself and did not get out of his comfort zone. After joining Delta Tau Delta, Lau found he could interact with both the college and high school interns and make everyone feel welcomed.
"The Delts have taught me how to be confident in myself, strive for greater things, and commit to a life of excellence," Lau said.