Motivated by the "What If" Factor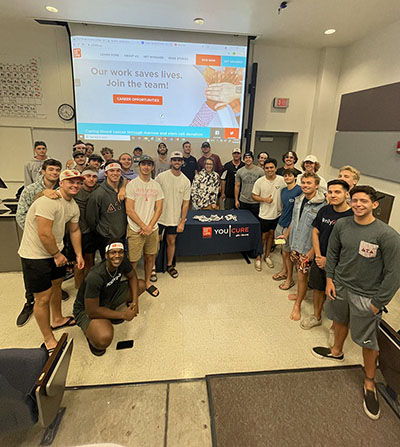 At a campus-wide event in August, Iota Nu Chapter President Casey Sheehan (Florida Atlantic University, 2022) met a representative from Gift of Life, an organization whose mission is to cure blood cancer through cellular therapy.
Gift of Life believes every person battling blood cancer deserves a second chance at life—and they are determined to make it happen. The organization is singularly passionate about engaging the public to help get everyone involved in curing blood cancer, whether as a donor, a volunteer or a financial supporter. It all begins with one remarkable person, one life-changing swab and one huge win—finding a match and a cure.
Sheehan got swabbed and then began working with Traci Ackerman from Gift of Life to find a Sunday to visit the chapter before a chapter meeting and provide chapter brothers the chance to participate.
"My inspiration in doing so was the 'what 'if' factor," Sheehan said. "What if I took the next five minutes to potentially save someone's life or be able to help them out?"
Iota Nu Chapter had not worked with Gift of Life recently, but members found the experience was an easy way to contribute to their community and beyond. "I told the guys it was for a good cause and worth giving Misha, the representative who came to chapter, the time of day to see what Gift of Life is all about," Sheehan said.
Roughly 35 of the 50 undergraduate brothers participated in the onsite collection and one chapter member has already been notified he is a potential match to someone needing a transplant or cells. "Between signing up and swabbing your cheeks with a Q-tip it took no more than 10 minutes," Sheehan said.
Asked whether other chapters should consider hosting Gift of Life Sheehan said, "Yes, 1,000 times, yes!"
Iota Nu Chapter will continue its community-focused and philanthropic work in November with a Movember fundraiser aiming to end the stigma centered around men's health. For National Diabetes Awareness Month members will take time during their November 14 chapter meeting to focus on an educational component about Delt's partnership with JDRF, the world's largest nonprofit funder of type 1 diabetes research.
If your chapter is interested in hosting a Gift of Life presentation, please contact Traci Ackerman at tackerman@giftoflife.org or 561-982-2939.