Middle School Pals Reunite as Brothers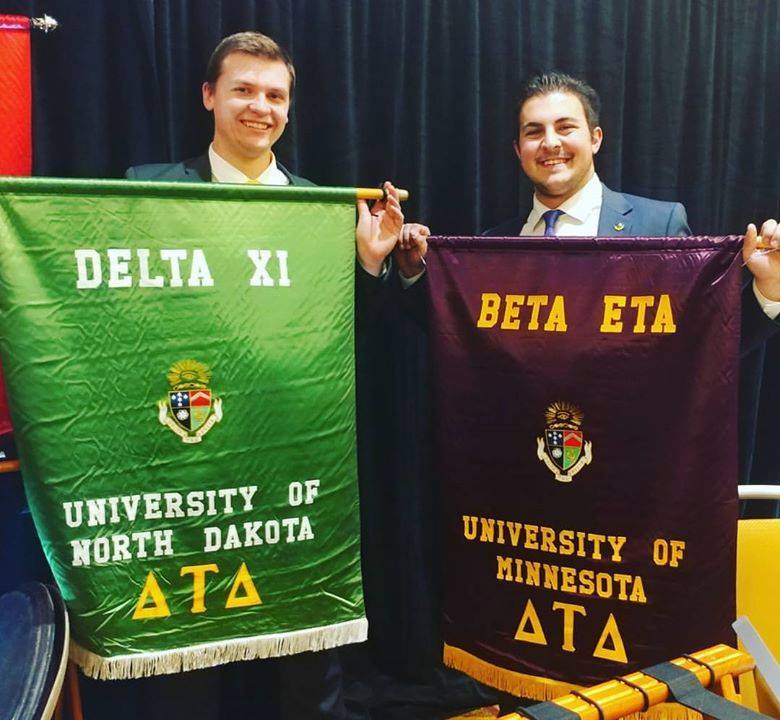 The chapter presidents at the University of North Dakota and the University of Minnesota were friends long before they became Fraternity brothers. They met in a middle school band class. Ben Dzieweczynski (University of North Dakota, 2018) recalls switching from trumpet to trombone to play a song about dinosaurs when he inadvertently took the first chair from Charbel Estephan (University of Minnesota, 2018) who also played trombone. Putting the competition over first chair aside, they became friends. The two went to high school together in Inver Grove Heights, Minnesota, but never imagined they'd become brothers.
When Dzieweczynski arrived at the University of North Dakota he believed he wanted nothing to do with what he perceived as Greek life through media stereotypes. "That all changed in a few short weeks when I met some of the members during fall recruitment," he said.
Dzieweczynski stopped by the Delt house during recruitment with his freshman roommate who knew the chapter president from a summer job. By the end of that week, he held a bid from the Fraternity. "I decided to join because of the natural brotherhood and the sense of belonging that I felt when I first had a conversation with the members." Dzieweczynski said. "Joining Delt and going Greek has been a tremendous experience. I have met tons of new people, made lifelong friends, learned lots of new skill and made thousands of memories along the way. It has been a decision that has defined who I am as a person and who I will be."
Estephan knew that many young men from his high school had joined Delt over the years at the University of Minnesota, but like Dzieweczynski, he had no plans to join a fraternity. He thought he wanted to get away from high school connections, but the reality of fraternity life proved to be appealing. "All it took was one of those guys to bring me over to the chapter and meet just a few guys. I was hooked immediately," said Estephan. "I made so many connections I couldn't even dream of making in the dorms or through my classes."
Last year Estephan served Beta Eta Chapter as director of academic affairs. As he worked with other executive board members, he learned the ropes of each position. "I began to think of ways I could help change the chapter for the better and began to create a platform because a lot of guys suggested that I throw my hat in the ring and run for president."
Dzieweczynski decided to run for president of the Delta Xi Chapter because he felt the chapter needed a strong organized leader. He saw areas where the chapter was struggling and felt he could make a difference. In the back of his mind, he knew Estephan was running for president of Beta Eta Chapter and that inspired him.
One of Estephan's chapter brothers who had met Dzieweczynski at Ignite shared the news that Dzieweczynski was running for president. "I texted him and told him, 'You better make this happen.'"
As presidents of their respective chapters the two friends reconnected in person at the Northern Division Conference in Indianapolis in February.