Michigan Chapters Come Together to Support Flint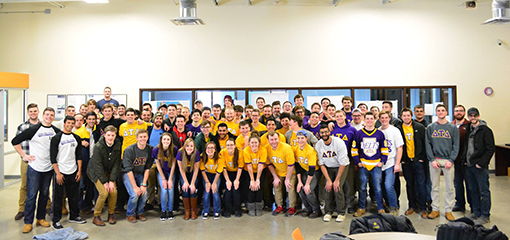 For years, Flint, Michigan faced problems with its water system. Without a corrosion control plan and higher than average chloride levels from the Flint River, pipes started to corrode causing elevated levels of lead in the water leaving it unusable. The water crisis wasn't nationally known until Michigan Governor Rick Snyder asked President Obama to declare a federal emergency and major disaster in Flint on Jan. 14, 2016. In the middle of the water crisis sits Kettering University, home to two Delt Chapters, Epsilon Iota-A and Epsilon Iota-B.*
At the Northern Division Conference in late January, Sachin Pindolia (Kettering University-A, 2017) was approached by Scott Snyder (Kettering University-B, 2012), the chapter advisor for Epsilon Iota-B about how the chapters could work together to address the water crisis. Snyder connected Pindolia with Tom Pitt (Albion College, 1988), the chapter advisor for the Epsilon Chapter at Albion College and shared information about how they could join the project to help people in Flint.
"Snyder reached out about a community service event between Epsilon Iota-A and B so we could meet the people who live in the same shelter as us and maybe smooth our relationship even more," Pindolia said.
At the closing banquet of the Northern Division Conference, they prepared an announcement seeking other chapters wanting to help the Kettering chapters.
"Initially, it wasn't a goal to have a community service event, but once we started to receive feedback at the Northern Division Conference we knew we had to follow through and make this happen," Pindolia said. "With the Flint water crisis getting so much news, we figured this was a way that we could unite Delts from all over Michigan for a noble cause."
Less than a month since the idea formed, all seven chapters in Michigan offered to send volunteers to participate in the service project for Flint including chapters from University of Michigan, Hillsdale College, Grand Valley State University and Eastern Michigan University.
"It was amazing how easy it was to get the manpower once the event was put into place," Pindolia said. "The tricky part was to try and find a venue that could use all of our help because the Flint community is getting so many volunteers, but they do not have the capacity to fulfill these volunteer requests."
Tim Jacques (Kettering University A, 2017) was tasked with finding a place able to accommodate the group of 80 Delts.
"The overwhelming amount of people volunteering to help Flint made it very difficult for a large group of 80 people to find a place, but we were still hopeful the United Way would be able to find something," Jacques said. "After not hearing back for a couple of weeks, and a couple weeks left to go before the event, it didn't look very promising that this event would happen."
That's when Jacques and Pindolia reached out to Jack Stock the director of external relations at Kettering University who hosts Service Saturdays. Fortunately, Stock already had a project with Food Bank of Eastern Michigan lined up for Saturday, February 27 and volunteers were needed.
"We did not expect this much involvement from the other chapters. To have brothers drive hours across the state for a community service project was pretty cool," said Jacques.
The Food Bank of Eastern Michigan expected 50 volunteers, but the Delt members kept streaming in, nearly exceeding their capacity. Fortunately they were able to accommodate the dozens of Delt volunteers who sorted and boxed many different types of food, and assisted in unloading donated water totaling more than 45,000 pounds.
"It was amazing to have everyone come out and get to know each other all while helping a community in need and it was even more special to see so many Delts come back to our shelter and get to know Delts from all over the great state of Michigan," Jacques said.
*Kettering University offers a unique co-op program. Half of the school takes classes for eleven weeks while the other half works at a co-op. Since students from one academic section never overlap with those from the other, the Fraternity has two separate chapters at the same university.