Mentor Works Himself Out of a Job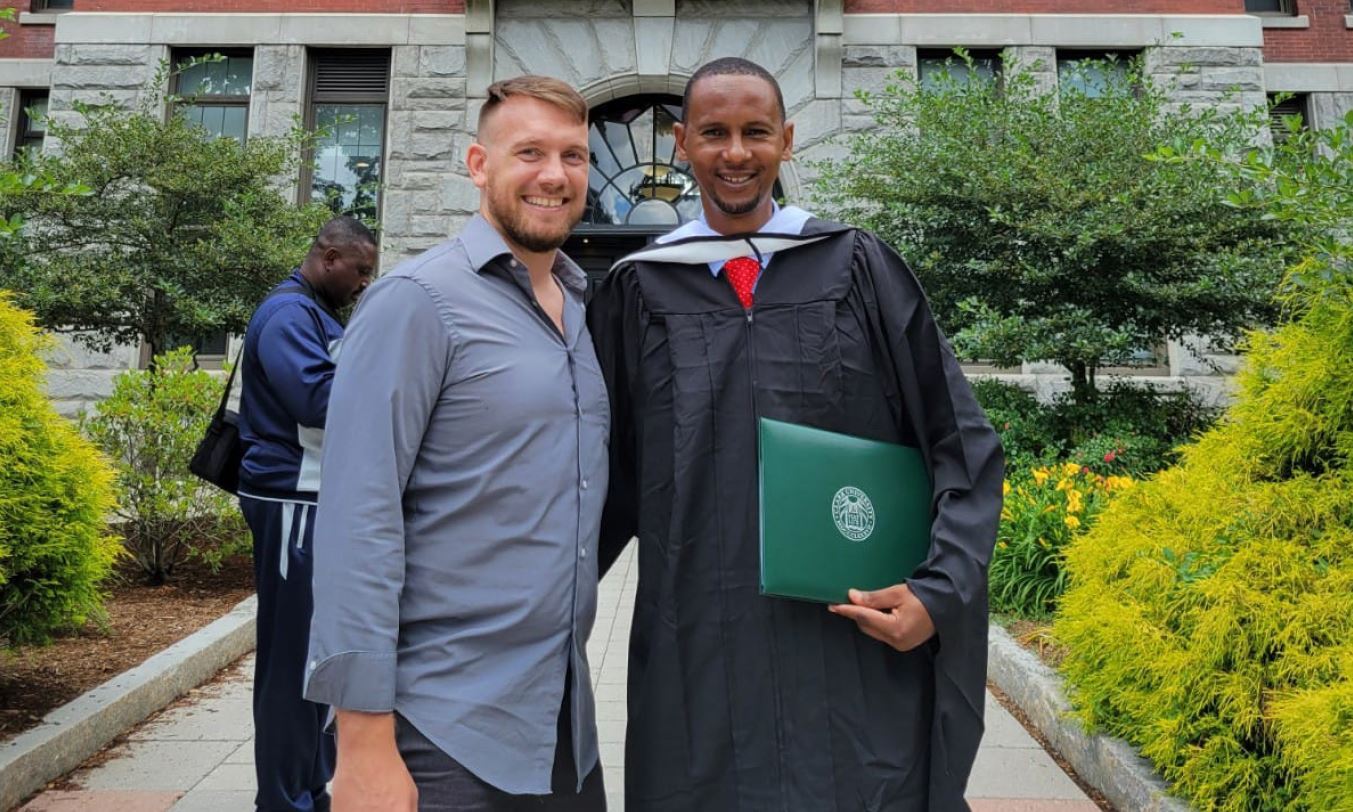 When Jacob Moore (Wabash College, 2012) walked into the campus library in the first semester of his senior year, intending to study for finals, he had no idea that a chance encounter would become a defining moment for the man he is today.
A friend was also in the library. "I asked him what he was doing, and he said 'applying to the Peace Corps.'" Jacob, who didn't know anything about the Peace Corps, was curious. "He told me what it was, and I said, 'That's what I want to do.'"
No studying happened that night. Instead, Jacob spent his time writing his resume and filling out the application. Then he broke the news to his parents. He finally had an answer to the question he heard so often — What are you going to do after graduation? "I messaged my mom," he said, "And she goes 'Well, do you want to come home and talk about that? That's a pretty big commitment.'"
As a Spanish major Jacob was hoping to go to South America or possibly Mozambique, where the official language is Portuguese. But the government sent him to Cameroon, a country in Central Africa on the Gulf of Guinea. There he was an agribusiness volunteer. "I taught basic food security and market gardening. So, how to plant gardens in your backyard," he said. "The idea was to provide better food with a higher nutritional value.
It was in the Peace Corps that he met fellow volunteer Sean Gray, who approached him with the idea for ScholarShop. As their friendship grew, so did the reality of starting an organization that would benefit the local community. "All donations and all charity comes from a good heart, but it doesn't necessarily mean that it benefits the local communities," Jacob said.
While Gray returned to the United States to register the nonprofit 501(c)(3), Jacob stayed in Cameroon once his term in the Peace Corps was complete, moving from the village of Batibo to the town of Wum, five hours north, where he registered ScholarShop Africa as an association.
The concept of ScholarShop Africa was established as an alternative to direct scholarships. "Students become dependent and rely on those scholarships," Jacob explained. "Then if that seed money dries up, people just throw their hands up and say 'Sorry, there's no further money to sponsor you.'"
ScholarShop Africa is a 10-week business entrepreneurship curriculum that runs outside of the school program, teaching students how to earn money and contribute to their educational success through community service, academic improvement and healthy lifestyles. "Students earn what we call scholar dollars, and they redeem these scholar dollars for school supplies," he said. "How much the students themselves work determines how much they earn. We've had students who paid for their entire school, and we've had students who were able to work just to get enough for their schoolbooks or a book bag."
Through Gray, and through the process of developing ScholarShop Africa, Jacob met Buba Sulle Dicko, a local resident of Wum, who became a fast friend, partner and mentor. "He was always around. He had a little bungalow that we called the Bubalow, and he was always sitting in there, and his walls were lined with books. And they weren't just necessary books. They were really in-depth readings," Jacob said. "Through different conversations, there was a lot of time we spent together, and we brought him on as our director for the Wum branch where we had two schools."
In a country with more than 250 languages, Jacob relied on Buba and his knowledge of local culture and their needs and they continued to build the program. "Buba was a huge help," he said. "I know what the United States students need and want in our local communities, and in Indiana where I live. But when, as a foreigner, I come in and say 'You need this,' they might not. Maybe I see the need, but it's not their biggest priority."
Buba became an essential force in the success of the organization. Whether translating the program for teachers, principals or community members, or advising them on cultural differences that while acceptable here may be offensive in Cameroon, Jacob valued the lessons he learned.
Their relationship is unique in the idea that while Jacob viewed Buba as a mentor, the reverse was also true. Buba has been to the U.S. on a couple of occasions. Once he visited for a month through the International Visitor Leadership Program (IVLP) a Department of State Exchange Program. And again, to get a master's degree from Clark University in international development and social change specializing in program monitoring, evaluation and learning MEL, an opportunity that Jacob was instrumental in helping him secure.
In fact, Buba has great admiration for Jacob. "I think Jake is that kind of people whose heart is made of gold," he said. "He doesn't get angry. He's a keen listener. He listens not only for understanding, not only for hearing, but listens with care. He sees so much behind the words. And a lot of times I have felt a kind of magic, the way he would help me go through some really difficult moments, both here in Cameroon and also when I came to the United States."
Although it hasn't always been easy ScholarShop Africa has persevered through obstacles like a civil uprising and the COVID-19 pandemic. And while Jacob continues to be a consultant for the organization he co-founded, the plan has always been to step away. "I always had this quote that if you are in development work, especially abroad, you should work yourself out of a job," he said. "It shouldn't be a career because then you are not truly or fully developing that area. My whole goal is to help Buba be able to take over ScholarShop."
So, while Jacob currently acts as a consultant for ScholarShop Africa, he is back in Indiana, focused on another organization within the U.S. to educate today's youth on financial literacy through LevelUp Enterprises.

If you would like to learn more about ScholarShop Africa, or to make a donation, visit scholarshopafrica.org.