Making Saint Louis Strong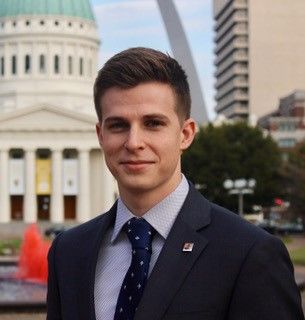 Jake Hollander (American University, 2014) says the backwards nature of St. Louis politics drove his desire to learn how to study politics. This led him to American University which had the highest rate of political engagement when he was looking at colleges. At American he earned degrees in political science and philosophy. There he also joined Delta Tau Delta after meeting brothers through the club hockey team. He served as social chair, vice president, and president, an experience he says taught him how to build coalitions, strive for compromise and avoid burning bridges to actually drive positive change. "I was lucky to have the experience of failing and learning as a leader in college, he said.
Now, at age 25, Hollander is back in St. Louis leading a grassroots movement to unify the city as the founder and acting executive director of Saint Louis Strong.
"Saint Louis Strong seeks to create a healthier sense of community and promote a stronger economy for the region," Hollander said. "Our primary policy objective is to rejoin the City and County of St. Louis. The two entities divorced in 1876 so city residents would not have to pay for county residents' infrastructure. Besides D.C., St. Louis and Baltimore are the only two cities in the United States where the main city does not reside in its corresponding county."
"By educating residents on facts and history of fragmentation in the region, we seek to crowd-source policy solutions and develop a restructuring plan that is literally 'by the people, and for the people,'" Hollander said.
Hollander grew up in West St. Louis County and was bothered by hearing the term "city kid" thrown around to refer to African American students. "We had to transfer in students to my school district in order to manufacture diversity. This was the 1990s, not the 1960s," he said.
He recalls a ninth-grade global studies teacher who spurred his desire to create positive change. The teacher exasperatingly asked the entire class, "Don't you understand what it's all been about? Human history has been this cyclical back and forth struggle of misunderstanding and egocentrism." And this, Hollander says is part of what led to his drive to deconstruct barriers.
According to Hollander, the city-county divide—which is one of many divides in St. Louis—permeates everything. "Everyone is aware of it here as most folks grow up with these divides engrained in them. It's a part of the culture," he said.
The death of Michael Brown Jr. and the following unrest in Ferguson only heightened his awareness of the divides in region. "In addition to the city being divorced from the county, we have 90 municipalities in the county, 57 police departments, 43 fire protection districts, 81 municipal courts and 573 taxing districts. Our region has 684 elected officials, which is more than the entire United States Congress," Hollander said. "Our inability to collaborate on keeping and bringing sports teams to town, attracting conventions and building a metro rail system just accentuate this main divide as well."
Saint Louis Strong began as a pet project that Hollander pursued in his spare time. Eventually he built a blog with corresponding social media sites. "We kept gaining followers, so I decided to take a leap of faith with the opportunity I had laid out before me," he said.
Saint Louis Strong continues to hone and perfect its supporter meetings as they work to educate and train people on how to advocate for a united region while working on amendment and policy language.
"Despite it's shortcomings," Hollander said, "St. Louis is on the edge of a renaissance. Working alongside tech startups and other civic entrepreneurs helps reinvigorate my own motivation when times get tough."
Hollander's commitment to his community is not just about where he lives, but who he is and he keeps a keen on eye on Delta Tau Delta values.
"The deeper wisdom of the Fraternity is realizing that every person is excellent and worthy of walking the road of a fuller life. I find remaining open to new possibilities by listening to others opens new doors down the road. To do so, it takes courage to be truthful with yourself, having the faith to go on despite doubt, and using what power or influence you've had the privilege of receiving to speak and act in a way that isn't vindictive of others or self-aggrandizing. At the end of the day excellence is a choice. We have the opportunity to commit ourselves to it through every decision we make. Will we choose honesty, courage, persistence, and moderation? While chance and circumstance may hinder us, our ability to choose our attitude empowers us to cultivate a life of excellence," Hollander said.