When Mat Jacowleff (Northeastern University, 2020) walks into the Blood Donor Center (BDC) at Boston Children's Hospital, the room lights up. Whoever is sitting at the front desk gets up to shake his hand, and as he walks by the donation room, waves and smiles fill the space. Mat, a Connecticut native now studying business at Northeastern University, loves spending time at the BDC and they love having him.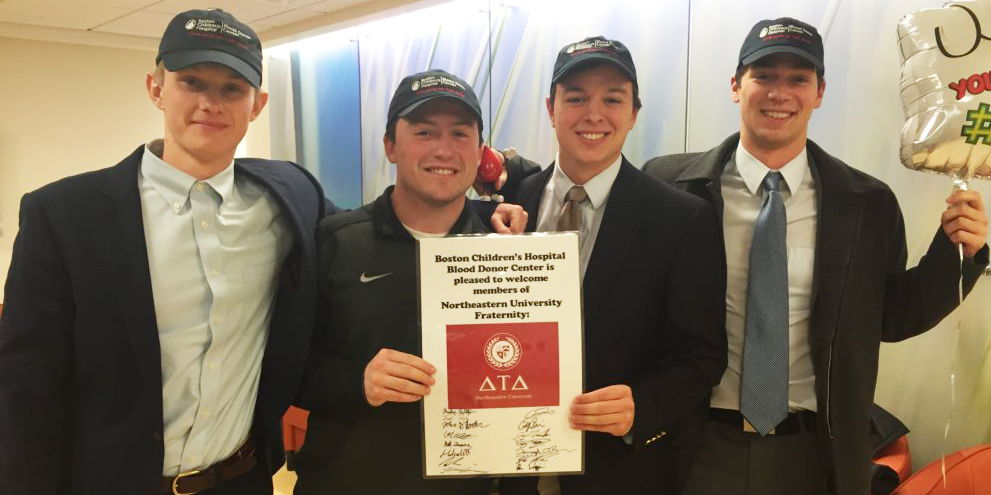 This all started around six months ago. At a doctor's appointment at Boston Children's, Mat noticed a Give Pints for Half Pints sign that read, "One pint of donated blood can help up to four children." Recently named his chapter's community service chair, Mat had been looking for a way to give back to his community and thought, "What better way to do so than at Boston Children's Blood Donor Center?"
"I've always loved connecting people," says Mat. "So, when I saw the sign, I thought, 'There are over 100 guys I have an influence over who are willing to help, so I might as well do what I can.'"
Using influence to make a difference
The following week, Mat presented this idea at his weekly chapter meeting. "I wasn't sure if asking them to donate blood was too much to ask," Mat recalls. "I know I hate needles and avoid them at all costs, but I was hoping that this would be the cause to bring us all together."
As hoped, Mat's fraternity brothers stepped up. Dozens raised their hands saying they would be interested in donating, and even those who didn't commended his efforts. After the meeting, as Mat got ready to email the BDC to set up their group visit, one of his friends approached him and told him the story of how his younger sister had grown up with an illness that required frequent hospital stays at Boston Children's. He could not be more grateful for what Mat was doing because the BDC had been a huge part of saving his sister's life.
"Having someone I personally know say that to me really put things into perspective," says Mat. "It's hard to imagine how much of an impact one donation can make if you don't need it or someone you love doesn't need it. Having someone bridge that gap made me even more determined to make this event happen."
Mat contacted Cynthia MacKinlay, a member of the donor recruitment team at the Blood Donor Center, and dozens of email exchanges later they had set up two nights where Mat and his fraternity brothers could donate. When that day came, Mat and 10 friends walked into the center and were greeted by pizza and decorations in Northeastern's black and red colors. The night after, 20 more Delta Tau Delta members showed up, and Mat was there front and center ensuring all went well.
"The winter is one of the most difficult times for the center," says Cynthia. "Between snow storms and illness, our pool of available donors gets much smaller. Having these young men donate when they did was incredible."
After the event, Mat received incredible feedback from his friends — they were in awe of how easy the donation process had been, how kind the staff was and how great it felt making a difference in their own community. "The best part of this has been watching the impact it has had on my friends," says Mat. "They come in hesitant and nervous, but they walk out with the biggest smile on their faces, and they're ready to book their next appointment."
Lifelong donors in the making
Mat knew that something this powerful couldn't end there, so 56 days later, once the initial donation group was eligible to donate again, they went back. This time 10 members showed up, and 56 days after that, 15 donated blood for the third time.
Cynthia was amazed. "I couldn't believe their dedication. We are so grateful," she says. "Planting the seed for long-term donation is key. People come once, and they feel great, but once they come two, three and four times, it becomes a habit … they are helping to save so many lives."
Since his last visit, Mat has been hard at work recruiting more donors across the Northeastern University campus. So far, another fraternity and one sorority have brought their members for donation nights, and his plans are to continue expanding his efforts. "If you are in a position of influence — as small as it may be — and you aren't using it to make an impact, then it's a waste," says Mat. "I'm hoping this goes big. If donating blood becomes a trend at Northeastern, then it can spread to other schools in Boston and so on. There's really no limit."
This story originally appeared on Boston Children's Hospital's blog, Thriving.