Maine Senator Awards Spring Internship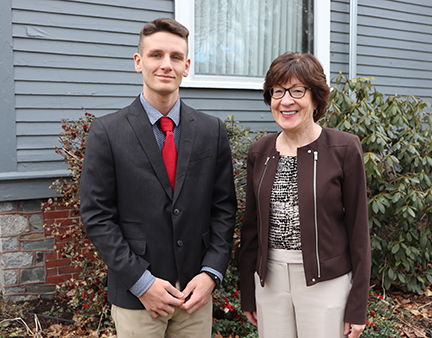 U.S. Senator Susan Collins announced that Jacob Marks (University of Maine, 2024) has been awarded a spring internship in her Bangor, Maine office.
"I am delighted to welcome Jacob to my Bangor Constituent Services Center," said Senator Collins. "Jacob has demonstrated an impressive commitment to academics and outstanding leadership at UMaine, and I commend him for serving our nation in uniform. I am pleased that he will have this opportunity to continue to serve his fellow Mainers."
A graduate of Falmouth High School in Falmouth, Maine, Marks is a junior at the University of Maine where he is majoring in financial economics. At UMaine, he is a third-year cadet in the Army ROTC program and a member of Delta Tau Delta's Gamma Nu Chapter. In addition, he is an enlisted soldier in Maine's Army National Guard. Upon graduation, Marks plans to devote himself full-time to the state military or pursue a civilian career focused on providing financial services to the people of Maine.