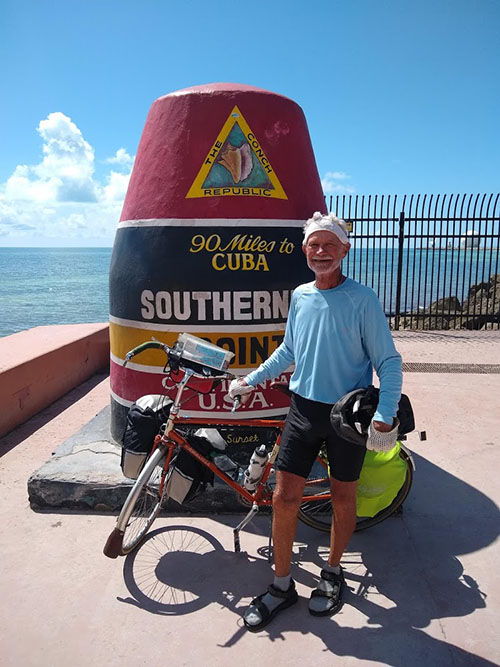 Since 2007, Irv Hoffman (Georgia Institute of Technology, 1960) has biked more than 15,000 miles across the U.S. He covered 3,100 miles on his first long ride from San Diego to St. Augustine, Florida, then his son joined him on a ride traveling from Seattle down the California Coast to Half Moon Bay.
He's ridden 3,400 miles from Sunnyvale, Calif. to Atlanta, traveling through Sacramento, following Highway 50 in Nevada to Garden City, Utah, and over Monarch Pass in Colorado to Pueblo Colorado, then through Kansas, Missouri, Illinois, Kentucky, Tennessee, Alabama and back to Georgia. And he's also ridden 2,000 miles from Atlanta to Bar Harbor, Maine.
Not all of his trips are simply point A to point B as he's also started exploring rail trails. "I drove to Cumberland, Maryland, and then rode the C&O Canal (Chesapeake & Ohio) down to Washington D.C. and spent the night in a hostel. Of course, I was the oldest one there. I put my bike on an Amtrak and rode the train to Pittsburgh, then rode back on the Allegheny bike trail to Cumberland, Maryland. That was 400 miles," Hoffman said.
He's also ridden roughly 650 miles taking the Natchez Trace from Tupelo to Natchez and back in Mississipi. Last fall, he rode from Atlanta down to Fernandina Beach, the northernmost city on Florida's Atlantic coast in the Greater Jacksonville area. He continued along the Atlantic coast to Key West, then back up the Gulf side and through Tallahassee and Columbus, Georgia, back to Atlanta, covering 2,000 miles.
"I really enjoyed it. And all of those, except for down the Pacific coast and from San Diego to St. Augustine, I was solo," Hoffman said. "I visited a couple of Fraternity brothers on my trip through Florida one in Coconut Grove, Miami and the other in Key West. They took me out to supper and lunch, and we had a great time."
The 82-year-old Hoffman is not slowing down as he typically covers about 60 miles in a day averaging 10 miles an hour. "I usually start at daybreak because I go to bed early and I'm ready to ride as soon as it gets light enough," Hoffman said. "When I get hungry, I find a restaurant, but I always carry a banana and an orange. Generally, I eat twice a day. I get to my destination, probably at three o'clock and the first thing I do is wash my clothes and try to wring them out so that they are dry the next day and then I go find something to eat."
For safety, Hoffman's son and daughter encouraged him to use Garmin inReach, which sends a signal to a stationary satellite. "Garmin has a website that will show every time it knows where I am. Every 10 minutes, it sends a signal. So, every 10 minutes, you can see where I am," Hoffman said. "I can also record every minute where I am, but that's not transmitted through the satellite. They have to do that with the Wi-Fi at a motel or library. That was interesting. They followed me all the way across the country and I used that again on this Florida trip."
"I have never had anybody threaten me or try to run me off the road or anything. I have had people yell at me and tell me I shouldn't be there, but they were not threatening. They were just mad that I was out there, but they didn't try to harm me or scare me or anything. They just blew their horn--you know, 'Don't be here!' I can truly say I haven't had a problem with vehicles or traffic. Of course, I always give them the right of way. I don't try to do anything other than be safe. I see a lot of people and mostly they want to know where I'm going, where I came from."
Hoffman is now thinking about another road trip where he takes his bike from location to location to ride rail-trails instead of the highway. In 2019 such a road trip took him on a route similar to that of Lewis and Clark ending up in Astoria, Ore. He drove and rode a trail every day, going through Jackson Hole, Missoula, Kalispell and Spokane. He then made his way to a son's house in Sunnyvale, Calif. and then on down to San Diego where another son lives. "I rode trails every day. I ended up riding a thousand miles on trails and I drove 8,100 miles," Hoffman said. "It was a very interesting trip. I want to do that again, but this time I want to go up to Ohio and Michigan, into Canada and back around to Maine then back down the East coast to ride rail trails all along the way."
"I'm 82 now. So that's the feat, it's my age and going solo. I'm healthy enough to do it, thank goodness. I ascribe some of that to being a vegetarian for 25 years. I'm healthy enough to keep doing some things, which I'm very grateful for, but I try to educate myself about nutrition. I play tennis daily. I'm just fortunate to be able to do it and I don't want to stop. I want to keep going. There will be a day when I can't but it isn't here yet."
Irv Hoffman also volunteers with the board of directors for Georgia Tech's House Corporation serving as treasurer. He earned a degree in civil engineering and was in the Army before taking a job with the U.S. Forest Service in Idaho. Through a Montana State program in Bozeman, he earned a master's degree in civil engineering before a career change where he worked for a consulting engineering company in Asheville, North Carolina. He then started his own company making maps from aerial photography and moved to Atlanta. Hoffman sold his business in 1997, ten years before his first bike ride across the country.