Lone Survivor Accepts Award for Heroism
In August 2018, Marcus Luttrell (Sam Houston State University, 1998) accepted Delta Tau Delta's William L. McLaughlin Award for Heroism at the St. Louis Karnea's Alumni Achievement Awards luncheon.
Luttrell is a United States Navy SEAL who received the Navy Cross and Purple Heart for his actions in June 2005 against Taliban fighters during Operation Red Wings.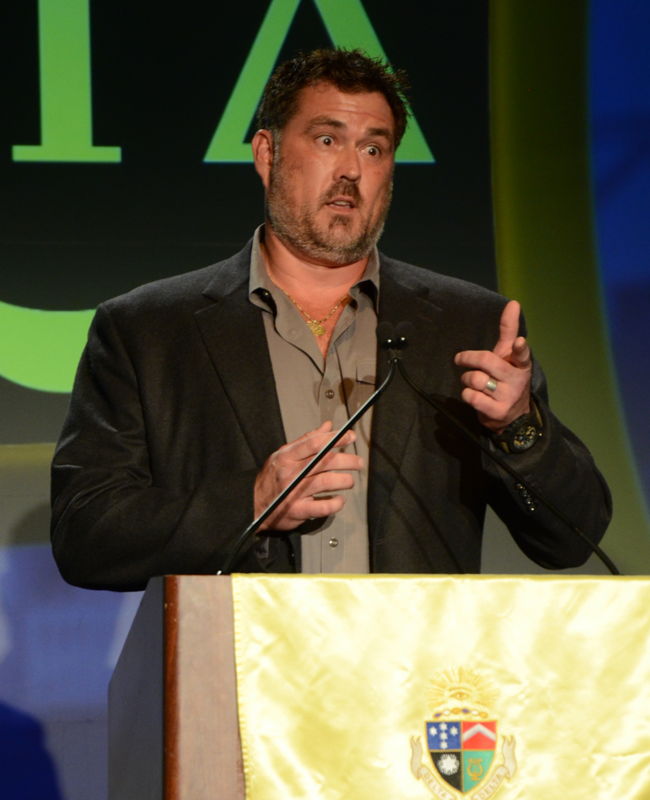 Born and raised in Texas Luttrell and his twin brother, Morgan, attended Sam Houston State University where he joined the Fraternity in the fall of 1995.

Long before college, the brothers began training for the SEALs with former United States Army soldier, Billy Shelton, who lived nearby. As kids, they loved to hunt, fish and wrestle alligators.
Luttrell joined the United States Navy in March 1999 and began Basic Underwater Demolition/SEAL training with Class 226 in Coronado, Calif. After suffering a fractured femur early in his training, he graduated with Class 228. Marcus graduated 18 Delta in 2001, making him a team medic.
On June 28, 2005, Luttrell and three other SEALs were assigned to Operation Red Wing, a mission to kill or capture a high-ranking Taliban leader responsible for killings in eastern Afghanistan and the Hindu-Kush mountains. The SEAL team was made up of Luttrell, Michael P. Murphy, Danny Dietz and Matthew Axelson.
A group of goat herders stumbled upon the SEALs, and the four SEALs immediately took control of the situation and discussed what to do with the herders. The herders were subsequently released and disappeared over the mountain ridge. Luttrell believes they immediately betrayed the team's location to local Taliban forces and within an hour, the SEALs were engaged in an intense gun battle. In the ensuing battle, the rest of the SEAL team members were killed.
A MH-47 Chinook helicopter was dispatched with a force consisting of SEALs and 160th Special Operations Aviation Regiment "Nightstalkers" to rescue the team, but the helicopter was shot down by an RPG. All 16 men on the Chinook were killed. Luttrell was the only survivor. Badly wounded, he managed to walk and crawl seven miles to evade capture. He was given shelter by an Afghan tribe, who alerted the Americans of his presence, and American forces finally rescued him six days after the gun battle.
Following his physical recovery from Operation Redwing, Luttrell returned and completed one more tour before being medically retired. He wrote the book, Lone Survivor, to share the story of his brothers who paid the ultimate sacrifice. In 2013, Lone Survivor became a major motion picture starring Marc Wahlberg. Luttrell's second book, Service, answers questions remaining from Lone Survivor and gives honor and praise to other members of the military.
Today, Luttrell is married to the woman of his dreams and the couple has a son Axe, who is named after Matthew Axelson, and a daughter, Addie.
In 2010, Luttrell established the Lone Survivor Foundation providing therapeutic retreats for service members and their families affected by Post-Traumatic Stress, mild Traumatic Brain Injury, Chronic Pain and Military Sexual Trauma. In 2017, the Lone Survivor Foundation provided 38 retreats for 335 veterans and family members, all at no cost to the participants.
He is also deeply involved in The Boot Campaign, a charitable organization that focuses on support for service members, veterans and their families from every generation.
WILLIAM L. MCLAUGHLIN AWARD FOR HEROISM
Established in 2003, the William L. McLaughlin Award for Heroism recognizes exceptional heroism by members of the Fraternity—those who are distinguished by an act of valor at the risk of life above and beyond what is called for by ordinary citizens.

The first recipient, William L. McLaughlin, (Ohio Wesleyan University, 1906) was an undergraduate when he rescued victims of an infamous Chicago theater fire in 1903. McLaughlin succumbed to the injuries he suffered in that fire.
Subsequent recipients of the award include:
• Major Archibald Butt, (Sewanee: The University of the South, 1891), credited for saving numerous passengers on the Titanic before he perished
• Former International President William J. Fraering (Tulane University, 1946) who was killed by armed robbers while protecting his family
• Timothy J. McCarthy, (University of Illinois, 1971), a Secret Service agent who was wounded but survived while protecting President Ronald Reagan in a 1981 assassination attempt