Lober Brothers Amass 102 Years at Teachers, Coaches and Mentors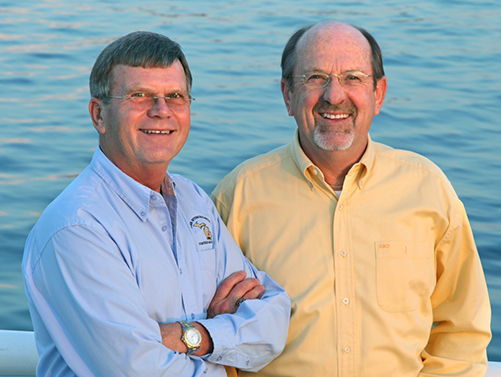 After joining the Delta Tau Chapter John Lober (Bowling Green State University, 1964) became the chapter's intramural sports coach, just the beginning of his long career as a teacher and coach. His brother Bob Lober (Bowling Green State University, 1966) says he naturally joined the Fraternity. "We were fortunate to spend a couple undergraduate years together at Bowling Green with Delta Tau Delta," Bob said.
When the Lober brothers, enrolled in the mid-1960s Bowling Green was ranked as one of the most prolific producers of teachers in the United States. They followed similar career paths and today their achievements as teachers, coaches and mentors of young people are striking.
Collectively, the Toledo natives have spent 102 years in those roles, shaping the lives of thousands of kids along the way.
During that time, they have been inducted to seven halls of fame, named state coaches of the year a combined nine times and national coaches of the year four times. They also received a joint "Special Recognition Award" by the Michigan High School Administrators Association for their contributions to high school athletics.
Along with teaching, primarily at Traverse City Central High School in Michigan, they have coached 123 All-State athletes and 11 high school All-Americans and their teams have produced a combined record of 765-79 for an eye-popping winning percentage of 90.6.
"Something I have said hundreds of times over the years is that teaching, coaching and being a mentor of kids allowed me to do what I love and love what I do," said Bob. "It gave me the satisfaction of knowing I could make a difference in the lives of young people and give them some guidance as they grew into young adults and beyond."
Bob, 72, who retired from teaching in 1999, taught and coached in Toledo for six years before moving to Traverse City in 1972 where he served as varsity golf coach at TCC for 22 years. He also founded the highly regarded Traverse City Junior Golf Association in 1984, serving as its only executive director until retiring in 2014, and remains active with the organization.
In addition, he was executive director of the Junior Tour, which staged junior golf events throughout the United States, for five years and served as executive director of the Michigan Interscholastic Golf Coaches Association for 12 years.
He has been inducted into four halls of fame and was named National Golf Coach of the Year in 2000. While those honors are appreciated, he said, simply working with kids has brought the greatest rewards.
"I have learned that if you give young people the opportunities, they will embrace them and grow because of what you were able to provide," Bob said. "The satisfaction of knowing you have been doing what you loved and making a difference in young people's lives within your community and beyond is what really matters."
Much of the credit for that, he said, goes to the preparation he received as an undergraduate at Bowling Green.
Bob later earned a master's degree from Central Michigan University.
John, 74, who earned his master's in education from Bowling Green in 1968, continues to coach even though he retired from teaching in 2000 — and he's still racking up victories and accolades. This year marked his 52nd year of coaching, with 48 of those coming at Traverse City Central after short stints in the Toledo suburb of Sylvania and Bellaire, Mich. At TCC, his track teams have had 27 undefeated regular seasons.
Three times he has been named national coach of the year by different organizations. In 2014, he received that award from the National Federation of High Schools and in 2015 from the National High School Athletic Coaches Association, making him the first track and field coach in Michigan to earn both honors. He also has served as an official for the Olympic Games.
In addition, John has coached cross country at TCC for 27 years, with his teams winning 83 invitational championships and they have finished 12th or higher 17 times in the state championships. He also coached football for 14 years and basketball for eight years.
"The kids I've had in my classes have become coaches, teachers, doctors, dentists, politicians, farmers, attorneys, Olympians, Super Bowl champions, FBI agents, military heroes, truck drivers and business owners," John said. "As I look back, I realize how lucky I was to have been part of their lives. They gave me so much more than they knew and, in return, I tried to give back to them."
John was cut from his ninth-grade basketball team, which, ironically, helped shape John's coaching career.
"That was one of my defining moments. That one act influenced how I would coach kids," he said. "Every kid is important, every kid needs recognition, every kid wants to be wanted and every kid at some time will make a difference and a contribution to your program." John said.
Adapted with permission from Bowling Green State University.