Living Legend Coaches U.S. Win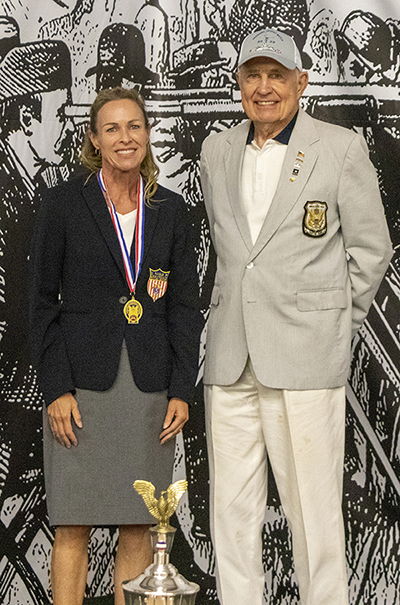 Living legend Bruce Meredith (West Virginia University, 1960) coached the United States Pershing Team to a win during the 2022 NRA National Matches at Camp Atterbury in Indianapolis in August. The 85-year-old retired U.S. Army Colonel led the 2022 U.S. Pershing Team competing against British shooters who traveled to Indiana in August for the Pershing International Trophy Match. The U.S. won the match by two points over the team from Great Britain, 3990-293X to 3988-287X.
Held every four years, the location of the Pershing Trophy International Team Match alternates between the United States and Great Britain. From the 2022 NRA National Matches program: "The Pershing Trophy Match, named for General John J. Pershing, the Commander of the American Expeditionary Forces in World War I, has been competed for in international shoulder-to-shoulder competition since 1931. In 1969, the British counterpart of the Trophy Match was established as the Field Marshal Earl Roberts Trophy Match."
West Virginia University Athletics, named Meredith as one of the most talented riflemen in WVU history. Meredith has 71 years of smallbore rifle experience. He was born in Wheeling, West Virginia, and grew up in Boggs Run, a coal mine hollow in what is now a part of Benwood, West Virginia. He hitchhiked in uniform every day to high school at Linsly Military Institute in Wheeling, which he attended on an athletic/work scholarship.
WEST VIRGINIA UNIVERSITY Sports Hall of Fame
U.S. Army MarksMANSHIP UNIT SUPPORT Hall of Fame