Living a Meaningful Life and Making a Positive Impact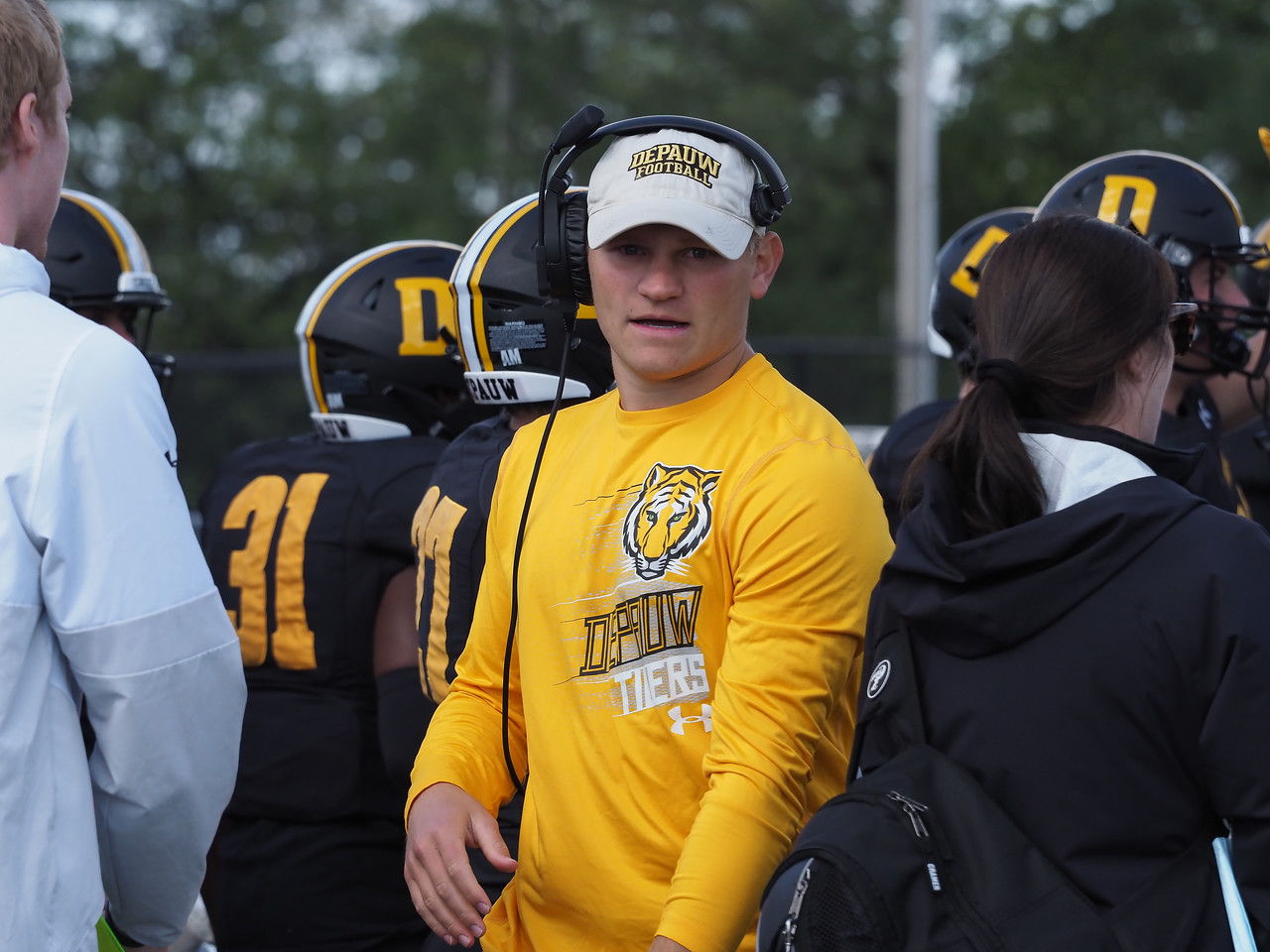 With faith as his foundation, Jacob "Jake" Labus (DePauw University, 2022) has gained incredible leadership skills as an undergraduate. Labus, who is from Westfield, Ind. will graduate in May 2022 with a bachelor of arts in economics with a philosophy minor and a near-perfect GPA of 3.96.
In 2020 when DePauw University announced upper-class students would study remotely due to the COVID-19 pandemic, Labus found a unique internship opportunity instead of enrolling in classes. Labus' Management Fellows director helped him find an internship in Indianapolis with a company doing private equity work. Through Management Fellows, an honors program in management and entrepreneurship, Labus has had the opportunity to interact with business leaders. The program includes a year-long internship at a company in Indianapolis.
Labus, a former linebacker (now student coach) for the DePauw Varsity Football Team who earned two varsity letters, received the George Lortz Scholar-Athlete award. He is the Tiger Catholic president and an Admission Ambassador. He spent a summer leading high school retreats at St. Meinrad Archabbey Catholic monastery in Spencer County, Ind. Labus also leads a weekly Bible study for more than 50 men on campus. He is a DePauw University Presidential Ambassador—one of the senior leaders who serve as official student representatives at university and alumni events. In April, he learned he has been selected for Phi Beta Kappa.
Joining a university tradition that began in 1956, Labus will compete with the Delt team riding in DePauw's Little 5 bike race on April 23. The team is honoring Delt alumnus Tim Ubben (DePauw University, 1958) one of DePauw's most loyal and generous alumni leaders and benefactors. Ubben, who died in December 2021 was one of the founders of the Little 5 race serving as chairman prior to being elected as president of the student union in 1957.
After graduation, Jake aspires to be an entrepreneur and coach. As an alumnus, Labus vows to pay back DePauw for all the opportunities received.
Q & A with Jake Labus
Tell us about your furniture business—Tables for Tuition.
I started this business in 2016 when my oldest brother, Matt Labus (DePauw University, 2019), came to DePauw and wanted a cool coffee table for his dorm room and eventually his fraternity room. My dad and I taught ourselves how to build the table and we wood burned the DePauw logo the best that we could. That spring semester, he called me and said, "I think we have a business!" Turns out he was right, and the tables sell themselves. We can burn any custom logo, and our products (bottle openers, corn hole boards, trays, dog bowl holders, etc.) are on countless campuses, across multiple states and in many Greek houses as well as personal homes.
Now, we are starting to venture more into the personalized wood tray and sign part of the furniture business (e.g.., wedding trays, family name signs, etc.). My favorite pieces to make are live edge slabs! Most of our furniture is sold through word of mouth as we ship and source everything locally in Indianapolis.
Post-graduation, I will continue to keep woodworking, but not to the scale that I have the last couple of years. Tables for Tuition was my full-time job for most of my high school summers and a couple of college summers, too. Now I plan to use my carpentry skills as a side gig and secondary, hobby-driven source of income, prioritizing personalized pieces for close friends. Find Tables for Tuition on Twitter @tables4tuition.
What have you learned from serving as vice president and recruiter for your Delt chapter?
I learned a lot in my leadership roles in Delt. First, as our rush chair, I really learned the value of connection. I really enjoy people for who they are. This skill has proven instrumental in networking, team building and my time as a DePauw football coach. Also, it is a great sales experience. Explaining my "why" for what I do is an important reminder of my purpose and mission.
Vice president wise, I had a term disrupted by COVID-19. I learned to be agile—as we all had to. We had specific goals and events we hoped to accomplish that year, but we had to quickly adopt new strategies and persevere through the uncertainty. During that time, I learned to collaborate with our large executive team and in particular, our president, Carter (2021), who shares some different perspectives than me. Yet, we both grew as leaders and as friends due to our roles in the Beta Beta Chapter.
Your resume is filled with many achievements and leadership involvement. What inspires you? What motivates you to get involved with all the opportunities you've had?
My faith is my foundation! I have been blessed with so many gifts, like faith, optimism, work ethic and passion for life. Beyond these, I have an incredible support network in my family, mentors, coaches, teammates and friendships. My parents taught me to work hard, live with great morals and strive to be excellent. They are my inspiration. I aim to be a witness to faith on campus. I pray and think about the virtue of magnanimity (greatness of spirit), often. I feel that I have a duty to make the largest, positive impact I can on this campus, in my chapter and during my life.
So any opportunity or leadership void that suits my strengths, I tend to take. I know I am only one person, but an ideal day for me is filled to the brim with meetings across different groups and with different friends and professors. I am humbled by all the great people that I have been fortunate to meet and/or work with. I feel obligated to give back for all the help and chances I have received from DePauw, Delt and beyond.
What is your most meaningful or influential achievement and why?
DePauw recently announced [that I'm one of its] top three finalists for the Walker Cup. The award is given to:
"...who shall be determined to have done most during their college course to advance the interests (or fame) of DePauw University, and

"...has by good scholarship, good conduct, conscientious effort in college life and intercollegiate activities, lived up to the best of DePauw traditions…"
In short, it's the most prestigious award a senior can win and it is voted on by your peers first and then by the faculty. For me, I do not expect to win the award, but to be nominated is such an honor and it is humbling in the fact that my peers believed and recognized that I have been living a meaningful life the last four years and have left a positive impact at DePauw. Further, I never set out to win any awards or recognition, I just poured my heart and soul into the things I care about and the people in those communities, like football, Delt, my honors program and major. That nomination means a lot and, to me, speaks to the impact one person can have on so many others' lives.
As you get closer to graduation, how has your involvement in various organizations helped prepare you for what's next in your life?
As I mentioned above regarding my positions for my chapter, each role I take has taught me more about myself, my strengths and my weaknesses. I have learned that I will continue to stay involved with coaching and keep being a missionary, or devout Catholic, wherever I go.
In my senior year, I devoted the majority of my time, outside of Delt, to coaching and my Bible study/faith life. These parts of me are important and mentoring others and receiving mentorship has made me a successful role model and man on campus. I have a long way yet to go, but I am making progress, and my involvements on campus are all outlets where I am able to make lasting, meaningful impacts in the lives of my friends.
What are your plans after graduation?
Post-graduation I will join Roche Diagnostics in Indianapolis as an accelerated development program associate. There I will have three, eight-month rotations in different business units. I love healthcare and helping impact patients' lives. As mentioned earlier, I plan to keep woodworking on the side, and coach grade school football in the fall [seasons]. Further, I hope to stay involved in ministry for my local parish as well as stay involved in Bible study.
Outside of work, I lead an active lifestyle and love working out, running, golf and playing music. I have a passion for all of these endeavors and look forward to building new routines and annual traditions with my Delt pledge class to stay in touch after we graduate from DePauw.