Lifelong Learning and Living Your Oath
At first, Jason Leehan (University of Washington, 2002) was skeptical when friends he knew from high school invited him to check out the Fraternity they'd joined, but that's where his Delt journey began. "Relationships I had from high school segued into college and when I joined the Fraternity, it was like the whole world had opened up for me," Leehan said. "I ended up thriving kind of having this out of body experience where I was becoming, my own person—my own individual," he said.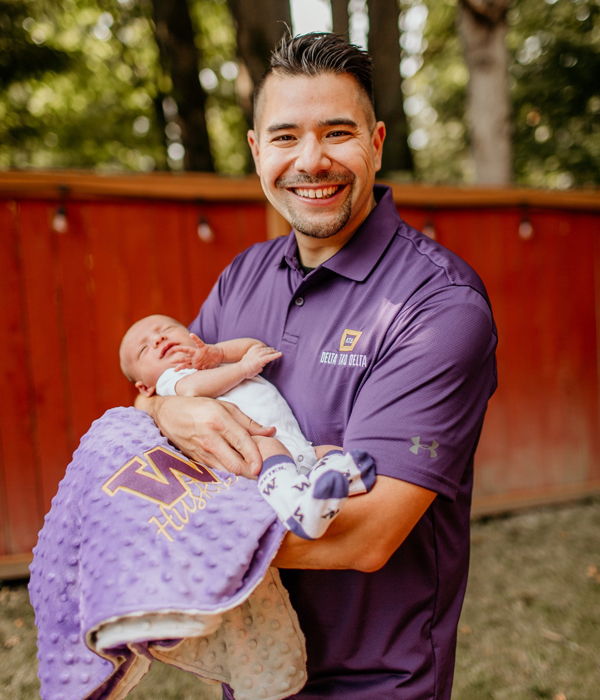 Leehan became pledge class president, then honor board president and then chapter president. "I had this amazing journey with a lot of great mentors. I attended one of the very first Delt Leadership Academies, which was super influential in my life. It was tailored to the Stephen Covey, Seven Habits of Highly Effective People," he said. "These kinds of opportunities have an everlasting impact, but you don't even know about at the time. You just know that this journey you're taking is the path you're supposed to be on."
After college Leehan wanted to be a lawyer. "I ended up working at a law firm for about 12 years... I actually read the law like Abraham Lincoln did. [Washington is] one of six states in the United States where you can tutor under the law and then you're qualified to take the bar exam. And so, I became a lawyer going that route—basically, a self-study program along with a lawyer mentor."
When he graduated from the program, he had the experience of a long-tenured lawyer who gained practical and theoretical experience at the same time. Still in a self-discovery mode, he realized the practice of law was a lonely job and he began a small startup company in technology and financial services in 2008 before landing at Microsoft. "It's been one of the highlights of my life working for this company because they're all about growth mindset. This aligns with my lifelong vision of always trying to learn and get better," Leehan said.
His lifelong learning journey has evolved today to include fatherhood and giving back as a Fraternity volunteer.
As a new dad with a young baby Leehan finds himself applying his lifelong learner philosophy to parenting. "You can follow up with friends who are parents. You want to see who walked the path. You read books like crazy, turning over every rock. And then you realize whatever you learned and read and whatever birthing classes you participated in; it all goes out the window when [you become a parent]. You realize you're drinking from a fire hose and you're learning on the job."
Even as a new parent, Leehan's Delt journey continues as he is drawn to remain involved with the Fraternity engaging in new experiences while encouraging others to learn and grow. "I've always had this connection to the [chapter], because of the early impact it had on me as an individual in becoming a man."
Leehan helped charter the alumni association in the Pacific Northwest and served as its president and today he is a division vice president for the Fraternity working with Gamma Mu Chapter at the University of Washington. "It's been incredible reengaging with volunteers and college students. And talk about an interesting time as a volunteer/mentor during COVID—it's even more important for our Fraternity and our alumni to be there for our young guys right now. It's such a pivotal time in our Fraternity," Leehan said.
Alumni can always find a way to give back according to Leehan. "If you are looking to reinvigorate your passion and connect with your brothers, there is no better way than becoming a volunteer. I think that that really sets the tone for the rest of your life-- we have taken an oath, and this is the way that you can live that," he said.