Leaving a Legacy and Building a Future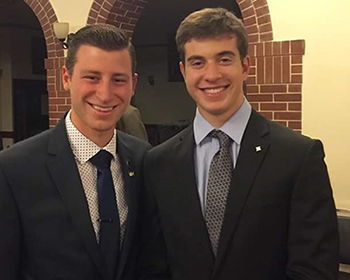 Anthony Sansone (University of Iowa, 2016) didn't know much about Greek life when he arrived at the University of Iowa, but when the resident advisor from his dorm told him about a new fraternity, he was intrigued. As Sansone met other members, he realized they stood for much more than what he perceived as Greek life. "I aspired to be like those individuals. I truly believe the mantra of 'you become those around you.' If you surround yourself with good guys who focus on the right things and understand their priorities, that influences the person you become."
Sanson joined one semester before the young chapter was charted and he took the idea of leaving a legacy seriously. He'd seen the older members work hard to charter the chapter and felt he needed to do something impactful to prove himself. He asked himself how he could leave a lasting impact on the chapter. "I really wanted to take it in a new direction and find a vision or mission that represented the fraternity post-charter," Sansone said.
As a chapter officer eventually serving as president, Sansone worked to contribute as much as those who came before him and the chapter flourished. In 2015, the chapter cleaned up with 16 Greek life awards and was named IFC Chapter of the Year. They'd earned seven Greek life awards in 2014, and while it's not all about awards, their commitment to excellence is paying off.
What Sansone says makes him the proudest of his chapter brothers is their ability to welcome and appreciate anybody from anywhere. "One of the biggest things I love about our chapter is we're all so different. Each one of us brings something so different to the table as far as culture or background. We're not all engineers; we're not all dancers or art majors. You get to experience a lot of different types of people, but you all fundamentally share common goals and shared values through the fraternity."
"It was tough for us right after we got chartered. We didn't really know where we wanted to go or who we wanted to become," Sansone said. A planning session and several goal-setting retreats helped members get on the same page as they took a hard look at why members joined and talked in depth about Delta Tau Delta as more than just a four-year experience.
"It's a whole lifelong commitment to making sure that we're better and figuring out what's right in our lives," Sansone said. He attributes much of their success to having open conversations about realistic ways to make an impact and making sure every member is accountable.
During his term as president, Sansone feels chapter members established a good sense of where they want to go. "It's all about maintaining that vision and keeping up the actions, the events and the programs that facilitate that. I'm really proud to see the chapter improve every semester. Every single year it gets better and better. We're so young, but we have so much room to grow."