Lawrence Delts Donate Handmade Blankets to Hospital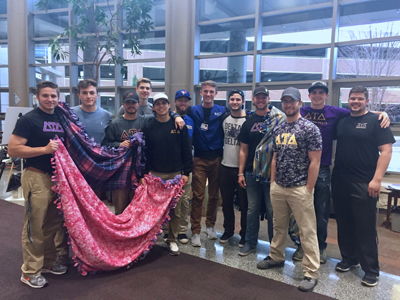 While volunteering at St. Elizabeth Hospital in Appleton, Wisconsin, Andrew Lauber (Lawrence University, 2019), heard about a program organizing donations of blankets for specific hospital departments. The blankets are then distributed to those in need. The program sparked an idea that Lauber took back to the Delta Nu Chapter.
"I initially mentioned the project during elections and campaigned on the idea that I wanted to consider philanthropy as a way to change our reputation on campus. Being a chapter of mostly athletes, I wanted to run an event that showcased our ability to step outside of our comfort zone and help those in need by doing something that wouldn't be expected from a houseful of guys," Lauber said.
Lauber worked with other chapter officers to allocate funds and purchased enough fabric for at least 30 tie blankets. The blankets are a design that requires no stitching, two equal-sized pieces of fleece laid on top of each other with tassels cut from each piece tied together to create a fringe.
In late March chapter members delivered the blankets to the Child and Adolescent Inpatient Mental Health unit at St. Elizabeth Hospital. "Seeing 12 college men walk into the hospital so proud of their accomplishment of making fleece blankets is truly inspirational," said Julie Keller, development manager at St. Elizabeth Hospital Foundation, who greeted the group upon their arrival.
For 25 years, St. Elizabeth Hospital has provided a healing environment centered around safety and spaces to help youth and their families heal. The unit has 17 beds for youth ranging in age from 5 to 17. There are three program tracks, one for young kids age 5 to 9, a tween group and a teen group. Each year more than 900 youth stay on the inpatient unit.
The blankets provide comfort to kids at their most vulnerable time. They are often scared and unsure of what is going to happen when they are in the hospital. One of the patients shared, "I walked into a room with a staggering display of blankets and was told I could pick whichever one I wanted. I felt so important, I couldn't believe there were people who didn't know me but cared enough to make and donate these blankets."
After they leave, many of the youth comment that their blanket was such a comfort while they were in the hospital. It often becomes a keepsake for them after they leave -- a remembrance of the beginning of their healing journey.
Lauber said he chose the behavioral health department for a very specific reason. "In my limited experience, I've noticed that the behavioral health system as a whole attracts a lot less attention than other disciplines such as oncology. It may be that the signs of serious mental illness are not as apparent as a broken arm or a tumor on a PET scan, but I believe those afflicted with mental disorders and those tasked with caring for them deserve much more recognition in the public eye."
By giving to the behavioral health department, Lauber said the chapter wants to send the message to young patients that they are not forgotten.
"As a chapter, I hope the guys have learned something as simple as a tie blanket can make a world of difference to people much less fortunate than themselves. It only takes an hour of effort to have a lasting impact on someone else's recovery," Lauber said.