Language Enthusiast Helps Others Learn
John Handy (University of Arizona, 1988) founded Irish Language Learners, LLC in February 2013 after studying the Irish language for one year. He launched the Facebook page called "Irish Language Learners" to support those learning the Irish language across the United States, in Ireland and globally wherever the Irish Diaspora or others interested in Irish culture can be found.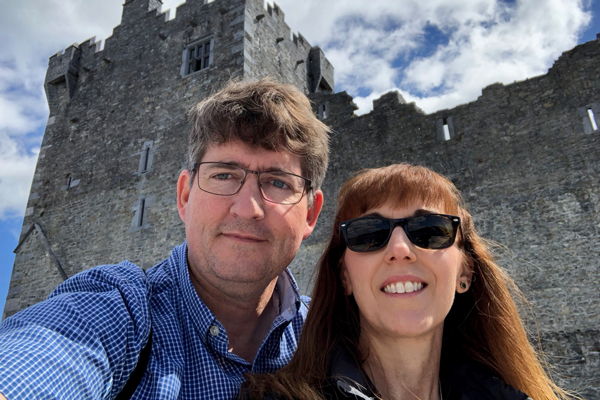 "I was inspired to do more than was done before to help the Irish language grow," Handy said. "I started a presence on various social media platforms, and I decided to begin using the Irish language every day in any way that I could. Irish Language Learners currently has more than 100 members and 53,000 followers on Facebook. We now have nine classes currently running with the support of a few others teaching on our behalf. I have also begun providing one-on-one tutoring for more concentrated learning and currently have more than 15 students in that capacity."
Handy started studying foreign languages in high school and college. The first foreign language that he learned was French. He studied French for four years in high school and one year at the University of Arizona. "My wife speaks fluent Greek, which prompted me to learn Greek," Handy said. "I learned to appreciate how a family can live bilingually relatively easily. When I decided to begin studying Irish, I was already immersing myself in the Greek, German and French languages through audio lessons as I commuted to work."
"I began learning the Irish language in Philadelphia after receiving my Irish citizenship," Handy said. "I have dual U.S. and Irish citizenship. After receiving the official Foreign Birth registration, I said to my wife that I was Irish now and should learn to speak the Irish language."
With this background, he stepped into the world of learning Irish. "I was encouraged to participate in an Irish language immersion week held annually in upstate New York by a non-profit located in New Jersey called Daltaí na Gaeilge (Students of Irish)," Handy said.
"In my first year of learning Irish, I imagined that I could help fellow Irish Americans and language enthusiasts around the world to connect with and learn Irish," Handy said. "I have found that many people in the U.S. presume that Irish (Gaeilge) is a dead language and vaguely refer to it as Gaelic."
Handy met his wife of 31 years, Estelle, a Chi Omega, through interfraternal events hosted by his Delt undergraduate chapter. Estelle is also a University of Arizona graduate. They currently reside in Perkasie, Pa., which is about 20 minutes from Handy's hometown of Doylestown, Pa.
Handy's wife, Estelle, shares his passion and assists him with Irish Language Learners' administrative aspects. They have traveled to Ireland every year for the past five years, specifically to promote the study of the Irish language. Unfortunately, their 2020 travel plans to Ireland were canceled due to COVID-19. "It is our ongoing hope to bring the Irish language to more and more Irish festivals and to set up various excursions to Irish speaking areas of Ireland," Handy said.
After graduating from the University of Arizona with a B.S./B.A in accounting and finance, Handy was hired through a temp agency to work for a major pharmaceutical company. Within the first year, he found a permanent position with the company. "I was very lucky to have a wonderful career there for 30 years and the chance to move around in a variety of roles including auditing of new construction and renovations, plant site security and security systems administration for 100 buildings and 10,000 employees and contractors, and I.T. business management and financial planning," Handy said. The financial accounting work that Handy was performing was transferred to Costa Rica as part of a global hub strategy for shared business services and he left his job at the pharmaceutical company in February 2020. Irish Language Learners is now his full-time primary focus.
Handy enjoys walking and bicycling in his spare time. For 21 years in a row, he helped raise money for multiple sclerosis research and services through the annual M.S. City to Shore Ride in New Jersey. He has also participated in marathons and half-marathons. Handy and his wife have performed music in a local church choir for many years and they enjoy playing Irish music with friends.