Every little kid dreams about the perfect baseball scenario, bottom of the 9th, bases loaded, two outs, down by three, but instead of being at the plate Brendan King (Butler University, 2017) wanted to be in the announcer's box calling the game-winning grand slam.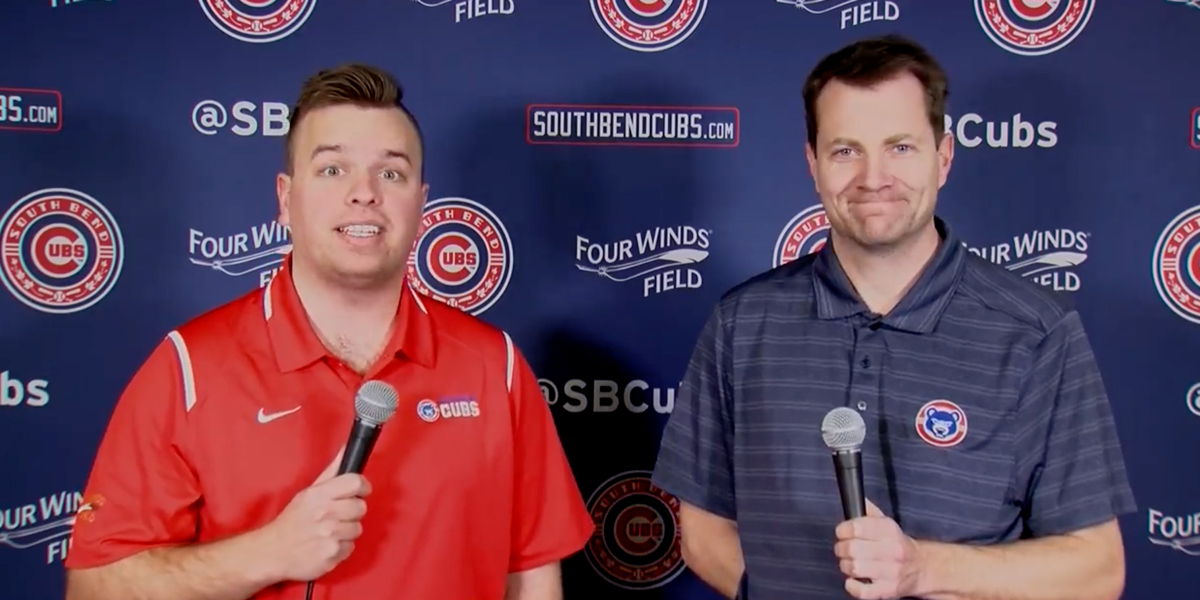 "I have known since I was 12 years old, to be honest," King said. "My grandpa worked in advertising, he wasn't a sports broadcaster, but he had known broadcasters from TV advertising. His work with the Chicago Blackhawks, Chicago Cubs, Chicago White Sox had always interested me from the stories he told me working in professional sports."
Starting at the Bottom
In high school, King got the chance as a freshman to be the play-by-play announcer for the football, basketball, and baseball teams.
"I was pulled by my English teacher who sponsored the club that put on the broadcasts. He gave me a chance to do football and I remember that I wasn't very good at all, but I stuck with it," King said. "He continued to give me chances and by the time I was a senior I knew this is what I wanted to pursue."
After stopping at Butler University on his way to Cincinnati during a family trip, King walked around campus and through the communications building, where he met journalism professor Scott Bridge (Butler University, 1982).
"We kept in contact and by the time I was a high school senior, he was really recruiting me hard and wanted me to come to Butler," King said. "He kept telling me I would get every opportunity to have success in the booth. I would get every opportunity to follow my dreams."
Honing his Skills
King's first broadcast at Butler was a month into his freshman year and he never looked back. He became the lead student voice of Butler sports, except for men's basketball.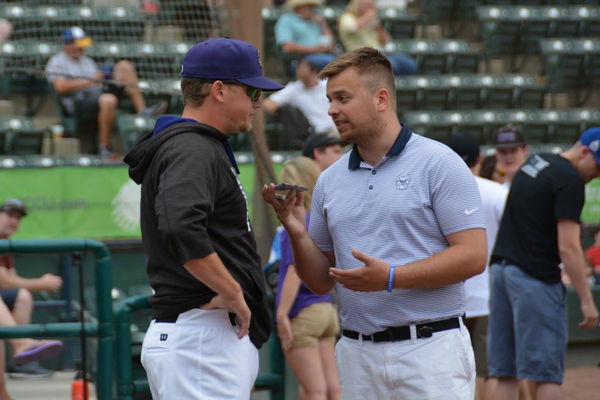 "I had a chance to do practically every sport," King said. "Butler Athletics put their trust in me and I put my trust in them. It was a great experience for all four years."
Being the voice for Butler sports wasn't enough for King to stand out in this competitive field. He also interned with the Indy Fuel Hockey team, as their broadcast intern and with 1070 The Fan, the ESPN radio affiliate in Indianapolis. This allowed him to get outside of the booth and be a studio host, or do pre and post-game highlights. Whatever got him in front of a microphone he did.
"Doing those internships helped set me up for what was to come. It taught me that I need to work hard and do whatever it takes to be successful," King said.
Being versatile helped King work on his craft and led him to an internship with the Cape Cob Baseball League, a collegiate summer baseball league in Cape Cod, Mass. where not only the top collegiate players go but where some of the best college broadcasters go as well.
"I was honored to be in that group. You saw kids from Arizona State, Arizona and Miami places like that," King said. "'I'm going yeah, I'm from Butler' and some people had never heard of Butler. Even though I was from the smallest school, I wanted to go out there and prove myself."
During a game in the Cape Cod league, King got his first dose of broadcasting on national TV. He was asked to call the fifth inning of the Orleans Firebird game.
"I don't remember most of it. The rush got to me so much that I performed and after I finished the inning I couldn't remember what I said. I had to go back and listen to myself just to make sure I didn't sound like an idiot. But that was the most fun I've ever had in my entire life."
Calling Games
Before stepping into the booth and putting on the headset King gets to the ballpark several hours before the game. From there he starts studying stats, going over line-ups and creating his game notes to make sure he knows what he's talking about before getting the five-second countdown to go live.
"It's a rush, there is no better feeling than going live on a broadcast and calling a baseball game," King said. "You hear the roar of the crowd, you see the guys on the field and you know that when people are listening, you are the eyes of the listener. You're not just telling them what's going on. You can't make it just sound good. you have to make sure they know exactly where the ball is, exactly what's going on."
South Bend Cubs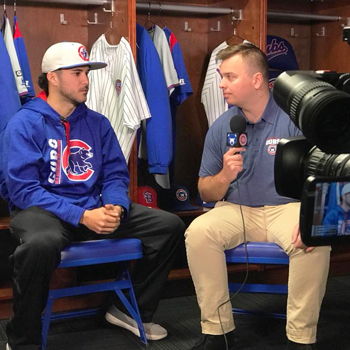 King's dream is to be the play-by-play announcer for the Chicago Cubs. By taking the number two-announcer position with the South Bend Cubs, the Class A minor league affiliate of the Chicago Cubs, he is another step closer to that goal.
He had to decide if he wanted to stay the lead announcer for the Boise Hawks, a short season Single-A affiliate of the Colorado Rockies where he called all 76 games of the season or be the number two announcer and only calling the game for three innings, four through six.
"I had to make a tough decision to leave Boise," King said. "I've been really happy with the decision so far because I'm going to get a lot more exposure and it's a dream come true to work in a Cubs organization."
Being 23 years old, a year out of college and calling games to sellout crowds in South Bend while working for an organization he grew up idolizing, King could not be on a better path.
"I struggle to wrap my head around it sometimes. It is easy to get lost in the moment just because it is such a competitive field," King said. "But I like to take a step back sometimes to think about where I started and where I am now."