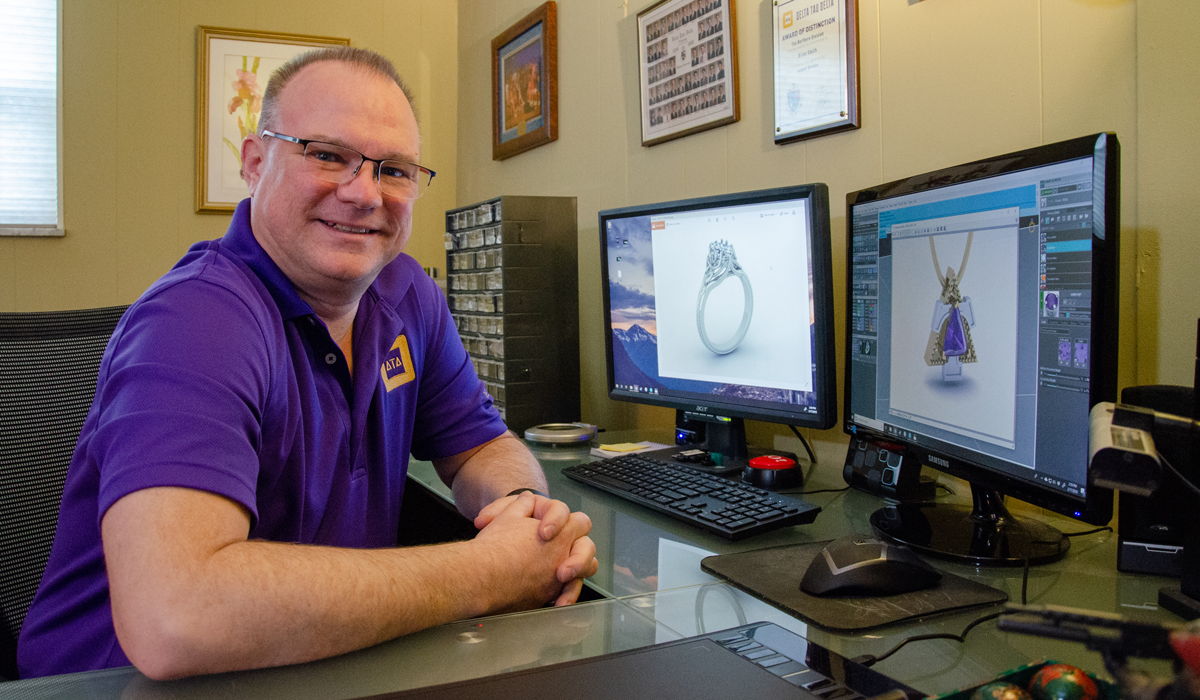 Being a music major wasn't hitting the right notes for Brian Smith (Bradley University, 1990) so he decided to change his major. To keep his scholarship at Bradley, he had to stay in the arts college, so he started taking drawing classes full-time before taking a jewelry metals class.
His jewelry metals professor mentioned to the class that the university used to have a major for jewelry making and that stuck with Smith and a few classmates in the course. The group of students got curriculum together with input from professors so the dean could make a case to the university.
"We got the dean to sign off on it. He presented it to the university and they reinstated the major, which was kind of cool," Smith said. "Six of us, including myself, graduated with a bachelor of science in jewelry metal arts, which is an unusual degree."
After school, he worked for a retail jeweler before working as a diamond broker where he managed loose diamond sales. "It was very eye-opening, fast-paced and a lot of money. It was exhilarating," Smith said.
When his father retired, he wanted to do something with Brian, so he approached his son with the idea of opening a jewelry store. Brian agreed and left the diamond business to start Smith Jewelers in Cincinnati.
After eight years of running the store, the economy took a turn and they were forced to close in 2013. "It was small; it was high end; it was all custom-made stuff. We had a lot of fun," Smith said.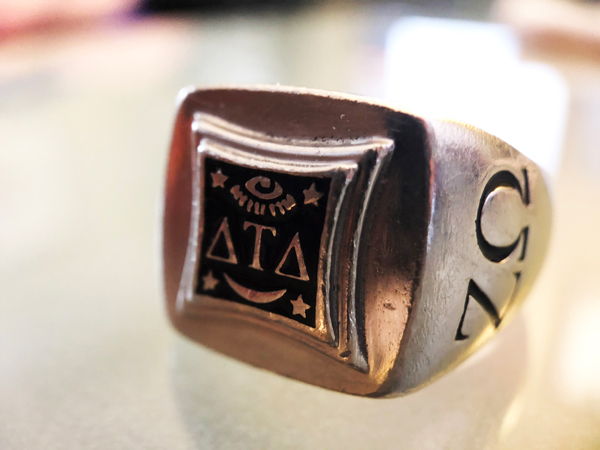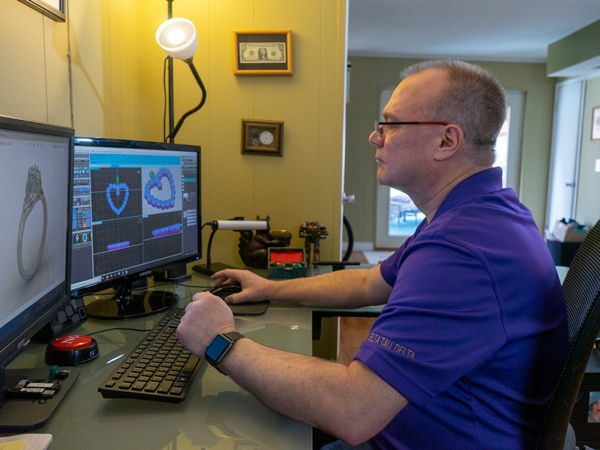 Brian Smith's
Ring
Former Chapter Leadership Consultant Dave Sullivan asked Smith to make him a ring to honor his time on the road. Smith liked the design so much he made one for himself. His ring was the inspiration for a similar ring for former International President Jim Garboden.
While working for himself, Brian decided to transition from hand-drawn designs to CAD work (three-dimensional modeling). "It was new and I just kind of grabbed hold of it and said, 'Okay, I'm gonna learn how to do this.'"
He traveled to the Quad Cities in Iowa to take CAD classes and anytime the company offered them he would sign up. The instructor told the class CAD is not easy, requires a great deal of effort and if they are not sitting down consciously designing every day, he wouldn't be able to master the software. Smith took that to heart.
"I had the program on my laptop at the time and I would work in the store or take it home and I would be just creating stuff. Working on people's projects, and admittedly, some of the early stuff is not great. But it was a forced learning curve. I decided I was not going to go back to doing it the way I was doing it before. This is how the industry was going to be moving, and I needed to move along with it or at least be on the forefront of it," Smith said.
Now, Smith couldn't imagine going back to hand-drawing everything. The way technology has evolved, he has software and machines for any job he can think of, it just comes down to picking which is best for the job.
After getting in touch with a former client in 2014, Smith joined Jewel Craft, the largest independent repair facility in North America as a CAD designer. Jewel Craft has more than 3,000 accounts nationwide and the CAD team does work for several chain stores.
"To sit down with someone and physically create what they are mentally picturing as a remembrance or as a special token–jewelry [piece] is a very, very emotional thing," Smith said.
Creating special tokens and pieces is a point of pride for Smith, but it's projects where he can combine his passion for jewelry making with the Fraternity that makes his job all the more unique.
Former Chapter Leadership Consultant Dave Sullivan (University of Cincinnati, 2007) asked Smith to make him a ring to honor his time on the road. Sullivan already had a rough design of what he wanted but needed Smith to bring it to life.
"I thought it was gonna be a cool ring. So I made the first one for Dave, and I made one for me that's basically the same," Smith said. "It has the Delt badge on top, the school logo on one side and then for him, it has Chi Chi on the side for the consultant chapter. For myself, I put Zeta Omega on the side of mine."
Former International President Jim Garboden even asked Smith for a ring to commemorate his time leading the Fraternity. Smith started sketching some ideas for Garboden's ring, but as the two friends had spent a lot of time together over the years, Garboden had grown to like Smith's ring.
"Garbs is lucky that he did his when we did. Our technology is so much better, so the details on his ring are a lot sharper than they
are on mine," Smith said. "We went through six or seven variations of the ring, different colors and different groupings, to get to the ring how we wanted it. But that one…I'm pretty proud of that one."
Connections like this keep Smith designing and creating pieces for family and friends. "Everyone has a moment, thought or an event that is celebrated with jewelry. It has a connection, no matter how small." Δ