Keeping the Magic Healthy
Disney veterinarian's mission goes beyond parks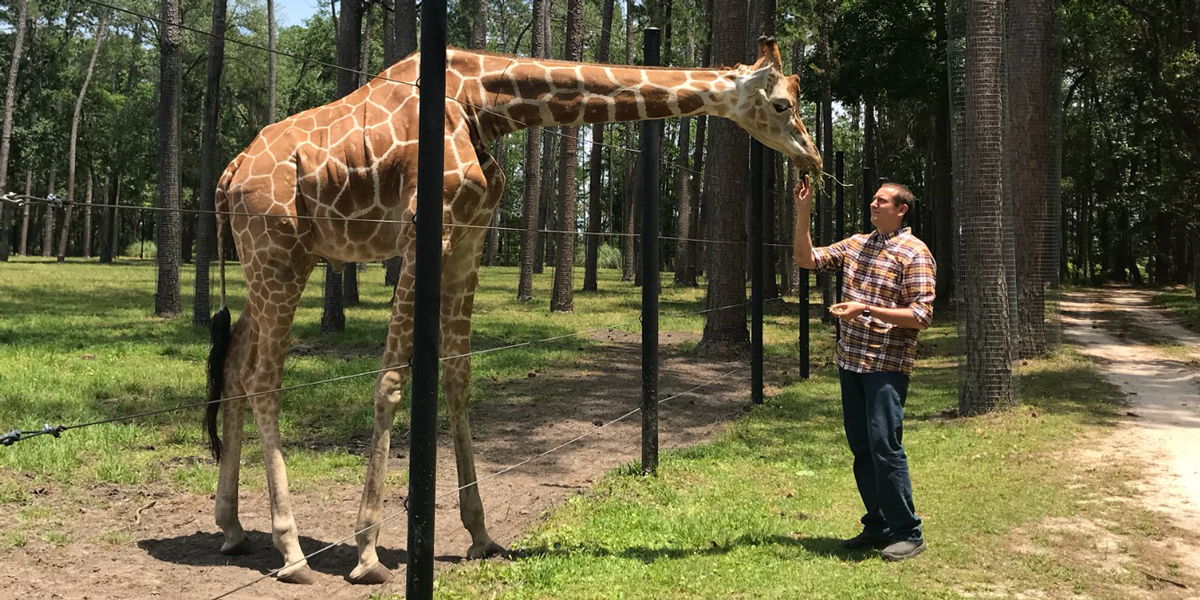 Participating in a ground-breaking surgical procedure on a dolphin while working at the Vancouver Aquarium is just one of the unique things Justin Rosenberg (Marietta College, 2007) has done in his career. He even helped rescue a stranded baby whale who defied all odds to survive and be introduced to other cetaceans once it regained its health.
Procedures for routine care, surgeries, and sick exams on mega-vertebrate such as rhinoceroses, elephants and giraffes are all in a day's work for Rosenberg who is part of the Animal Health Team overseeing care for the animals under the Disney umbrella. This includes all animals at Disney's Animal Kingdom, Disney's Animal Kingdom Lodge, The Seas with Nemo and Friends at Epcot, Castaway Cay (Bahamas), the Tri-Circle D Ranch, as well as any wildlife found on Disney property. The team manages an extensive preventative healthcare program that involves routine wellness examinations, vaccinations, parasite monitoring/control, and infectious disease testing.
His team at Disney is on call for any emergencies. "The typical things that we do involve anesthesia and examinations on fish, reptiles, birds, carnivores, hoofed stock and primates. Every day is a bit different based on clinical needs, but we are involved in lots of discussion pertaining to animal health, collection planning, and human safety," said Rosenberg.
Rosenberg always knew he wanted to be a veterinarian. "I guess you could say it was a calling, of sorts. I enjoy the application of medicine to a variety of species and constantly having to think outside the box. Sometimes I wonder how nice it might be to be able to ask a patient what hurts, but the fun of the job comes from having to figure it all out from an examination and diagnostic tests," said Rosenberg.
Rosenberg chose Marietta for its strong academic program with lots of opportunities for extra-curricular activities in addition to the athletics program where he focused on the strong rowing program. He earned a bachelor's in mathematics. After graduation he had to take a few extra courses to meet the requirements for the veterinary applications, however, Rosenberg said his mathematics education gave him the ability to problem solve and evaluate situations from a different perspective. "It is actually about a lot more than just numbers," said Rosenberg.
He has traveled to remote islands, Alaska, South Africa, Madagascar, and Australia as part of his job while participating in field projects. The most recent work in Madagascar was a last-minute in response to the largest confiscation of endangered radiated tortoises. The Turtle Survival Alliance (TSA) put out a call for help to qualified individuals asking for in-country assistance. Rosenberg responded to the call and arrived in Madagascar less than three weeks later. There he oversaw the medical care of all sick animals and performed health assessments on the remaining population. He was also part of the team that helped transfer the roughly 2,000 tortoises to a secondary facility built specifically to handle the confiscated animals.
"It was a tremendous opportunity to directly assist with in situ conservation and rehabilitation efforts.1 It is always extremely humbling to feel like I am able to make a difference on a global scale," said Rosenberg.
Giving back to the community is extremely important to Rosenberg. "I recognize how fortunate I have been to 'make it' in the zoo-wildlife veterinary field. I take every opportunity to publish in scientific literature to help continue to advance the field. I also thoroughly enjoy teaching and providing mentorship," said Rosenberg.
1 In situ conservation is on-site conservation or the conservation of genetic resources in natural populations of plant or animal species.