JDRF Service Leads to Redskins Ticket Surprise
When your dad is a huge Washington Redskins fan, and you want to surprise him, why not tweet Washington Redskins' linebacker, Mason Foster and ask for game tickets?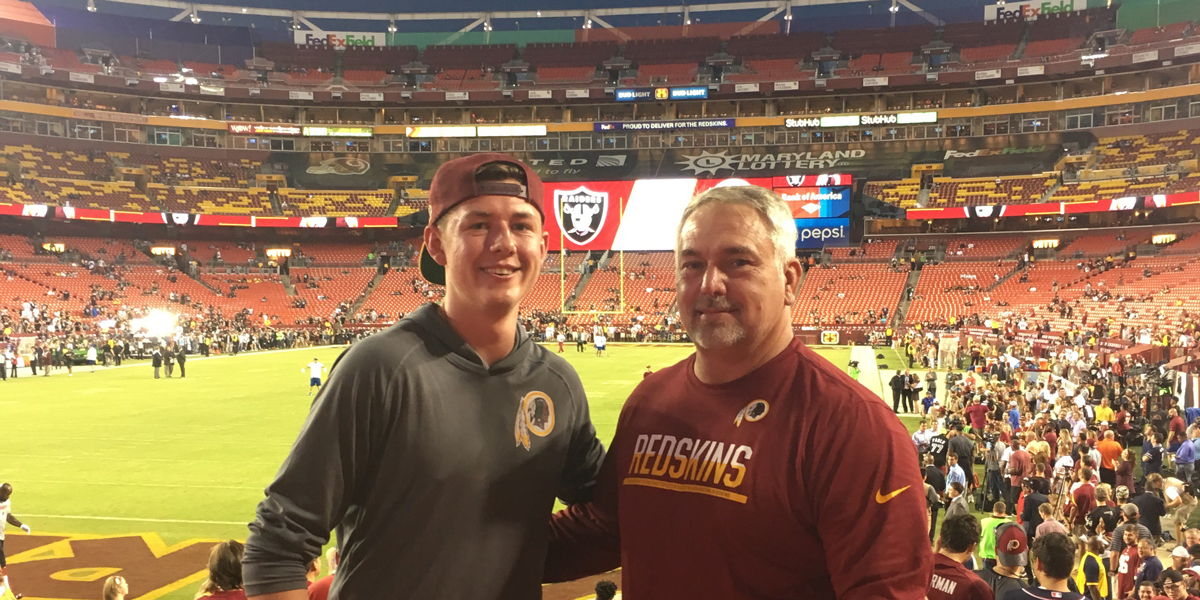 Ryan Springer (Morehead State University, 2018) saw how Foster was interacting with fans online and thought he'd give it a try. "I felt like Mason Foster would be willing to help me out in surprising my dad, so I thought I'd give him a shot," said Springer.
Foster responded, challenging Springer to get 554 retweets and do three hours of community service in exchange for the tickets. "We follow each other on social media," said Springer. "He asked what organization I would want to do community service for. I tweeted about Delt and how we are a philanthropic partner to JDRF," said Springer.
Springer was eager to further the Fraternity's partnership with JDRF, the leading global organization funding type 1 diabetes (T1D) research. He went to the JDRF office and spent time packing Bags of Hope with resources for children diagnosed with type 1 diabetes. His service paid off when Foster arranged the tickets.
"My dad was excited. I look up to him. He's a hard worker. I don't get to spend a lot of time with him so the opportunity for me to surprise him with tickets for something we are both huge fans of, he couldn't have been happier. I'm glad that Mason Foster was able to do that for us," said Springer.
Springer's father, a chief engineer for four hotels, works long hours. "I've never really seen my dad have a weekend off. He might hang out for half of a day on Saturday and work the rest of the day. Luckily he was able to get off that weekend because of the game," said Springer.
In September Zeta Zeta Chapter raised $1,200 for the JDRF One Walk, but Springer said the experience opened his eyes to the needs to spend more time to volunteering with JDRF. "I'm going to start volunteering more often. I'm able to spread that to the rest of my fraternity. We've done a lot, but there's more we can do," said Springer.
Spring was shocked when The Washington Post covered the story of how he got Redskins tickets from Foster. "I was glad he was able to contact me and share the story. I know with athletes, a lot of the media is negative. I'm glad this was something positive. I have to give a shout-out to Mason Foster and what he did. I know he does it with a lot of fans. I feel like he's one of those athletes that people should look up to," said Springer. "I was excited that I was able to talk about the Fraternity and the good things we are doing here."
Springer is keeping an eye on professional sports in the future. "My dream originally as a kid was to play professional baseball. That didn't work out. The next best thing for me is to work in Major League Baseball," said Springer. Last year he interned with Louisville Bats and the year before he worked for the Lexington Legends. When he sought his first internship, he applied during his sophomore year and was turned down. In the summer before his junior year, he participated in a job fair for the Lexington Legends. "I showed up in suit and tie and got my interview there and got the job," said Springer.