Two Delta Tau Delta representatives joined more than 160 youth delegates from all 50 states, and six countries in the nation's capital in July for the JDRF Children's Congress, a bi-annual event to urge continued research funding for type 1 diabetes (T1D).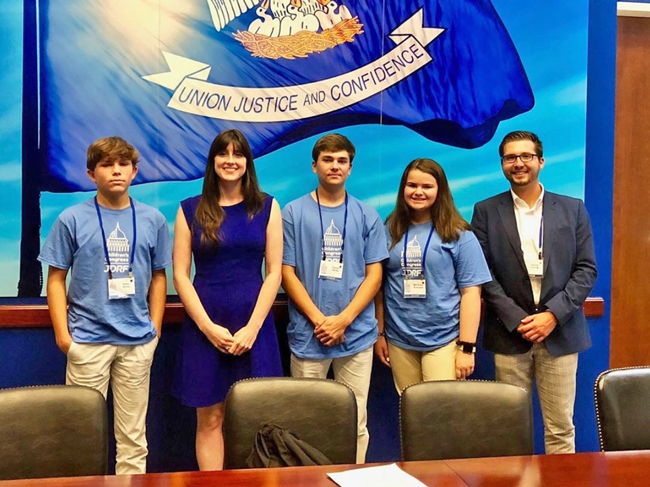 The delegates, all living with T1D—ages four to 17— traveled to Washington to represent JDRF, the leading global organization funding type 1 diabetes research. Celebrity T1D role models attended the event, sharing powerful experiences of living with T1D with both delegates and with Congressional representatives.
Garrett Baugus (University of Texas at Arlington Crescent Colony, 2020) and Claudio Franc (Southeastern Louisiana University, 2019) represented the Fraternity supporting JDRF's advocacy efforts and the mission of improving lives by accelerating life-changing breakthroughs to cure, prevent and treat T1D and its complications. Since Delta Tau Delta established its national philanthropic partnership with JDRF in 2012, the Fraternity has raised approximately $1.7 million for T1D research.
Baugus, who was diagnosed with T1D when he was five years old, has been living with T1D for 22 years. At the Children's Congress, he noticed how kids depend on technology, such as continuous glucose monitors, to manage T1D. "It's clear they are more technically savvy at a young age and have more opportunities to better care for themselves," said Baugus. "All the kids were hopeful and engaged in trying to make sure everyone understands the need for a cure."
Though he didn't know too much about T1D until he joined Delta Tau Delta, Franc is a committed advocate for JDRF. "I am so thankful for Delta Tau Delta and JDRF, and that I got the opportunity to attend this year's JDRF Children's Congress. I learned more about why we do what we do as Delts, and how any philanthropic effort, no matter how small, truly makes a difference in the lives of millions of people."
Children's Congress ended with a critical and emotion-filled Senate hearing on Capitol Hill for the Special Diabetes Program (SDP), which has provided $150 million annually toward T1D research and is essential to JDRF's mission to create a world without T1D. The program began in 1997 and has contributed nearly $2.8 billion toward T1D research.
"JDRF is grateful for the support from Delta Tau Delta at the JDRF 2019 Children's Congress in Washington, DC, and its ongoing commitment to our advocacy efforts on behalf of the type 1 diabetes community," said Joe Watterson, vice president, corporate development at JDRF. "Continued federal funding for research through the Special Diabetes Program is critical to reducing the burden of type 1 diabetes and will ultimately help lead to cures for the disease. We extend our thanks and appreciation to everyone who joined our Children's Congress delegates on Capitol Hill to share this important message with Members of Congress."