Jake Sherman Selected to Join NIC's 2023-2024 IFC Advisory Council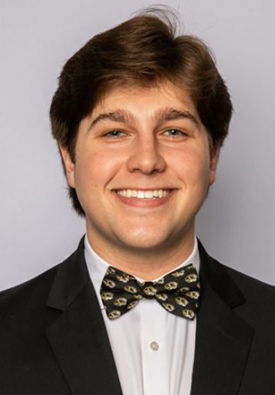 The North American Interfraternity Conference (NIC) has selected a Delta Tau Delta member among the six individuals joining the 2023-2024 IFC Advisory Council. All six undergraduate students have served on their respective campus Interfraternity Councils (IFC) and held numerous chapter leadership positions.
Jake Sherman (University of Missouri, 2024) is the Interfraternity Council president at the University of Missouri-Columbia. As a member of the Gamma Kappa Chapter, Sherman served as the director and senior director of philanthropy, among other positions. He is active on campus serving on the steering committee for Rockin' Against Multiple Sclerosis and participating in the Missouri Real Estate Club, Business Careers in Entertainment and as a member of the Investment Group.
"We are grateful for these young men and their commitment to the fraternal movement," said Will Foran, NIC Chief Operating Officer. "They play a critical role in continuing to enhance the resources available to Interfraternity Councils by providing strategic feedback and intentionally engaging with other fraternity leaders. We appreciate their willingness to volunteer their time over the next year."
The IFC Advisory Council is a unique opportunity allowing undergraduate fraternity members to engage with industry leaders while helping to influence and shape the fraternity experience. They will assist with developing IFC resources, inter/national policy and mentoring other IFC officers. Members will begin meeting later this month and serve in this role for one year.