Jaccard's Role in the Battle of Midway
Richard A. Jaccard (Kansas State University, 1940) played a significant role in the Battle of Midway in the Pacific Theater of World War II from June 4 to June 7, 1942 where he was a wingman for Lt. Commander Wade McClusky.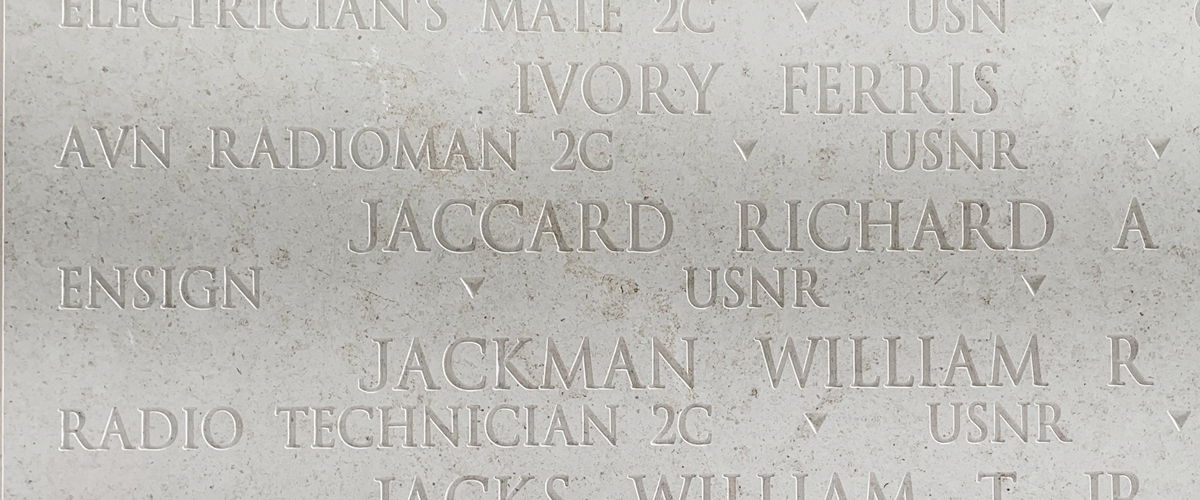 In the words of Admiral Chester Nimitz, McClusky's decision to continue the search for the enemy and his judgment as to where the enemy might be "decided the fate of our carrier task force and our forces at Midway."1 McCluskly's name may also be familiar to those who saw him portrayed by actor Luke Evans in the 2019 movie "Midway."
Jaccard, who served as freshman class president at Kansas State and was actively involved with Gamma Chi Chapter, enlisted in the U.S. Naval Reserve on October 29, 1940. He later underwent flight training and upon graduation was commissioned as Ensign on September 27, 1941.
Reporting to famed carrier USS Enterprise in April 1942, Ensign Jaccard took part, June 4, 1942, in one of the most important battles in all naval history, the Battle of Midway.

As American carrier groups moved to meet the Japanese thrust at Midway Island, Jaccard, as part of Scouting Squadron 6 (VS-6), attacked enemy carriers during the morning, knocking out Akagi and Kaga. That afternoon the squadron carried out another devastating attack, sinking carrier Hiryu. Jaccard also participated in attacks on the Japanese cruisers Mikuma and Mogami. For his part in a great victory, Jaccard was awarded the Navy Cross.

There was confusion in the initial dive as Lieutenant Commander McClusky called out a dive on one carrier, but then dove on the others (Kaga and Akagi). This caused VS-6 and VB-6 planes to co-mingle on the first carrier, leaving Lt. Richard Best to call off the final two sections of VB-6 to attack the second carrier. Ensigns Pittman and Jaccard were flying as wingmen to McClusky. Pittman should have been the second man down after McClusky, but because of confusion over the ship they were diving on, it was Jaccard who followed McClusky down. During his dive he apparently mistook his undercarriage lever for the wing-brake lever and slowed his plane by lowering his wheels instead of his brake flaps. While he apparently missed his target on that dive, he is credited with a hit on Hiryu (later the same day) and on Mogami (the next day).

Ens. Jaccard flew with Bombing Squadron 6 in support of the landings at Guadalcanal and Tulagi as well as the Battle of the Eastern Solomons in which Enterprise was severely damaged. Bombing 6 was ordered to Efate where a four plane division including Ens. Jaccard was detached and sent to the USS Wasp.

Ens. Jaccard was killed when Wasp was torpedoed and sunk September 15, 1942.2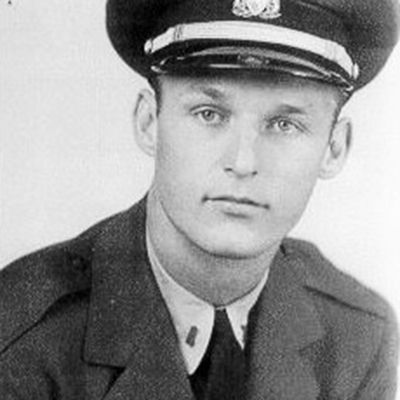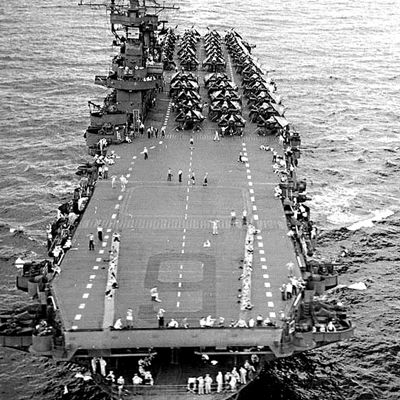 In November 1944, The Rainbow listed Ensign Richard A. Jaccard as a recipient of the Distinguished Flying Cross, Navy Cross and Purple Heart with the heading, "The names listed below are forever immortal. Some have given their lives in the struggle to make all men free; some are missing in action; some are prisoners of war; others have been wounded in the conflict; and still others have distinguished themselves by valorous action. Good Delts all. Delta Tau Delta honors them for their devotion to country, to liberty, and to humanity."
Delta Tau Delta recently learned that Jaccard's chapter brother, John D. McNeal (Kansas State University, 1939), named his oldest son Richard in honor of Richard Jaccard. "My brother and I grew up knowing that he had been named in honor of a fraternity brother of our father. It was only recently that I discovered who that person was upon reading some letters my father wrote during the war," said Doug McNeal, an alumnus of Kansas State University and a member of Beta Theta Pi Fraternity. "Dad interrupted his graduate studies at Kansas State soon after Dec. 13, 1941, and spent four years in the Navy serving on the USS Toro submarine at the end of the war. He then entered the Navy reserves where he retired after 30 years with the rank of Captain."
Jaccard's namesake, Richard McNeal, graduated from the United States Naval Academy, entered the nuclear submarine service and then went on medical school under a Navy scholarship to become a pediatric nephrologist at Naval Medical Center San Diego. He retired with the rank of Captain.
Jaccard was also honored in the naming of the USS Jaccard (DE-355), launched by Consolidated Steel Corp., Ltd., Orange, Texas, March 18, 1944; sponsored by Mrs. Ruth Bright Jaccard, wife of Clarence Roy Jaccard and mother of Ensign Jaccard; and commissioned July 26, 1944, Lt. Comdr. C. R. Hamilton in command.