Iota Tau Takes a Stand to End Domestic Violence
The Iota Tau Chapter at Sacred Heart University in Fairfield, Conn., has taken on the challenge to raise awareness and reduce domestic violence in their community. It is taking action by planning and participating in events and speaking out.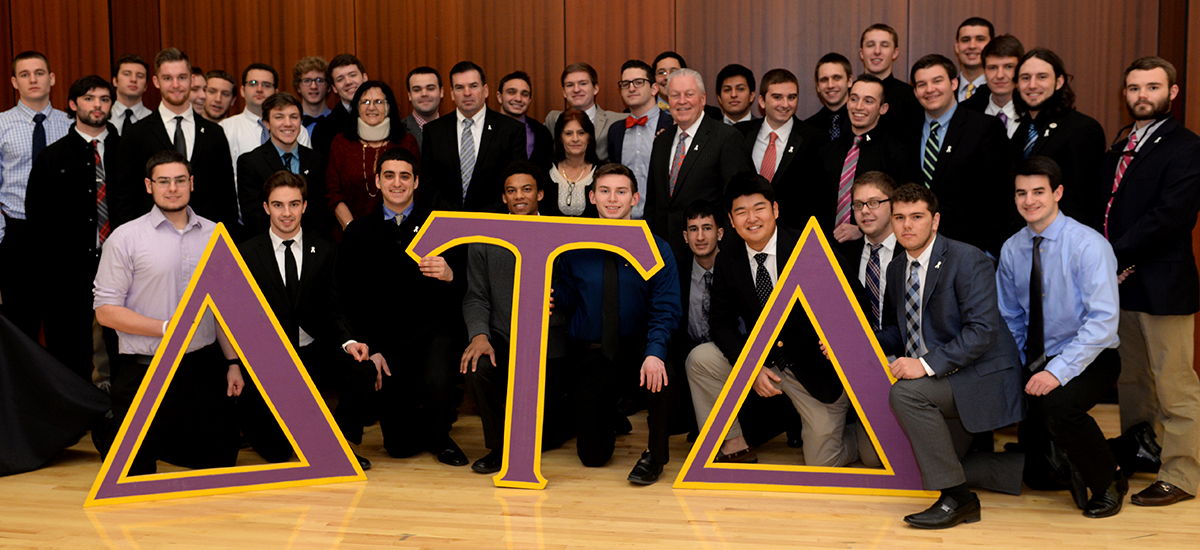 On Feb. 26, 2016, the chapter hosted a White Ribbon Campaign to break the cycle, spread the word and speak out against domestic violence. As it planned the campaign, Chapter President Sean Quigley (Sacred Heart University, 2018) and David "Ryan" Cannata (Sacred Heart University, 2018) met with Sacred Heart University President John Petillo. He sought to increase Sacred Heart's participation and support for this event and asked Delta Tau Delta to help.
Next, Quigley and Cannata met with Athletic Director Bobby Valentine and addressed the entire athletic department and encourage student-athletes to support the cause. As a result, all teams that weren't away for a game attended. At their urging, all Greek organizations sent contingencies as well. "It was fantastic to see the fruits of our labor. Sacred Heart had over 600 school-affiliated individuals in attendance," said Cannata.
At the event, Fairfield First Selectman Mike Tetreau, and Fairfield Police Chief Gary MacNamara joined men from the Sacred Heart University community to sign a pledge committing themselves to never perpetrating violence or abuse against women. Dr. Petillo spoke and domestic violence survivor Connie Rich shared her inspiring story of hope with the students.
The White Ribbon Campaign wasn't the first-time chapter members tackled this issue. In the fall of 2015, they participated in a candlelight vigil honoring victims of domestic violence. That community event was attended by more than 100 Fairfield residents as they honored 18 victims of domestic violence in Connecticut during the previous year. The focus was not only on commemorating the victims but also calling attention to the community effort to reduce domestic violence.
Philanthropy Chair Nick Troiano (Sacred Heart University, 2019) spoke at the event about the unacceptable number of lives lost or harmed due to domestic violence. "No one person can stop domestic violence on their own. It takes an entire community. I along with all my brothers at Sacred Heart University take this issue to heart," said Troiano.
The desire of members to take responsibility as young men and fraternity members in the local community and school community was reflected in comments by Cannata who is now chapter president.
"We have the opportunity to create a culture change," Cannata said. "Across the nation, we have a bad rap in the media. Fraternities sometimes have a history of perpetuating awful behavior. We fight against that; we rebel against that notion and we want to change that entire idea. We want to redeem the idea of fraternity as real pillars of good gentlemanly behavior in the community."
Their presence made an impact. Debra Greenwood, president of The Center for Family Justice, told the Fairfield Daily Voice that she found the number of young people attending the candlelight vigil to be a hopeful sign.
A Facebook post on the page of The Center for Family Justice by Tina Leigh, reads, "I got choked up when the fraternity brothers were speaking. Nothing moves me more than hearing, meeting and seeing young men redefining their masculinity and trusting that they have such an essential role in this cause."
The chapter continues to plan events to educate on the topic of reducing domestic violence. It regularly invites professors and professionals to speak including the first selectman, police chief, university president and Sacred Heart University's Title IX Coordinator. Each April chapter members participate in the "Walk A Mile" event in downtown Fairfield. The event supports the movement to raise money for local rape crisis centers, domestic violence shelters and other sexualized violence education, prevention and remediation programs. They will again host the annual White Ribbon Campaign on Feb. 17, 2017 and are making plans for a Blue Light walk where they will tour the campus safety lights and present facts on domestic violence and date rape.
The mission to break the silence when it comes to domestic violence and step up as individuals is one that chapter members want to share. "This issue means a lot to us all. We make it a goal to inspire others on this issue and it would be fantastic to see Delts across the country jumping in on the effort," Cannata said.