Interconnectedness Ignites Happiness
Delt Friendships Thrive Over Zoom Decades After Graduation
Just over a year ago, Alan Allen (Washington & Jefferson College, 1960) talked with chapter brother Gordon Garrison (1962) about reconnecting with chapter brothers. Garrison began pulling together a list of brothers who graduated within a five to eight-year span, the first step in reignited friendships developed through the Fraternity.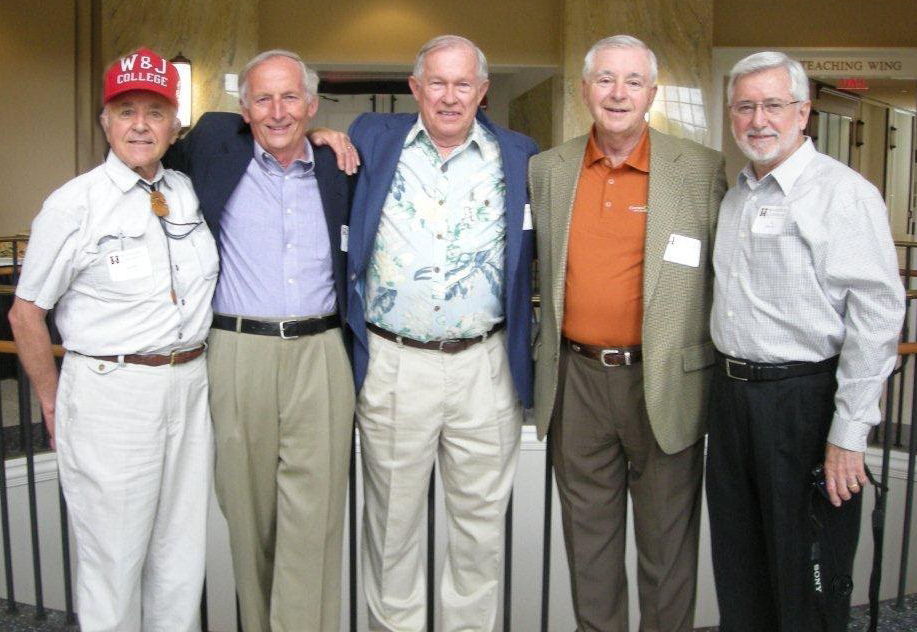 "Gordon Garrison played a significant role in compiling information on Delt brothers from Gamma Chapter during the late 1950s and early 1960s," Allen Said. "He spent countless hours researching, calling, emailing and texting to collect names and locations, phone numbers, email addresses and family information. It is because of his help that our Zoom session announcements have gone out successfully to so many of the Delt brothers."
At first, only a few participated in the Zoom calls but the group soon grew to roughly a dozen men meeting every month and now every other month. "Several said ''I'm trying to figure out how to do Zoom,'" Allen said. "These guys are in their 80s like me we're not all computer savvy."
They started with introductions and updates and their interaction grew spontaneously. "It was just filled with laughs and excitement to learn where our friends from the Delt house had gone, where they were living," Allen said.
After a few Zoom sessions, they started getting into deeper discussions such as what important lessons they learned since graduation and what they have come to believe through their life experiences. They've talked about marriage, education, careers and favorite memories from college years.
"The value of our zoom session has been the interconnectedness of all of us starting back in those years at Washington and Jefferson," Allen said. As the men reach their 70s and 80s he said they are thinking more about the life journey they have been on. "Where were the turning points in our lives, where we made major decisions about marriage, maybe to maybe to end the marriage and, and discover another relationship that was more in depth and lasting and deeply loving it? We share those feelings and what's happening is these meetings are almost turning into therapy sessions. We feel like we're developing the confidence to share very closely held private feelings with people we really trust and know. Some of the guys have written back or called me after a meeting, and they say, 'On these days when we have our Zoom session, I feel the happiest ever.'"
In Allen's book "Clues Can Light the Way: A Discovery of Clues for the Greatest Puzzle of All: the Purpose of Life and Beyond" he describes how unexplainable events and profound connections with others awakened his understanding and excitement for life. The connections he has made with Delta Tau Delta brothers have proven to be a significant piece of his life puzzle and the puzzle brings many Delts together.
"Bottom line for me was a conclusion in my book. I'd like to communicate with more people to help them develop a timeline of clues in their lives that lead them to better understand the path they're on. How can we reach out and start to solve the divide that's going on right now—not only in the United States but throughout the world, it seems there's such a division of us and them, you and me, instead of just really, truly us being one universal group of people," Allen said.
Gamma Chapter Delts weigh in on the value of their regular Zoom calls:
Ron Selva, Class of 1963: Our ZOOM calls have provided a platform for us to hear about the diverse and successful careers of our Delt brothers after 50-plus years, and to recall many happy memories of days gone by. We have shared our life experiences since leaving college, allowing us to renew the friendships formed so many years ago. Our common bond has been sustained and even strengthened through these enjoyable online meetings.
John Proudfit, Class of 1963: It's great to chat with old friends most of whom I haven't seen for years. Our group is scattered across the U.S. from coast to coast, so Zoom is the only way to get together. We talk about the old days as well as contemporary issues. Our shared experiences are what make it fun.
Gordon Garrison, Class of 1962: Being able to reconnect has meant so much. Sharing our joys and sorrows over the years and supporting each other in our current experiences has been invaluable.
Byron Singer, Class of 1962: The Gamma Chapter Zoom meetings have been a real pleasure offering an opportunity to reacquaint with some of the most lasting friendships I have known. Though the miles separate us, it is rewarding to know where our brothers have been and hear their reflections on life as we have matured. I am proud to have known the brothers I shared time with during the college years and what an excellent decision I made as a freshman manifesting itself through these Zoom get togethers.
Ed Thomas, Class of 1962: For the Zoom chats, I think it's a great way to reconnect with a few of our old friends. We usually stay in touch with a handful of brothers through the years but lose contact with most. It's been very refreshing to hear what everyone has experienced since graduating and reliving some of those activities we shared from our college days.
Frank Sopyla, Class of 1961: The Zoom gatherings are absolutely great! In my mind's eye, I still see the brothers as 18–20-year-olds. Now, with Zoom, we are able to see the brothers as they are 60 years later. We have spread across the country from New England to California and Washington to Florida, yet we can be together thanks to technology.
Planning Your Delt Reunion Online
As in-person events return many alumni continue to find significant value in using technology to hold meaningful reunions online. Use of technology can bring together more brothers without travel, expense and scheduling complications. Here are a few tips to get started.
Form a team and establish roles. Find two or three like-minded brothers to help organize and serve as ambassadors as you organize.

Update your contact list.
To access your chapter directory online go to delts.org and click on MYDELT LOGIN on the upper right corner. If you have not yet created a myDelt account, click on GET ACCESS on the log in screen and follow the instructions. Once you log in, you can access the directory under SEARCH.

If the Fraternity is missing contact information, check with the alumni office at your school and help update the Fraternity records.
Use a common platform such as Zoom or Google Meet and run a test with your planning team.
Develop a meeting plan. Even a virtual reunion needs an agenda and a moderator.
Plan free time for participants to interact. Plan an icebreaker.
Send a follow-up email and plan for the next event.