Innovative Solution for Dry Eyes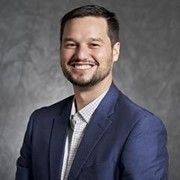 Josh Davidson (University of Michigan, 2013) set his sights on a career in optometry when he was in seventh grade, eventually pursuing a biology degree on the path to optometry school. Now he has developed an innovative solution to address a common concern among his patients—dry eyes.
As an undergraduate Davidson's studied biology at Michigan to fulfill the prerequisites for optometry school. "It was always my dream to attend the University of Michigan," Davidson said. "My family had been football season ticket holders for as long as I could remember, and I grew up walking the campus on Saturdays during the fall. Not only from an athletic standpoint was Michigan desirable, but it's consistently ranked as the number one public school in the country."
Arriving on the Michigan campus as a transfer student though, Davidson was so busy adjusting to school, he didn't think about fraternity recruitment and missed formal rush events. At the time Delt was establishing a colony at the University of Michigan and getting ready to move back to campus and into the Shelter on Geddes Avenue.
"The national recruiters made an incredibly attractive pitch regarding the values of Delta Tau Delta and helping to create something bigger than myself," said Davidson who became one of the founding fathers of Delta Chapter. "Choosing Delta Tau Delta was one of the best decisions of my undergraduate career. It instilled lifelong lessons and helped me forge lifetime friends."
After graduating from The Michigan College of Optometry School Davidson was ready to spread his wings when an opportunity arose in Louisiana. "A few years prior I had organized a bachelor trip for one of my best friends, whom I met in the Fraternity, in New Orleans," Davidson said. "I fell in love with the city, the culture and everything about it."
The move was a perfect fit for a career Davidson loves. "It's definitely my calling and my passion. I currently run the largest dry eye treatment center in the Gulf South and spend quite a few nights and weekends lecturing about my two areas of expertise, dry eyes and Scleral Contact Lenses—a special type of hard lenses designed for patients who have corneal diseases). I work at a large collaborative practice called Williamson Eye Center with both ophthalmologists and optometrists, many of which I consider dear friends. It's a great lifestyle and extremely fulfilling work."
For years Davidson has been preaching to his patients that one of the simplest things that they could do was to drink more water and stay properly hydrated for their dry eyes to improve, but very few of them listened. He began recommending products like Liquid-I.V. and others designed to increase hydration by making one "drink" of their product equivalent to two or three glasses of water. Patients seemed to enjoy the taste and the convenience of these products, but Davidson found the sugar content shocking and extremely concerning.
With his friend and business partner, Dr. Matt Smith, MD, Davidson created a product to help hydrate patients without excessive sugars, but with ingredients proven to reduce inflammation, a known cause of dry eye. Patients suffering from dry eye, a condition affecting 30 percent of the U.S. population, simply add the powdered substance to water and drink it. "This is actually an incredibly new product and unlike anything found in the dry eye space," Davidson said.
To try dry eye drink for use the promo code "DTD" at www.dryeyedrink.com for 20% off.