Influential Coach: Extraordinary Excellence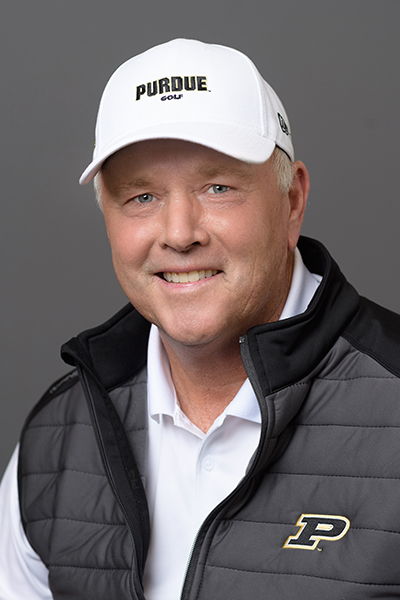 One of the most successful coaching tenures in the 135-year history of Purdue athletics signed off in June as Devon Brouse (Purdue University, 1971) packed his golf clubs and headed to a most-deserved retirement.
Brouse returned to Purdue in 1998 after 21 years as coach and director of golf at the University of North Carolina. He methodically but most dramatically presided over a golf renaissance in West Lafayette during the past quarter century while operating under the titles of Purdue director of golf, women's golf coach and men's golf coach. His tenure included individual excellence, team success and execution of a vision to sustain long-time term quality featuring outstanding facilities. The impact of that foresight will extend well beyond his active service.
Most tangibly, his signature achievement was the recruitment and mentoring of the 2010 team that captured the 2010 NCAA women's title. That squad joined the 1961 Purdue men's golf team and the 1999 women's basketball team as Purdue's only NCAA champs.
Adding national significance to that title is the fact it remains the only one earned by a "northern" school in the 40 years the NCAA has administered the national collegiate women's golf championship. His women's teams also finished as the NCAA runner-up in 2011 and took third in 2013.
All told, the Boilermaker women won six Big Ten titles and qualified for six NCAA tournaments under his tutelage.
In May 2022, Golfweek magazine ran a lengthy feature on Brouse and highlighted his "tough" but committed approach to individual coaching. It said:
"Maria Hernandez had turned down dozens of schools when Purdue coach Devon Brouse kept calling. She'd made up her mind that she was going to study architecture in Spain and likely never turn professional. Over and over, Hernandez told her mother that she was never going to sign. Brouse called so many times, Hernandez switched off all the phones in the house.
'My mother is like 'He never called you back?' Hernandez recalled, laughing.
"Eventually, a stubborn Hernandez ran out of excuses and gave in. She moved to West Lafayette, Ind., to study and pursue golf, and coach and player—who are far more alike than different—embarked on what Brouse called "baptism by fire."
"They both like to tell it straight, and there were lots of tears and plenty of opportunities to quit. But Brouse has always believed that it's far more gratifying to fight through challenges, and he has a knack for knowing when to push and how hard.
"Hernandez won 13 times at Purdue, including the Big Ten Championship and the 2009 NCAA individual title. She now competes on the Ladies European Tour and checks in with Brouse on a regular basis via WhatsApp.
"He made me tougher mentally," said Hernandez, "and I think that was the big difference for me."
A multi-sport athlete at Decatur Central High School and active intramural performer at Purdue, Brouse and his late brother, Carney Brouse (Purdue University, 1973), were well known to their Delt peers as highly competitive people. That fire has continued to burn decades within Devon.
"Devon Brouse achieved an extraordinary level of excellence in leading men's and women's golf programs during his more than 40 years as a head coach," said Mike Bobinski, Purdue vice president and director of intercollegiate athletics since 2016.
"He has long been recognized nationally in the golf community as one of its most knowledgeable and influential voices. Purdue athletics, countless student-athletes and the Lafayette golf community have all benefited from Coach Brouse's leadership and commitment to success in every aspect of his career."
The Indianapolis native and 1971 graduate in agronomy stands alone as the only coach named to both the Golf Coaches Association of America (GCAA) and Women's Golf Coaches of America (WGCA) halls of fame. His North Carolina and Purdue teams qualified for a combined 40 NCAA tournament appearances. Twice he was named the national women's coach of the year at Purdue.
Hardware aside, he leaves a much larger legacy.
That includes a long and dogged behind-the-scenes courtship to obtain significant alumni financial backing and the expertise of iconic golf architect Pete Dye for a total redesign of Purdue's beloved but outdated Ackerman-Allen (formerly South) Course. Most recently, Brouse helped to secure funding of more than $20 million from two 1970s-era varsity golfers with Greek affiliations to build a new clubhouse and provide a much-needed renovation of the Kampen Course bunkers.
"When we enticed him and his wife Kathy (Kappa Alpha Theta) to return to their alma mater, it was because of his prodigious vision of success -- and he delivered," said Nancy Cross, Purdue's longtime senior women's athletic administrator who also retired June 30.
"In the past 25 years, without question, Devon is Purdue's most successful coach with a national championship, three top-four finishes, and a dozen top 12-finishes, in addition to a graduation rate of nearly 100 percent."
During his tenure, the Boilermakers collected 29 WGCA All-American Scholar awards, 77 Academic All-Big Ten honors and eight Big Ten Distinguished Scholar certificates.
"While our mission is to win at the highest level and graduate, Devon's hallmark was his commitment to forcing each one of his student-athletes to grow, to push him or herself beyond what each believed capable, to be self-reliant, and most of all to be resilient. I am so grateful to Devon and Kathy for their commitment to our Boilermaker student-athletes and for putting Purdue golf on the map. I wish them both the best in this next chapter, because we all know there is no 'retirement' in Devon."
His swan song saw the women's team, an eighth seed, finish fourth in the 2022 NCAA West Regional to qualify for the national championship round at Grayhawk Golf Club in Scottsdale, Ariz., where it took 11th, narrowly missing the eight-team match play finals.
He departs knowing he made a difference in both competitive results and the development of young athletes.
"I'm most proud of the impact, whatever that is, with all the young students and the champions and the leaders I've been able to be around," Brouse told the Lafayette Journal and Courier.
"I could go on and on about the champions and leaders that have influenced my life and my career in a dramatic way. I've tried to instill some of those core values and those attitudes on young students. I think I've been able to do that to some degree."
Brouse said he would split time between Sarasota, Fla., and Asheville, N.C. But don't be surprised if he shows up in West Lafayette from time to time. He's a Hoosier at heart and he'll undoubtedly want to see how his former athletes and Purdue golf facilities are progressing.
Perhaps a return to the Delt Golf Invitational also is in the cards. He captured the DGI's Old Guys Trophy for seniors in 2006.
Well done, Coach Brouse. Your Delt brothers are proud of you.
Watch the Purdue-produced tribut to Devon Brouse: