Ignite Experience Gives Purpose to Young Alumni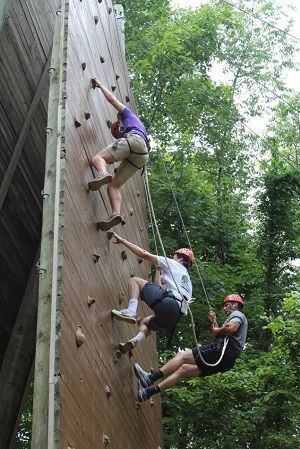 It is dark and all but silent in the windowless gathering room in the basement at Camp Tecumseh in Brookston, Ind. The only sounds are the even breaths of 50 individuals periodically interrupted by the quiet murmurs of several men just outside the closed door. The expectant crowd sits in rows facing inward toward a small clothed table where six unlit, tapered candles wait to illuminate the darkness. The door opens, casting a stream of light into the still room. Three men are led by a fourth to stand before the adorned altar. The room remains in silent darkness for moments longer before the flick and hiss of a lighter draw all eyes to the solitary figure holding a single white candle. The Rite of Iris has begun.
The significance of Rite of Iris lies in the convergence of a member's duty to himself and to his fellow man. The Rite of Iris, while performed by new members before initiation, is also performed at each Ignite session. At this year's Indiana Ignite, alumnus David Rosen (University of Florida, 2011) witnessed it for the ninth time. "Looking at the Rite of Iris now after spending the whole weekend talking about the values, I'm really starting to have a clearer understanding of what this meant when I was an undergraduate and how it can be very applicable to life beyond the Fraternity," said Rosen.
As a leadership experience, Ignite is fast becoming the entry point of reengagement for young alumni, who become invigorated with Delt enthusiasm in this immersive, values-based brotherhood and education weekend.
Rosen's facilitator experience at Ignite has led him to reconnect with his Delt values and allowed him to reflect on why he joined in the first place. Thus, Ignite is not only a valuable experience for young undergraduate members, but also valuable as a spring board for young alumni who wish to give back and remain engaged but are tentative on where to begin.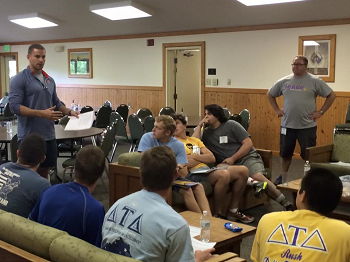 Relocating several times after college as well as building a career caused Rosen to lose contact with Delta Tau Delta for several years. But after settling in D.C., Rosen felt it was time to remember those who followed. He was one of several young alumni at the Indiana Ignite wetting his feet as a Fraternity volunteer.
Spencer Mesick (Iowa State University, 2010) was another first-time volunteer who facilitated at Ignite after a short absence from the Fraternity. He, too, felt the familiar pull toward the values and principles of the organization after witnessing the Rite of Iris again.
"Seeing the Rite of Iris and remembering my brothers and everything we experienced in the week leading up to that ceremony, I can see now in my everyday life how this stuff really can change you and help you and develop you into a better person," said Mesick. He believes if more young alumni could experience the ceremony again in the context of life after college, if they could experience a weekend influencing and impacting younger brothers, it could light a fire of inspiration for those who've lost touch with the values of the Fraternity.
More than 11,400 alumni have graduated within the past five years, and yet Delta Tau Delta experiences absence of young volunteers. Will Logan (University of Tennessee, 2011), a two-time Ignite facilitator, believes a common misconception among recent graduates is that volunteer positions are limited to advisory roles. As an engaged alumnus with a number of volunteer roles under his belt and just four years removed from his undergraduate life, Logan has first-hand knowledge on young alumni engagement and how Ignite is the perfect platform for a first-time volunteer position.
"It's what a lot of people assume, 'if I'm not an advisor, I'm just not going to do anything'," said Logan. "There's just so many other ways to be involved other than a chapter advisor, and this (Ignite) is the perfect way to get somebody back involved." In addition to his volunteer roles at two Ignite sessions, Logan has served as a division conference facilitator and as the colony advisor for the now-Lambda Chapter early in its colonization period.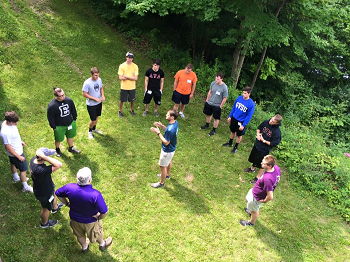 As recent alumni, Logan, Rosen and Mesick brought unique perspectives to the discussions taking place at Ignite. Cognizant of the contemporary college experience and the challenges associated with Greek life, they provided mature insights to the undergraduate members who are still developing as Fraternity men and campus leaders.
"I'm in that period where I'm not that far removed from being a college student, so I can relate to a lot of these men well and somehow get them to open up to me too," said Logan. "Most of the time, any issue they've gone through, I have probably encountered."
It wasn't just the undergraduates taking away new knowledge and skills. The first-time volunteers were mastering techniques from seasoned facilitators as well as learning alongside the new members through their Ignite journey.
"I'm here facilitating the undergraduates and helping them learn, but I've been learning this entire time as well," described Rosen. "I've been paired with a veteran facilitator and I'm learning how to take cues from him and understand my new role as an alumnus volunteer versus my old role as an undergraduate brother."
With a reignited Delt passion, these three young volunteers plan to remain involved with local chapters as well as with the national organization. Additionally, they've tasked themselves with encouraging fellow recently-graduated alumni to take that first step to becoming more engaged and to truly embrace the notion of lifelong commitment.
"There is so much value in this event for younger alumni to really bridge that gap from undergraduate to alumnus," said Rosen. "I have brothers who would be very interested in doing this in the future, and I plan on going back and talking to them about it."
If you are interested in becoming a volunteer, please contact the Central Office at 317-284-0203 and speak with Director of Volunteer Services Allen Wente.