How One Chapter Established JDRF Awareness Day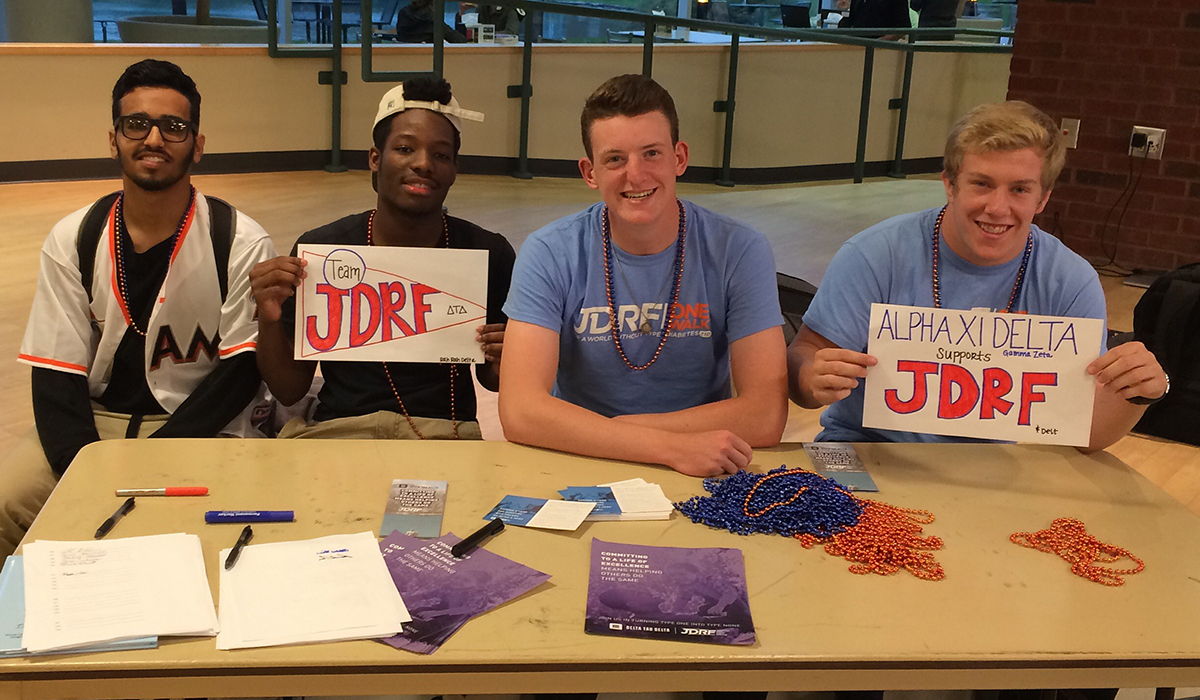 Last fall the brothers of Theta Xi Chapter at Eastern Michigan University decided that hosting fundraisers and donating money to JDRF, the leading global organization funding type 1 diabetes research, wasn't enough. They wanted to educate their campus community and promote awareness of type 1 diabetes and what JDRF does as an organization.
Chapter brothers sought permission to set up a table at the Eastern Michigan University Student Center where they educated everyone who stopped at their table about T1D and JDRF. They asked individuals to sign a sheet pledging their support for the rest of the day.
Those who made the pledge received five blue and orange bead necklaces and were encouraged to hand out four of the necklaces to friends and tell each friend what they learned about JDRF and T1D. "This event was a huge success and we were able to educate the community and see results by the hundreds of people wearing blue and orange beads around campus," said Dalton Brosnan, chapter president.
To prepare for the event they purchased 1,000 blue and orange bead necklaces and arranged for 30 brothers to hand out the beads. They also shared JDRF informational pamphlets and candy. "A lot of people asked why candy was being given out if we were promoting JDRF," said Brosnan. "It was a great way to tie into the educational process about what T1D actually is and how it is mostly genetic, not caused by sugary foods and lifestyle factors."
On the logistics side of things, the chapter rented a stage and table from the Student Center. As the highest traffic area on campus this positioned them well to invite people to join in support of JDRF. They also sent brothers to roam around other high traffic areas on campus and encouraged brothers to wear beads to their classes and make an announcement either before or after class with the professor's permission.
Spreading awareness and education about JDRF and T1D doesn't mean they didn't also support JDRF financially. At the Orlando Karnea the Theta Xi Chapter was awarded the James O. Selzer Award for Chapter Excellence in support of the Fraternity's partnership with JDRF. For 2015-2016, the Theta Xi Chapter, with only 58 members raised the most money for JDRF with $11,600.
The Selzer Award honors former Delta Tau Delta international president James Selzer (Baker University, 1970), who battled type 1 diabetes from adolescence until he entered the Chapter Eternal in 2010 while serving as the 49th president of Delta Tau Delta. His service to the Fraternity and unflagging commitment to her cause lives on through the Delta Tau Delta and JDRF national partnership.