Hogan Named to Indiana Basketball Hall of Fame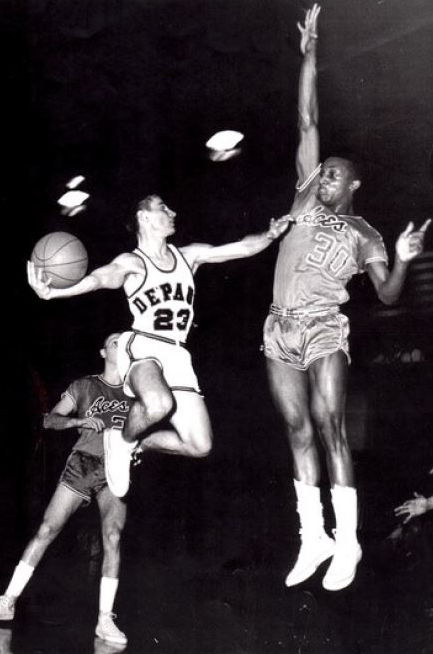 The Indiana Basketball Hall of Fame announced Jack Hogan (DePauw University, 1967) will be inducted with the 2023 men's Hall of Fame class on March 22.
Hogan, whose family moved to Indianapolis just after the 1954 Milan Miracle, was an all-star basketball and baseball player, winning the best all-around athlete award at Broad Ripple High School in Indianapolis. Known as "Broad Ripple's Pocket Rocket," he averaged 12 points per game, going 21-6 where his team defeated several strong teams in the tournament run, eventually losing to state Champion Muncie Central. He was named Outstanding Senior Athlete along with All-Sectional and All-Regional. He was also a member of Broad Ripple High School's baseball and cross-country teams.
At the close of his high school career, he was considering Indiana University or Hanover College when a teammate's father, Fred C. Tucker, Jr., (DePauw 1940), told him, "Those are both good schools, but DePauw is a better school."
On the advice of Tucker, who would later serve as national president of Delta Tau Delta, Hogan visited DePauw and the Delt house. With some scholarship assistance from Tucker, he chose DePauw. "I pledged Delt, and the rest is pretty much history," Hogan said. When Tucker's son, Fred Tucker III, arrived at DePauw, he became Hogan's Fraternity son.
"At DePauw, they didn't give athletic scholarships, so that's why I ended up with a little F.C. Tucker Scholarship and an athletic job where I had to do certain work, and they paid a decent amount of money. I also washed dishes in the Fraternity house. That's how I got through school," Hogan said.
Hogan was inducted into the DePauw Athletics Hall of Fame in 2003. He played freshman baseball but excelled on the basketball court, starting every game of his varsity career except the first two games of his sophomore year. He ended his career sixth on the all-time leading scorer list, averaging just under 14 points per game.
Along the way, he was named most competitive player in 1964-65 and most valuable player in 1965-66. He was an Indiana Collegiate Conference all-conference selection in 1965-66 and a unanimous selection to the Union College All-Tournament Team in 1965. In 1967 "Jack the Giant Killer" was cited by Time Magazine as one of the Best "Little Men" in college basketball. Hogan led DePauw to victories against many Division I teams, including Evansville, Indiana State and Butler.
Having grown up as a Butler Bulldog fan, Hogan had also wanted to go to Butler University but didn't have a chance.
"Tony Hinkle was the coach back then," Hogan said. "He gave scholarships to two guys on our team, Rod Talovitch and a guy named Bill Brown, and wouldn't even say hello to me. I was unwanted being 5′6″ on a really good day. I was not in high demand for college basketball."
Then, during Hogan's sophomore year, on his 20th birthday, DePauw played Butler at Hinkle Fieldhouse (then called Butler Fieldhouse). "I scored 28 points and hit a shot with three seconds left to beat them 90 to 88. That's my Tony Hinkle revenge story," Hogan said.
Hogan continues to celebrate, hosting his own "Shot Party" birthday celebration every ten years. His son, Slater (Butler University, 1992) who went to Butler through a tennis scholarship, wears his Butler sweatshirt to the party to add to the good-natured rivalry.
The enthusiasm from friends and family is high, and Hogan said his son might be even more excited than he is about the hall of fame induction. The honor has allowed Hogan to reflect and revisit old clippings and scrapbooks – his mom saved everything. His daughter-in-law assembled a book of memorabilia.
After he graduated from DePauw, Hogan, who majored in social studies and earned a minor in education, taught at Ben Davis Junior High school, where he coached 7th and 8th-grade basketball and baseball. "I think I signed my contract for $5,500 a year. Then my wife got pregnant, and she didn't work anymore, and a friend from DePauw offered me a job for $11,000 a year, so I took that and got into the business world," Hogan said. Next, Hogan went to work for F.C. Tucker Company and ended up working in real estate from 1971 until his retirement in 2019.
His athletic interest turned to tennis and platform tennis, playing and serving on the board of directors of the American Platform Tennis Association, president of the Midwest region for five years. He has also been active in Big Brothers and has coached youth basketball at First Baptist Church.
A September 2022 interview with the Mighty Giant, Jack Hogan, Broad Ripple Rocket, DePauw Tiger prior to his induction to the Indiana Basketball Hall of Fame.