Helping Others by Delivering Smiles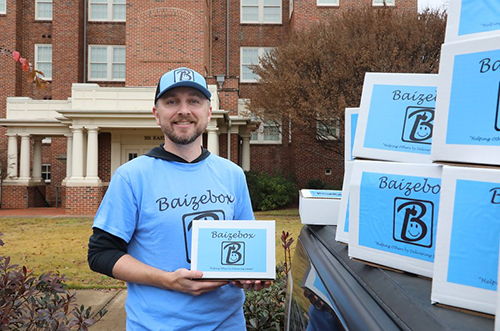 The importance of helping others drives Landon Baize (LaGrange College, 2008) in his mission to deliver necessities to those in need. Since 2020 he's channeled his efforts into Baizebox, the nonprofit he founded to collect and distribute care packages to individuals in underserved communities.
Through his volunteer work with Special Olympics of Henry County in Georgia over the past nine years, Baize has helped individuals from age five to 80 and up, but he felt he needed to do more. In conversations with his Special Olympics contacts he learned certain essential items are often an unmet need for individuals with disabilities.
"We came up with a list of nine items to put in a box—necessities those living in group homes often can't afford but absolutely need," Baize said. The Baizebox is a collection of donated items including a bar of soap, shampoo, conditioner, lotion, toothbrush, toothpaste, socks and a brush and/or comb.
Distribution began in 2020 at the height of the COVID-19 pandemic with dropping boxes on the porch. "They couldn't go buy these things, so it was actually a perfect time to just go ahead and start," Baize said.
He just finished the third year of distribution growing the distribution from 150 boxes in 2020 to 250 boxes in the fall of 2022. "We're slowly increasing because a lot of people want to donate," Baize said. "A lot of people want to help. I don't accept any money, any cash, any check, any wire transfers, any gift cards, none of that. Only the items. It's a nonprofit. I'm not making any money on this. I don't want people to question where their money's going."
Baize pays for the boxes and the labels and accepts donated items to match the identified needs. He started with connections from family, close friends and those in his network reaching out through social media.
"After the first year people started calling from around Georgia. We grew into Florida as well when a buddy I grew up with asked for 10 boxes. He's a youth pastor with 10 kids and adults who come to his church from group homes," Baize said. "It's not about making money; it's about helping kids and adults with special needs and disabilities to get the items they need. Maybe we'll do 300 boxes next year, or more, just depending on, on who needs it."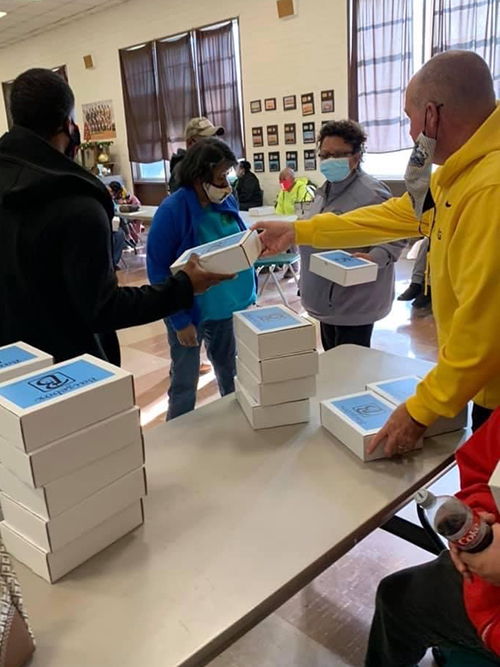 Professionally, Baize is a field marketing manager for U.S. Oral Surgery Management, so he applied his marketing background to develop the motto "Helping Others by Delivering Smiles" and the Baizebox logo. "I wanted to keep it simple, but also incorporate everything that the Baizebox is about," he said. The B stands for Baizebox, the thumbs up represents helping others and the smiley face is delivering smiles. He chose the blue color as an homage to his father and the blue eyes that run in the family.
He credits his parents for inspiring him to always help others through his childhood in Kentucky and high school years in Florida. His father started a Challenger League providing sports and activities for kids with disabilities. Baize fell in love with seeing the young people involved in the league build camaraderie through team sports and being involved through coaching and teaching.
When Baize moved to Georgia to attend LaGrange, he was determined to find success. "I wanted to focus on getting my grades and playing basketball," Baize said. As he grew comfortable with college life, he found both a campus community and a fraternity to support his love of service.
Though he wasn't initially interested in joining a fraternity that changed when he met members of Zeta Beta Chapter. "Something drew me to them and what they did, for not only the community but for the school," Baize said. "They would do a lot of things to help out the area in the, in the schools and specifically kids with special needs and disabilities."
He also realized the Delts all came to his basketball games and supported him. The friendly and welcoming atmosphere of Zeta Beta Chapter combined with meeting brothers like the chapter's current advisor, Stuart Miller (LaGrange College, 2007), influenced his decision to join Delta Tau Delta. Whether it was tutoring, or other volunteer service Baize saw the chapter making a different and knew it was as good fit. Now, as an alumnus he says his friendships, his continued academic focus, his ability to strengthen his community and even meeting his wife became indelibly linked Delta Tau Delta.
Learn more at https://www.facebook.com/HelpingOthersByDeliveringSmiles