Guiding Success from the Baseball Field to the Classroom
When Jimmy Linza (Washington & Lee University, 1989) aged out of youth league baseball at age 18, he followed his father's footsteps and took over as a coach—the first step in his career as a teacher and coach. "I hadn't even turned 19 and I was teaching my peers. I was well-received because I had just played for that team," said Linza who enjoyed the process of rebuilding a championship team whose stars had just graduated.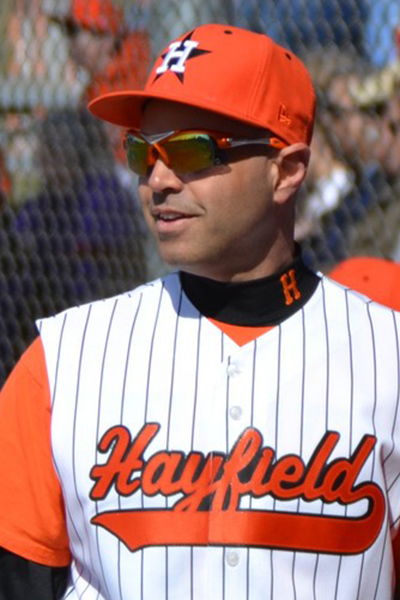 Linza played three sports in high school, then at Washington & Lee he played four years of baseball and hockey and participated in wrestling and lacrosse for one year each—all while balancing academics and fraternity life and continuing to coach youth baseball in the summer. "Like most people, when I had free time, I was almost less productive when I had to meter out my time," said Linza, who found value in the support he gained from his chapter.
As an only child and a self-proclaimed soft-spoken introvert through high school, Linza thought he was the last guy on the earth who would join a fraternity. But he found substantial rewards in his membership and leadership opportunities in the chapter. "The Fraternity was such a positive experience—it was my social, it was my food, it was my living," Linza said. "If I was taking a course, there were brothers who had already taken it who could help guide me and after we graduated, we stayed close. Going from an only child to suddenly have 30 brothers was neat."
He retired from coaching in 2019, but over the last 35 years, Linza coached high school varsity and junior varsity teams. While he watched Major League baseball evolve to focus on throwers and home run hitters, Linza found he preferred coaching younger kids who play more of a full game. "They can still throw hard and hit a home run, but they also know the short game, the bunt and the hit and runs and steals and squeeze plays," Linza said.
Over the course of his coaching career, Linza saw training move from seasonal to year-round with more sophisticated expectations. "In the olden days it was a sandlot game and kids had one bat. If it cracked, they nailed it back together and taped up a ball. Now the bats are all very high tech and they cost 300 bucks a pop and kids have personal coaches for hitting and pitching," Linza said.
What hasn't changed, according to Linza, is the kids and parents who are dedicated to the team and working to do their best. At the high school level, there is a focus on building a baseball team where everyone has a job to do to meet a common goal. For younger athletes, it's different. "I've always made it one of my goals for the youth leagues to not only play everyone evenly infield and outfield but also to give everyone a chance to pitch. If you are a 13-year-old, this is your first crack at the big diamond, you don't know if you're a pitcher or not. If you never try, you will never know. So that's one thing that has made me happy over the years—don't get me wrong, we were still playing the win—but kids get an equal opportunity."
On the side, Linza worked as a major league scout for the Kansas City Royals, a role he connected with in the early 2000s when he was a high school coach serving as president of the area coaches association. "It was fun and interesting and exciting to help them actually build what became a World Series Championship team. They really did build the team that won the title a few years back," Linza said.
At Washington & Lee Linza earned a journalism degree and worked at a local radio station. He also worked as a paralegal and a bookkeeper which led to law school. His early career included a job with the U.S. Department of Justice before he found his calling as a teacher. "Both my parents taught for more than 30 years. I saw what a rewarding career it was for them and I decided I wanted to work with kids and that led me to teach and coach," Linza said. This is his 28th year in the classroom teaching high school mathematics.
"Teaching and coaching go together because even if you're not an athletic coach you're coaching in the classroom trying to get the most out of every kid. It's a process where it's very enjoyable to see them succeed," Linza said.