Green Greeks work toward Sustainability at University of Washington
When Andrew Brasuk (University of Washington, 2016) learned about the Green Greek Representative program the through EcoReps program at the University of Washington he jumped at the chance to get involved.
Although the University of Washington is considered a leader in sustainability with a top 10 ranking among greenest universities named by The Sierra Club magazine and a place on the Princeton Review's Green College Honor Roll for 2016, not all constituents are leaders in sustainability. Now, the Greek community has stepped up with increased leadership through Green Greeks.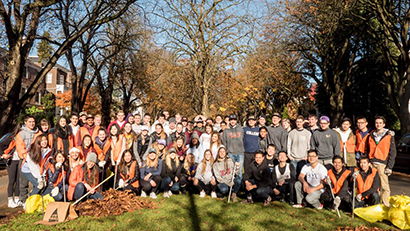 Founded in November 2015, Green Greeks is a network of representatives with the shared goal of tackling sustainability issues in the Greek community. The organization falls under the umbrella of EcoReps, a student-run organization that works with peers, faculty, and staff to make the University of Washington more sustainable. With 19 sororities and 32 fraternities, the UW Greek community represents more than 10 percent of the undergraduate population and has the opportunity to embrace significant long-term change as it works toward sustainability.
In the first year, Greek chapters pursued projects such as a lighting audit that led to fully transitioning one chapter house to LEDs. Some chapters have focused on recycling and composting education while others found ways to increase the efficiency, such as adjusting the schedule of an irrigation system which often ran even when it was raining.
Brasuk is working with the Delta Tau Delta chapter to create an official position of sustainability chairman to work on lessening the environmental impact of the chapter by implementing programs such as composting, water and waste reduction and conservation. He also sees the role as a source of education to raise awareness about sustainability not just at the Shelter, but in everyday life.
"The biggest thing that I've tried to do is to remind people about the little things that they can do to be more 'green.' There are signs posted throughout the house reminding members to take shorter showers, turn the water off when they are brushing their teeth or scrubbing their hands and to turn their lights off when they're not in their rooms. We compost all of our food waste; have a paper recycling bin for the study room and plastic recycling bins where every trash bin is. We also now have signs from the city of Seattle reminding people to compost and recycle and a group of us spends two hours every weekend picking up trash on the street in our community," said Brasuk.
"The brothers have been largely supportive of these efforts. They are voluntary, but I've been pleased with the acceptance the measures have received. For example, we have communal showers, and many members used to turn on multiple showerheads while showering. Now that has become essentially taboo. The amount of recycling and composting has also increased, which shows our chapter's increasing commitment to being more sustainable."
The movement for sustainability on college campuses is rapidly gaining momentum. While UW has the opportunity to be at the forefront, the UW Greek Community has had the opportunity to be the leaders for chapters nationwide and Brasuk encourages fellow Delts to explore sustainability steps on their own campus. He played a role in producing a Green Greeks video to share more about the evolution of Green Greeks and encourage other Greek communities to become involved in sustainability efforts.
Director of the Green Greek representative program Talia Grace Haller says it's difficult to implement change that is not cool on campus. "Sustainability is not sexy yet, but I've definitely seen a great push in the Greek system by people who care about this cause and want to get involved," she said.
Having leaders like Brasuk does make a difference. "Andrew has been amazing," said Haller. "He attends every meeting. He always shares information, has good ideas and is helpful and collaborative."
Although sustainability wasn't really talked about in the Greek system until recently it is only logical that Greeks take the message home on such an environmentally conscious campus. "With such a strong network, loads of resources, and tons of advocacy and philanthropy experience, Greek communities across the nation have the opportunity to lead the push for sustainable change on college campuses," said Haller.