Grants for Good Makes Domestic Violence Program Possible at Clemson University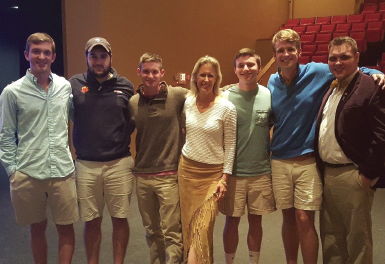 Through a grant from the Delta Tau Delta Educational Foundation and the Norval B. Stephens Grants for Good, the Theta Mu Chapter (Clemson) recently partnered with Alpha Chi Omega to host a talk, called "Crazy Love: A Night with Leslie Morgan Steiner," during Domestic Violence Awareness Month. This event gave students, faculty, staff, and members of the Clemson community a chance to listen to Leslie talk about her story in relation to domestic violence. Through her narrative, she shared the signs of an abusive relationship and showed how complicated the issue really is. She encouraged men and women to care about this issue and told those in attendance how they can help survivors get out of bad relationships and be there for those that need it. This event reached approximately 500 students, 25 faculty, and 25 community members.
Tanner Hanson, (Clemson, 2018), stated, "It was an eye-opening experience that let me step into a tragic situation in order to help me better understand the horrors of domestic violence and how I can better support my peers." Likewise, members of Alpha Chi Omega had positive comments about the program. Molly Makos, of Alpha Chi Omega at Clemson, stated, "It was an absolutely amazing experience to hear Leslie Morgan Steiner's domestic violence survival story. She is such an empowering woman who continuously gives hope to current victims. We need more people to break the silence about domestic violence and this seminar was a unique way to get the entire Clemson community talking about it."
This program's impact went far beyond the two sponsoring organizations and this one event. According to Megan Fallon, Clemson's Interpersonal Violence Prevention Coordinator, "Delta Tau Delta has made preventing violence at Clemson a priority through their involvement with Sexual Assault Awareness Month and Domestic Violence Awareness Month. They continue to impress me with their leadership and character. They are eager to help raise money to bring important speakers, host panels, and help their peers know the resources. On numerous occasions, I have had brothers connect their friends who have been impacted by sexual assault to me. I believe organizing events are an important way to gauge a leader's ability to fundraise and coordinate complex environments. But the reasoning behind that leadership far outweighs the value of coordinating the event. These brothers truly care about those around them and they show it through their compassion towards others."
Kudos to the Men of Theta Mu at Clemson!