Gearing Up at the U.S. Open
For business major Fischer Jacobs (Albion College, 2022), walking across the Kresge Gymnasium steps at Commencement in May served as not only the end of one round, but the opening tee shot to a two-month professional opportunity that has given him a clear approach to graduate school this fall.

Pardon that golf pun, but Jacobs says he could not have asked for a better — and busier — experience than what his merchandising internship has offered with the United States Golf Association (USGA). The internship is a key element of his concentration in the Carl A. Gerstacker Institute for Business and Management.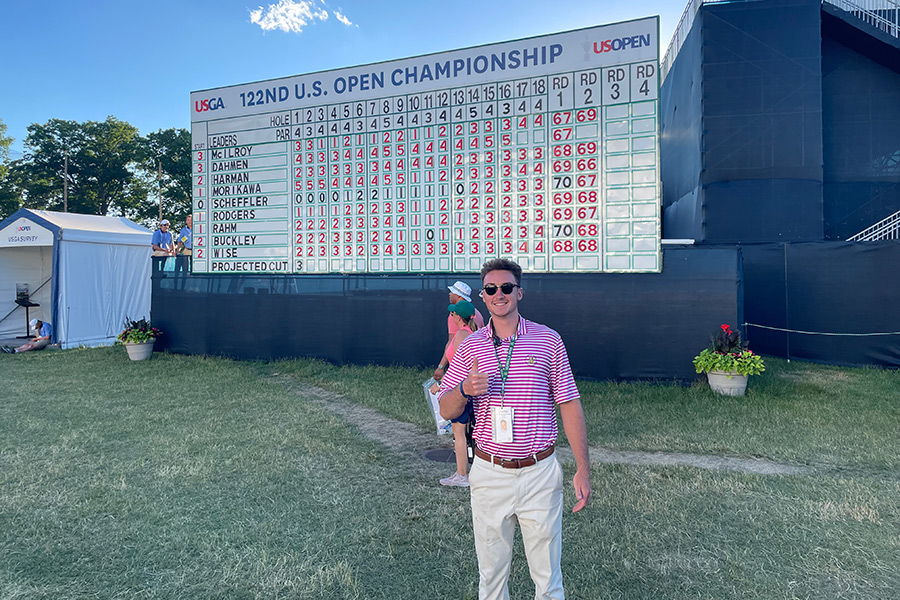 Two days after donning his cap and gown, Jacobs (who will receive his bachelor's degree in September) was off to Boston for his role at The Country Club in nearby Brookline, host of this year's U.S. Open. As one of 21 interns on site (selected from hundreds of applications), he was involved in nearly every aspect of retail operations for the two merchandise tents set up by the USGA.
"I worked 100 hours last week," said Jacobs a few days after the event — one of the sport's four marquee, or "major," men's tournaments each year. "We did record numbers every day of the tournament, and all of tournament week, from Monday through Sunday. The city of Boston was so excited for this; the Open hadn't been back at Brookline in 33 years."
Seeing all the foot traffic was rewarding for Jacobs, given he had a hand in building the retail experience for golf fans over the prior month and a half. "The first couple of weeks, product was coming in," he says. "Our main brand is Ralph Lauren, along with other brands like adidas, Nike, Footjoy and all different kinds of golf brands. We were receiving it and sorting it by SKUs."
Later, he says, when the tents went up, "I helped with layout of what items would go where." But before that, a big challenge was simply getting product from delivery trucks to the tents. "You can't drive a truck from the loading dock to the tents near the course," Jacobs says. "We stored product in 17 trailers behind our merchandise compound, using golf carts to minimize play interruptions for members. But during tournament week, merchandise was moving so fast, it went straight from loading dock to sales floor."
Jacobs cites communication and problem solving as two of the biggest learning takeaways from his time in New England. "Supply-chain issues, customer service, players, players' families — the USGA did a very good job of making sure you got all types of experiences, from behind the scenes to forward-facing with the customer."
Jacobs, who says the driver is the best club in his bag, will graduate in September after accumulating enough units to complete his degree in three years. The business major and communication studies minor with a Gerstacker concentration is the son of Albion alumni Tom and Sheryl Jacobs and a graduate of Jackson Christian High School.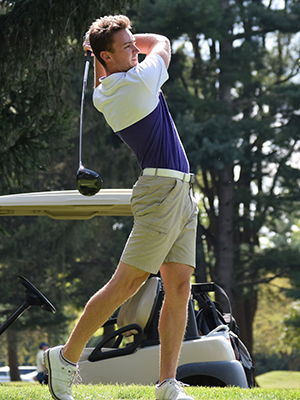 A USGA internship also seemed a fitting way to cap an Albion career that saw Jacobs emerge as a leader on the men's golf team.
"Fischer is always eager to learn and grow in every area of his life, and he's always looking out for those around him," said Jake Maas, men's and women's golf head coach. "He became the guy who showed up a few minutes early to ask what we wanted the team to focus on, so that he could help his coaching staff reinforce those messages. Fischer is a pure leader and he's going to be greatly missed by our team."
Along with Britons golf, Jacobs says his membership in Delta Tau Delta Fraternity will always resonate when he thinks of his undergraduate years. "COVID was really hard on everybody, and having that support group, we kind of leaned on each other," he says. "They are great people and brothers for life."
This fall, Jacobs again will be off to the coast — this time the West Coast. The University of San Diego, to be exact, for its master's program in business analytics. "Things are data-driven now. Analytics is the future and it will be a versatile degree," he says.
Of course, with this particular graduate school destination comes the opportunity to hit the links every month of the year.
"I've been playing golf since fourth grade," Jacobs says. "I just got bit by the golf bug then, and I've loved every minute of it. I just love the challenges."