Candler Cook's journey as a college football walk-on is a testament to his extraordinary hard work, determination and pursuit of a dream by an average guy with one goal. Cook grew up a huge fan of the University of Georgia. "Both my parents went there so, at a young age I made up my mind I wanted to go to school there, and I wanted to play football there," said Cook.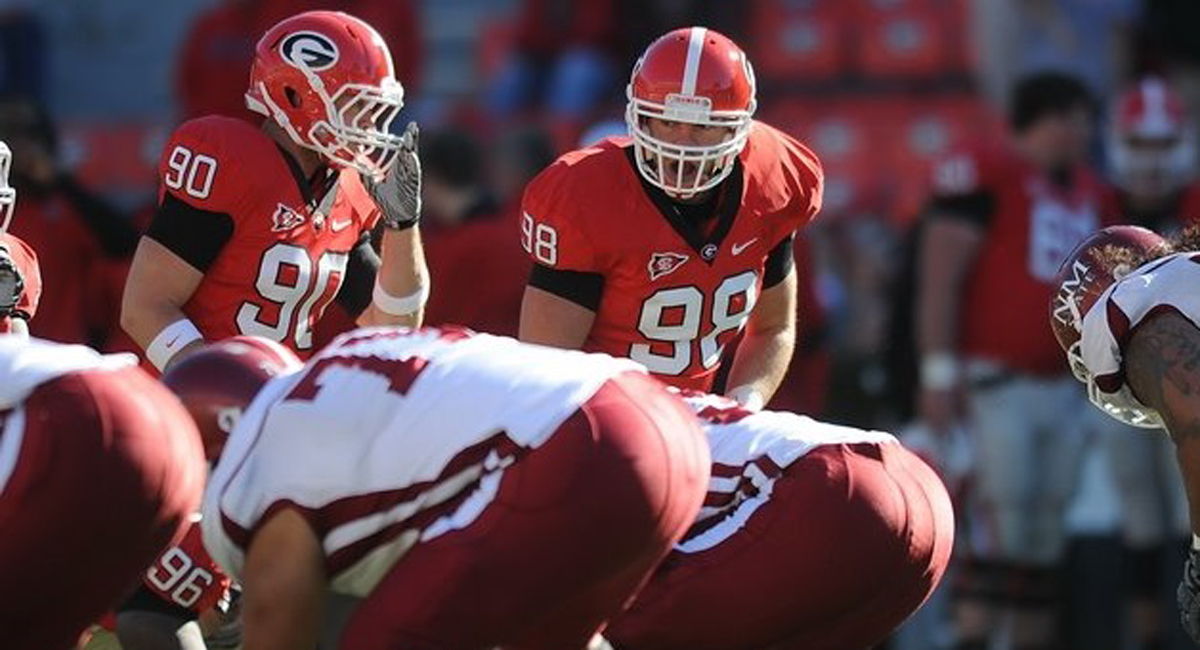 He only applied to the University of Georgia, enrolled with the class of 2011 and pledged the Beta Delta Chapter of Delta Tau Delta in the fall of his freshman year. Through the Fraternity he found likeminded guys and made friends quickly. He focused on academics and on his lofty goal of making the football team.
"In my senior year of high school, I was fourth string on a small private school football team. I weighed 145 pounds and ran a 5.6 40-yard dash, both of which are very bad, either close to or the worst on the entire team. So, I made it my mission to focus on improving those areas, which I knew I had to do if I wanted to play at the college level. That involved everything from eating at a very disciplined schedule. I had to eat healthy food. I started with six meals a day, and eventually, my weight plateaued, and I had to make it seven, then eight. It ended up growing to 10 a day by the end of it," said Cook.
Along the way, he gravitated to mentors who helped guide his journey—guys close to his own age who had more experience. One of those mentors was Craig Sager Jr. (Kennesaw State University, 2010). "Craig was a Delt at Kennesaw State and then transferred into Georgia and walked on to the team," said Cook. "He knew so much more about nutrition and working out than I did, especially when it came to putting on lean muscle while also getting faster at the same time. I really pulled from his experience a lot."
Cook's drive led to improvement, but he was cut when he tried out during his freshman year. He continued to work toward his goal, tried out again in his sophomore year and was cut again. Then, he decided to change positions to defensive end. He'd never played the position, but fewer guys were trying out for defensive end, and he felt the position would play to his strengths and minimize his weaknesses. His hard work and persistence paid off.
"I ended up gaining 120 pounds while becoming significantly faster and ended up walking on to the team. I actually got to play in a game my senior year and go to the SEC Championship Game," said Cook.
A few years later a younger friend who was interested in walking on to the team asked for advice. "There's not much information out there about it. There's no post in the campus newspaper inviting people to try out. They probably don't want that many people to show up to tryouts honestly," said Cook.
He talked with his friend, then as he saw his friend also achieve his goal of making the team Cook began thinking about the lessons he'd learned. While working full-time and pursuing his MBA from the University of Georgia in the evenings, he began writing a book, "From Underdog to Bulldog," published this spring.
"It's both a memoir that goes through how I made this seemingly impossible goal happen, and it's also a self-help book. Every single chapter has pointers so that people can help apply that to their own lives. So, really breaking it down and showing takeaways that can apply to business or personal relationships or any goal that people have, that's what I want people to take away from it," said Cook.
Now working in finance in Atlanta, Cook calls on the same universal lessons in his career. "There are times in my job where I confront a problem where just doing the same thing we've always done won't necessarily work. Similar to how I took a step back and reinvented myself and changed positions in football, sometimes I take a step back at work and think about things from a different perspective. I'll see if there's a way to go around an obstacle instead of going through it or a different way to solve a problem that we've previously been looking at," said Cook.
Candler Cook's book "Underdog to Bulldog: My Journey as a College Football Walk-On" was published in March 2019.