From Rock 'n' Roll to Entertainment Law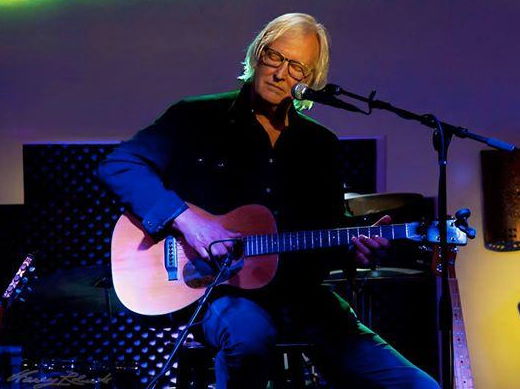 Austin native Al Staehely (University of Texas at Austin, 1967) grew up in the city that is not only the capital of Texas, but is also known as the live music capital of the world. The singer/songwriter moved to Los Angeles to pursue his music career after he was admitted to the Texas bar, then built a career as an entertainment lawyer specializing in legal matters pertaining to the music and film industries. Now, he's releasing an album on October 7, 2021.

As an undergraduate Staehely was in a band called "The Fabulous Chevelles." "I pledged in '63 and I graduated from undergraduate in '67, then started UT Law School, and graduated from law school in '70. All through undergrad and through law school, I played in bands. Those were the days where fraternities had parties every weekend, and they hired bands. They didn't hire DJs as they do now. The fraternities were really one of the things that brought so many musicians to Austin," Staehely said.
His uncles Bill Staehly (University of Texas at Austin, 1949) and Martin Staehely (University of Texas, 1957) were members of Delta Tau Delta, but what Staehely remembers most is the Delts had a reputation as being well-rounded. "It was a nice bunch of guys who had a bit of a different emphasis in their backgrounds. They were a bunch of good, down-to-earth guys, but also smart and talented. There's so much controversy about fraternities. Some of it is valid, but I will say, you make good friends, some of whom stay your friends for life, and that's the experience I've had."
In fact, a Fraternity brother who was the drummer in Staehely's college band, Mike Hinton (University of Texas at Austin, 1963), was instrumental in changing the direction of Staehely's life—not once, but twice.
"He was in law school and was a little older," Staehely said. "I was an undergrad and I was pre-med, and it was time for me to graduate from UT and go to med school, and he said, 'Wait a minute, you can't do that, because I've got another year of law school, and you'll break up the band, and you're the lead singer and bass player.'
"We were having so much fun, I started law school to keep the band together, and then realized after the first year that I might as well finish because that's the killer year. If you make it through the first year, you might as well finish."
Staehely gave up on med school, but promised himself he'd give music a full-time try, so he passed the bar exam and headed to Los Angeles to continue his pursuit of a music career 1971. "I went out to Los Angeles and got lucky right away, joining the band Spirit when two guys left. I joined as lead singer/bass player, and when we did the album Feedback, I wrote seven of the songs."
When the band broke up, Staehely went through some lean years trying to establish a solo career. In 1978, Staehely had finally landed a record deal, but halfway through the album, the record company went out of business. While contemplating what to do next Staehely returned to Austin to visit his parents. There he ran into a friend from LA who was Stevie Wonder's recording engineer.
"We had coffee, and he told me a mutual friend was working for Irving Azoff who was about to produce a movie in Houston called 'Urban Cowboy' with John Travolta who had just had the big success with 'Saturday Night Fever.' I knew that it was going to be a big soundtrack album, and so I made some deals to represent some songs from Austin songwriters, as well as bringing in some songs of my own to Houston to meet with Becky Shargo, who was the music supervisor."
Looking for a temporary place to stay in Houston, Staehely called his Delt brother Mike Hinton, the drummer, who talked him into going to law school. As they reconnected, Hinton's influence guided the trajectory of Staehely's life again when he asked whether he'd ever taken the bar exam.
"I said, 'Yeah, I just never have practiced,' and he said, 'Well, do you have a suit?' I said, 'Well, no. What for?' He said, 'Get a suit, and I'll take you down to the courthouse and get you some court-appointed cases.'"
Staehely returned to Austin for the weekend, then headed back to Houston with a few suits—but not just any suits. "Lyndon Johnson's brother Sam Johnson had been a friend of our family's, and he had died about six months before that. My father was the executor of his will, and they hadn't disposed of all his clothes, so I got a couple of Lyndon Johnson's brother's suits," Staehely said.
In Houston, Hinton introduced Staehely to the district court judges, who began appointing him to cases. "One thing led to another, and that's how I ended up not really intending to move to Houston and not intending to practice law," Staehely said.
He balanced law and music for four years, running off for a couple of tours of Europe and releasing a solo album in Europe, then started building his entertainment law practice. Now, more than four decades later he's preparing for the October release of his album, "Al Staehely Post-Spirit Volume One: 1974 to 1978." The album will include his 1978 version of "Wide Eyed and Innocent."
The value of relationships and connections is not lost on Staehely. Hinton, who developed a career as a prosecutor and defense attorney, had played in a band in high school with another Delt, Eddie Reeves (University of Texas at Austin, 1962). Their band "Eddie Reeves and the Night Hawks" recorded one single "When Sin Stops, Love Begins," in Clovis, New Mexico with Buddy Holly's producer. Reeves ultimately left college to work for Buddy Holly's producer's publishing company in New York, where he also wrote songs recorded by Ray Charles and Sonny & Cher.
By the time Staehely moved to Los Angeles, Reeves had been transferred to Los Angeles. "He was one of the guys I looked up, so here's another example of the Delt connection, connecting me with Eddie when I moved to LA. When I went to LA, I knew about four or five people, one was Eddie, the other one was Don Henley who I looked up, and that was the summer they were forming The Eagles," Staehely said.
Staehely continues to enjoy reconnecting with Fraternity brothers when he performs. "One of the joys of performing now is it brings people together. At this stage of my life, and their life, people don't normally go out as much to hear live music as you do when you're in your 20s and in college. But one of the great things about playing now is it brings friends from the past out, so they not only enjoy hearing my songs and hear the music, they enjoy seeing each other. It becomes a reason that people get together," Staehely said.
Learn more at about Al Staehley at www.alstaehely.com and www.music-lawyer.com.
Check out Al Staehely's singles and songs by other Delt brothers on the Spotify playlist: Delts: Music by Delts for Delts.